Here it is! The highly anticipated dolphin post…okay maybe only by me. If you have known me for any length of time than you know that I have LOVED dolphins forever. Ever since I got over my pig phase as a small child, I fell in love with dolphins. I even started my decorating love at a young age by making a whole wall of dolphins in my bedroom. I was going to focus my life on dolphins by being a marine biologist. That is until I took a college biology class in high school and realized I didn't want to do that for the rest of my life. Dreams change but love doesn't. So I still highly admire and am fascinated by dolphins and have always wanted to interact with them. So when the chance came on our cruise (Thanksgiving in the Caribbean)  we jumped at it! There were a few ports that offered this excursion and I poured over them to try and pick out the best one. I think I found it. We ended up swimming with the dolphins in Cozumel, Mexico.
This is the facility where we did it. Isn't it beautiful with that view of the ocean?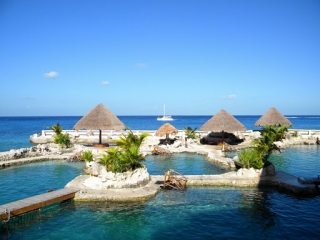 Once we got there we were able to just observe the dolphins. Then we were on our way to get split into groups and be assigned a dolphin and trainer! Our dolphin was Atina and she was pregnant! She was the sweetest dolphin ever!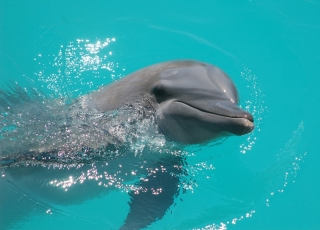 When we first got in the water we began to pet her as she swam back and forth. It was neat to put your head under the water and hear her echolocation.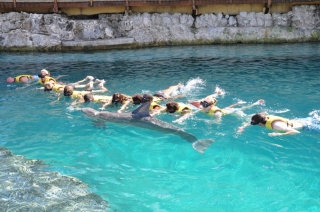 Then we started to get one-on-one time. Here we shared hugs, kisses, and dances!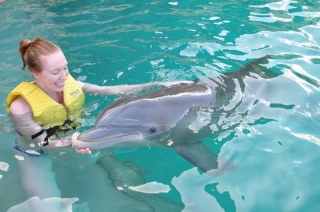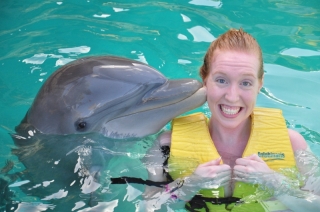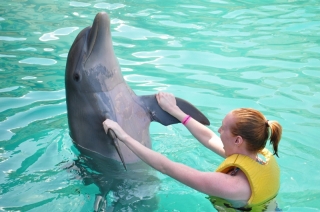 Then it was time to go on a ride! You would swim out into the pool and wait with your left arm extended with your thumb down. All of a sudden Atina would arrive and you would grab onto her fins and go for a ride. I was nervous that it would happen too quickly, I wouldn't grab fast enough, and she would swim away. But if you were slow to grab she would patiently wait. And as our trainer said, "Dolphins don't have breaks so when I wave my arms let go!"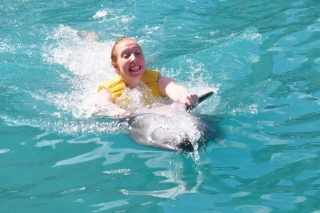 We also did different tricks with her. As we did the appropriate hand signals she would wave, sing, jump, slam her tail against the water, and so much more.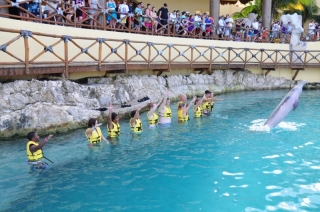 Some of the best times was just when she would swim back and forth and the trainer would tell us about her and we would just pet and pet her. You could even see her larger belly!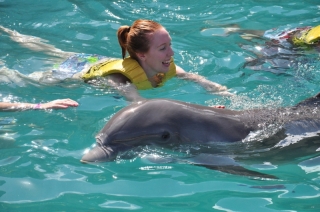 One of the most inspiring things about dolphins is how sweet and intelligent they are. They get bored easily too. So when we kept asking her to do the same thing over and over with the kisses, sometimes our trainer would give the signal and we would wait. All of a sudden Athina would be swimming on the opposite side of the pooling jumping. It felt like she was laughing at us — and I loved it!
After our 45 minutes in the pool with the dolphins we had to say goodbye. They did a goodbye performance for us and it was over. As we were exiting everyone in our group was exclaiming what an incredible experience it had been. Even the biker-looking guy with tattoos was giddy as a child!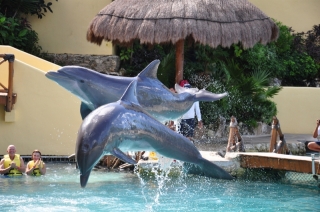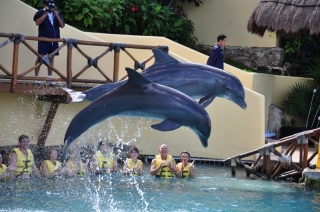 Check one off the bucket list! A lifelong dream has been fulfilled! If you ever get the chance I highly recommend it! If you have had this chance I would love to hear all about your experience too!