Every year I am lucky enough to have two Christmases. My wonderful in-laws, Jim and Linda Rapp, come up from Florida for about two weeks in the beginning of December to spend time with family and friends up here. Usually around the middle of their visit we have a special Christmas family dinner with Eric's aunt and uncle and cousin. We make a special meal and exchange presents. This special occasion happened this Saturday! I do not have pictures of that but I do have a project that was inspired for this event.
Eric and I are lucky to have been handed down a beautiful dining room set from his parents that sits in our "car-port room". [More on that to come in later posts… It is a beautiful wood table that usually looks like this all year round, except covered with mounds on bills, craft projects, and RC cars. It is kind of our catch-all room / table. One day it will have more of a purpose…anyways, I digress.]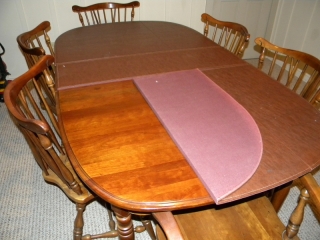 This year I wanted to dress up the table to look festive for Christmas. So Linda and I went out on a shopping spree to put together the table settings on the cheap! Places where supplies were gathered were Big Lots, TJ Maxx, and the Dollar Store. Proud of it! After pouring over the stores we came home with this pile of goodies: tablecloth, two types of place mats. and a glass centerpiece with a beaded mat to go with it.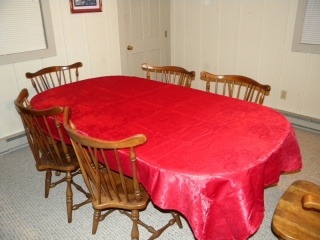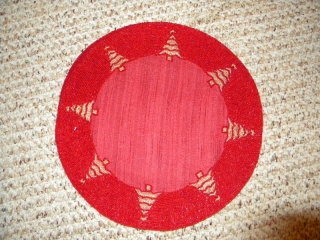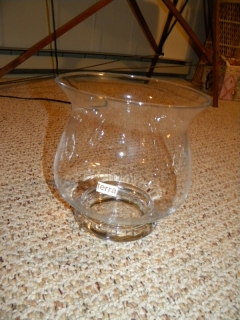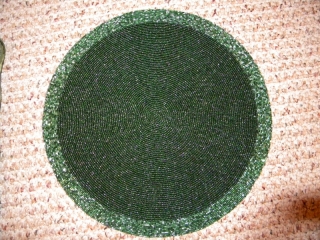 On goes the tablecloth and then the place mats. Notice that the head of the table gets the pretty red beaded place mats and the sides get different green ones. It gives a nice contrast and a richer look with the different colors and textures. This is an easy way to mix cheaper elements with more expensive ones to still get a rich look. One beaded place mat cost the same as all four green ones. Put them all together and it is still affordable!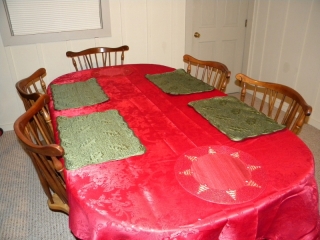 So now time to put together the centerpiece. Thankfully we had extra ornaments that didn't make it onto one of our THREE decorated trees. Yes three. A Christmas house tour to come that will show all the glories of Christmas in our house! So all I did was put different colors and shapes of ornaments in the glass bowl/vase. The great thing with this $7 investment is that it can be festive throughout the year. Just change what is put inside to correspond with the holiday or season!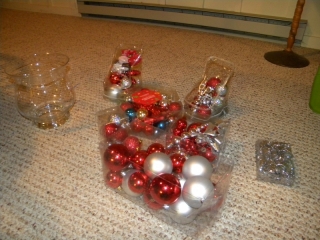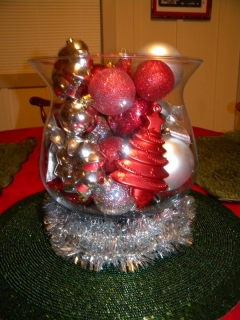 Then add the Christmas snowman plates and glasses that we had and wah-la!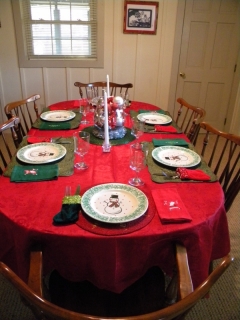 For the finishing touch we took an idea from HGTV.Use small stockings to put your silverware in. You can find them in the Dollar Store for 2/$1. So cute!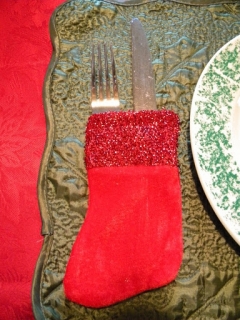 Also, for festive napkins buy small holiday hand wash clothes. People aren't afraid to get them dirty and you can use them in the bathroom too for decoration!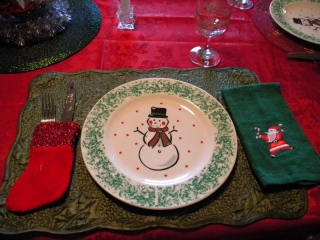 So it doesn't take a lot of money to make a festive, glittery, and beautiful Christmas table! Just think that you can use these year after year!