I really love to shop. I really like to buy unique things. I am a cheap shopper. Oh, and I like everything blue and green and EVERYTHING that sparkles and shines. It takes you only a few seconds to learn that when first meeting me. Most likely I will be wearing all three of those items. So when I was able to combine all of my favorite items I was excited!
Last weekend I went with my wonderful and craft mother-in-law downtown to our community market and local thrift store Estate Specialists that is one of the coolest places ever. We went in there when a really neat old Santa caught our attention and then we got stuck there when we passed the jewelry section. I have shopped there many times and seen a lot of their jewelry before but there selection was quite impressive this time! I spent quite a bit of time going over the entire collection and picking out pieces for Christmas presents (both for myself and others!). Unfortunately I packaged up and sent the Christmas presents before I could snap any shots but I will share what I found.
Here are the green and blue sparkly earrings that I fell in love with. They are a bit costume-y and a bit vintage looking and I think they will be an outfit stealer! Just love them!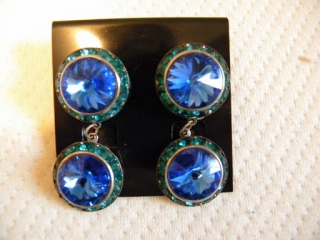 Here is a very fun and sparkly (see the pattern?!) necklace that I found. It is so unique and trendy at the same time. It is fun longer length too, which I am alllll about these days.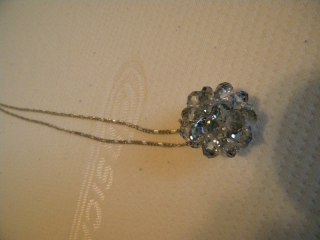 And last but not least of the goodies that I picked up is this brooch. I have been looking for one that would dress up my blue pea coat and this adds just the pop it needed.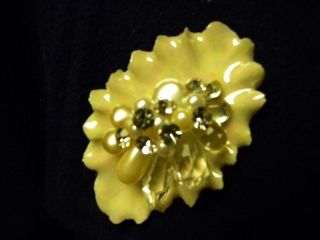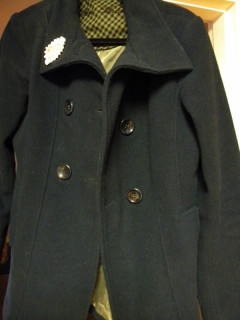 The best part of the whole trip was putting my bargaining skills to test. I wrangled over the price with the woman (my tip: ask for a lower price and just look at the person. Awkward silence is the best and never be the first one to break it. People hate silence and will usually cave). I knocked off $10 off the price. Since I got two necklaces for my family members for Christmas my grand total for 3 necklaces, 1 pair of earrings, and 1 brooch for a whopping $35 plus tax!
As another fun part of this story is explained in a post from my friend Carrie – an awesome DIY blogger who was part of my inspiration in starting a blog. She loves owls and I saw this awesome owl necklace while there and almost texted her about it. But I didn't (don't know why!). Then I ran into her downtown and got very excited to tell her about the necklace. The result, this post: Dream Green DIY Owl Necklace Post
Do you have any thrift store fun stories? Or how about bargaining stories and tips?