Merry Christmas everyone! I hope everyone had a wonderful day yesterday full of love, giving, happiness, and joy! I would love to hear about what everyone did! This post is one that I meant to do before Christmas but it will now be a way to show what Christmas is like in the Rapp home. Christmas is a very joyful and special time of year for us. Eric is Mr. Christmas and has infused with me with all the love, memories, and joy he has for Christmas. Which means that Christmas starts the day after Thanksgiving (well actually this year it was a week before Thanksgiving since we were on the cruise during the week of Thanksgiving and wanted to come home to the Christmas house) to make sure there is holiday cheer as long as possible. Christmas decorating is in two phases: inside and out. Inside is my favorite as there is always a good Christmas movie playing in the background (this year it was The Santa Clause!). Ok, so here goes the tour…
Our outside lights (there are usually more icicles but they malfunctioned this year and everything Christmas sells out so early!).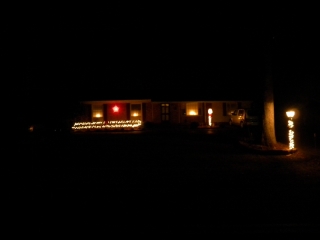 Close-up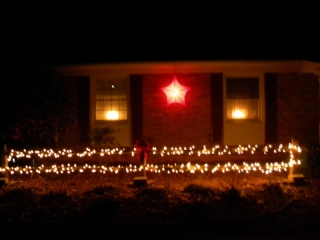 The retro Santa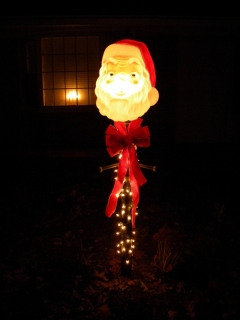 Inside: In the kitchen with a cool Santa head hanging in the left, our glittering candle we keep up all year round, and a few small other items.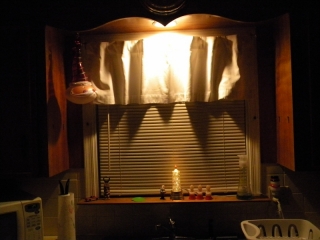 The mantle with our homemade stockings (Eric's on the right was made by his Grandma and mine on the left was made by Eric's mom as mine had gotten lost in the many moves).
Christmas tree #1
Christmas tree #2 (the two fireplace thing is a long story – we just go with it for now)
Christmas tree #3 – This tree is a ceramic tree that my family has had since I can remember. I always LOVED putting this up as a child and still love putting it up now! I think someone in our family may have made it…Fun side note: the wrapped packages are blocks of wood that my mom wrapped and put bows on to make looks like packages. That was probably 15-20 years ago! And another vintage item of the tree is the box that it is in. That tree has been in the same box since I remember unpacking it. I never knew an old box could make me so happy and nostalgic!
Christmas tree #4: The big one! I got all of the family ornaments so next year I will perhaps do a sentimental Christmas ornament tour!
Also, I tried to capture the low lighting feel in the house that makes it feel so Christmas cozy. We love to just bask in the Christmas lights all season long. So I apologize for the darker pictures but I wanted you to get the real feel!
Well that is it for us this year! We plan to hit the after Christmas sales and see what discounted goodies we can collect for decorations for next year! Merry Christmas again everyone!