Yup, according to all of those "How to Make Your Life Happy in the New Year" and "Tips for a Happy Life", etc, etc, that you read in every magazine in January, they all say that organization is a key to making your household happy. Amen to that! I love love love to organize. It's fun. It makes me so happy. I feel accomplished. I actually reorganize organized things just because. It drives my husband crazy. He likes to live a bit more, well, organically. Which is why marriages are great. I give him a little bit of structure and he makes me loosen up. When it comes to some shared spaces, we definitely try to hit a harmonious chord, especially when we need to utilize a small space for so many functions.
That is how I would describe our hall closet. Since our living room is the first thing that you walk into (remember from our living room tour) there is no luxury of a mud room to shed all your outdoor pieces before entering the real rooms. So we have our 2×4 slate entry way and a small hall closet.
This is how it looked before, with its mish-mash of coats, car washing supplies, shoes, hats, gloves, and probably a few other surprises: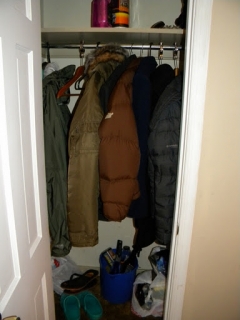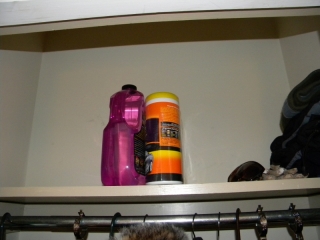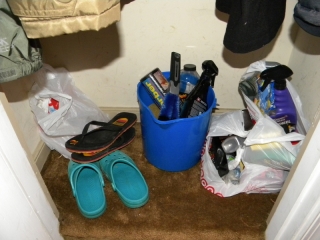 You can see that it was in need of some help with all the stuff in plastic bags spilling all around the floor and the big piles of stuff on the one shelf.
Here is all the stuff that came out of it (and in a moment of honesty, you may say this isn't so bad. It isn't. We actually cleaned out a mountain of junk from the closet a few weeks ago in preparation of this project. I was just so focused on getting rid of the stuff I completely forgot to take pictures. I was probably a bit embarrassed of all that collected in there too.) So this is the stuff that needs to be in the closet.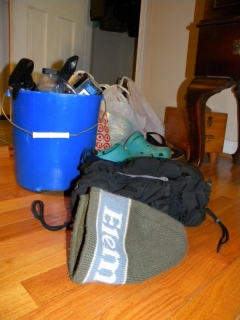 Now, our bargain organizers from Big Lots waiting to be inserted.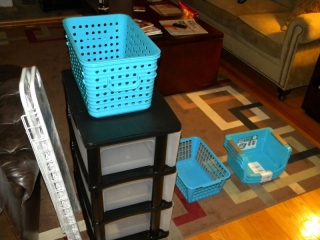 I highly recommend visiting your local Big Lots if you haven't recently. They have a great amount of housing items (including furniture), organizational items, beauty stuff, and food for great prices. Their supply overturns pretty quickly too so it is fun to check out repeatedly.
If you have a specific size that you are looking for, make sure to take measurements of the space BEFORE you head out shopping. Or you will either be buying a lot and returning or taking two trips after you figure out the measurements. So I took ever measurement of the closet before my visit.
Tip: bring a measuring tape with you! Luckily most of the items I bought had the measurements on them, but I double bought the baskets because they didn't have measurements. Oops!
So I mostly knew the items would fit but I was still crossing my fingers! Here they are inserted empty to make sure they fit.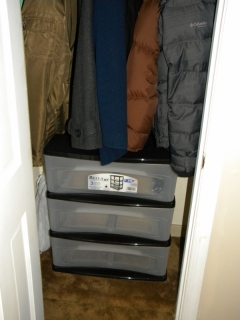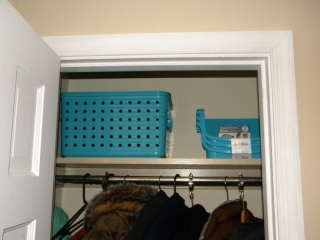 Now the final result!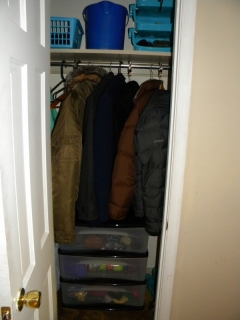 Oh goodness this makes me happy. Everything has its place and is easily put back in, a very important thing to remember to keep it organized. You can see that I changed out the basket on top for the smaller one since I needed a place for the car washing bucket.
The only other thing I may change it to make some homemade tags that label where things should go. Or in the case of the small blue shelves above, Eric and I have our own shelves to our hats/gloves/scarves so I may label each shelf with a name.
What are your organizational tips that keep you happy at home?