Remember from the kitchen tour the miniature collection that I showed you?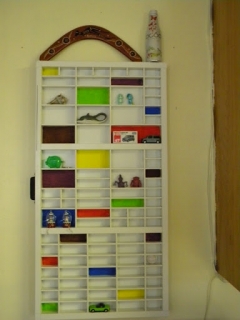 A flashback to my childhood where my mother had the most incredible antique miniature collection ever. So I wanted to do the same for my home. But as you can tell, I am not quite there yet. I went for the more modern look by spray painting the wooden press block holder to a crisp white. Then I used stencil paint to paint the back of some of the squares. Except it didn't really come out the way I wanted it to. Maybe it was the primary colors that I used but it just looked a like a little kids project. So after staring at it for a few months, I realized the perfect solution. So off the Michael's I went and came home with these.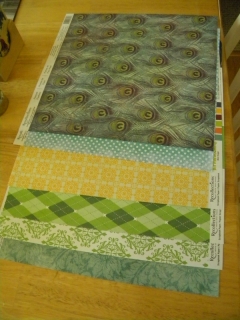 Scrapbook paper! My idea was to cut it into squares to cover where I painted. Then it would bring more subtle colors, some patterns, and give it a little more grown-up look. It wasn't a bad price either with it being 5 for $20! So with a little measuring and outlining I was ready to place the paper in the squares.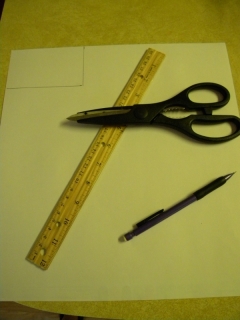 I tried my favorite pattern first and knew I was just going to love it!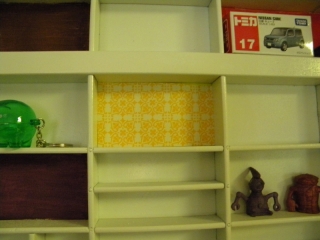 The best part of the project is once you have one paper cut for each size of squares, you then have a template you can trace off of and make the project go very quickly! Now, the final result!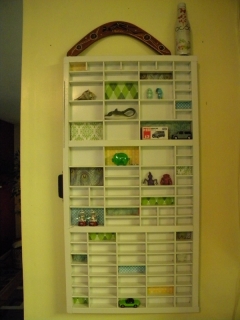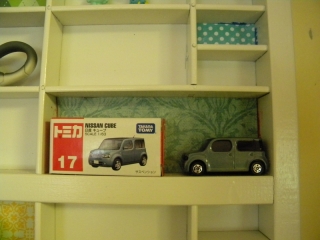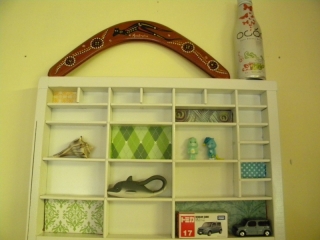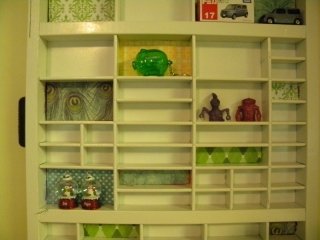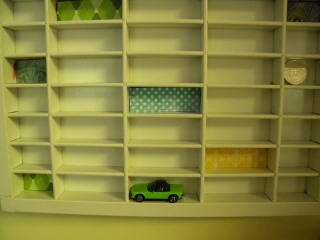 Such a better change! The great thing with the paper is that if your taste changes. I just used tape to keep it stuck up there. So it really is an easy change. Now, it is time to find a few more (grown-up) things to go in the collection. Also, all of Eric's car friends have come over and said, "I need one of those!" As you can tell the die cast cars fit in the slots perfectly. I have promised to get another to go in the basement to display Eric's many cars!
PS – I made some slight style changes to the blog and have also added a few pages (About Me & What's The Point). I would love your feedback on the changes and any other suggestions about the blog!