Reader beware: Landscaping is a learn as you go project for me so you may see some blunders and transplants. For all of you other rookies out there, this also shows you that you can triumph outside in the great outdoors. Coming from a family not green thumb inclined (memory of my dad and me and the incredible summer of the one tomato on the numerous tomato plants we attempted to grown) the outdoors was almost a little scary. I just had no idea on how to grow things and keep them alive. Then I married into the Rapp family and inherited a father-in-law who is a master landscaper and a mother-in-law who is a fearless planter, oh and a wonderful husband who also has a vast amount of knowledge. They have all been wonderful in getting me over my fear of planting (yeah, I think I was actually afraid to commit to putting something in the ground). So Eric and I have been tackling some landscaping projects around the house, especially in the front. But this post is not about that. It is about a side project with some out-of-place bulbs from the front.
As we tackled one of our front beds, we ended up taking out some random plants and bulbs. So we were left with a pile of half-grown bulbs.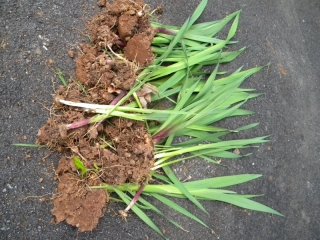 I just couldn't let these babies go in the burn pile of discarded landscaping. I love everything about bulbs. I like that you can plant them once and you get beautiful flowers every year. I love that they bloom and then are gone; therefore no ugly looking brown plants throughout the winner. Score! So when faced with this pile I went searching around the yard to find a place for them.
Here is the winning spot!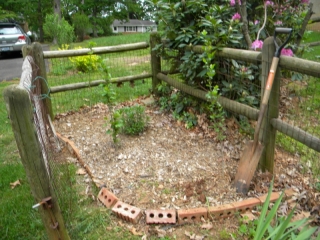 This little corner bed in the back yard (just barely). This was a new addition last year so it really is just three rose of Sharon (you will see a lot of them throughout the yard) and my beloved daisy bush I put in last year. Here is Daisy.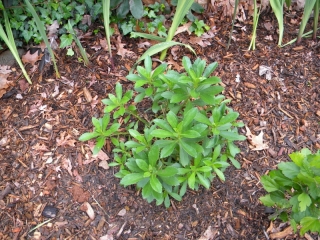 I will update you when she blooms! Anyways, back to the point. Now that I had pinpointed the spot to transplant the bulbs, I went to work digging a trench to put the bulbs in. It also gave me an idea if I liked my choice of where to put the bulbs.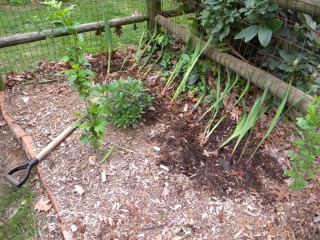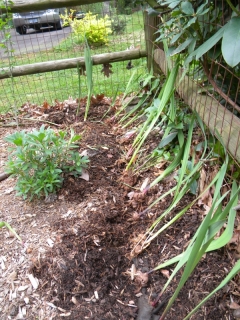 It looked good to me. And with impending storm clouds and the smell of rain in the air, I literally dug in! Time to make these babies permanent. It took a little oomph on my part to get through the barrier paper that has successfully kept out the weeds for a year. I got through it and got these little guys in just before the rain hit. I actually didn't get after pictures until a week later because it did rain. So here they are planted (a week later also means they have lived a week!).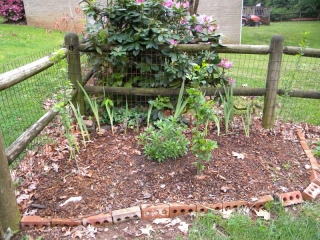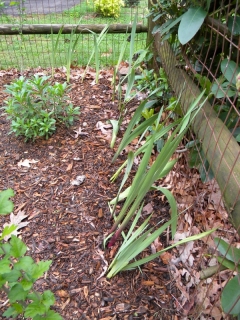 Here is the before again: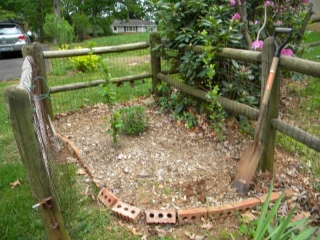 Now the after!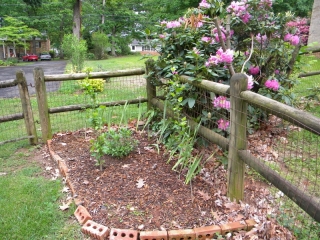 I subtle change but a good use of the bulbs that otherwise would have bit the dust! Also, isn't that a beautiful flowering bush in our neighbor's yard?!
Question:
What have you been planting this spring? Any new favorite flowers or plants? I am always looking for suggestions of what to plant!