Can I just say I made myself proud with that pun of a title? I do love my puns. Anyways, getting back on track, I am back with a reveal after Monday's teaser. Remember this guy that we picked up from Estate Specialists that I said had a double surprise?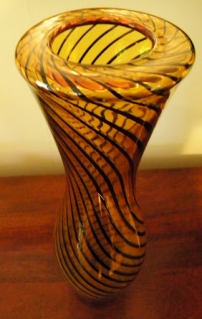 Well that was no hint. It was literal! There actually are two!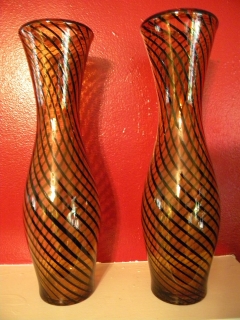 Does that red wall give it away where these two guys found their new home? If you guessed the mantle (aka the only red wall in our house) you were right! They were just so beautiful and majestic in their twin beauty that it inspired a whole mantle makeover! Remember back in my first house tour post with the living room tour? This is what the mantle looked like then: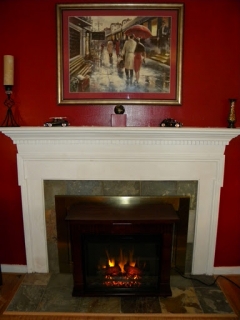 There was just a smattering of items that made their home on the mantle a little too organically in a hey, let's put that there for now and never think about moving it way. The mantle kind of happened instead of being planned. So once they twin vases came into my life, I knew their hues just required a place on the mantle. The thing was, there wasn't a logical place to put them. They also didn't mesh well with the randomness that currently reigned on the mantle. But I'm not sure is anything meshed well on the mantle. So it all came down and it was time to play. My favorite way to revamp something is to strip it bare of everything. Then it gives your mind freedom to imagine new ways to place items without having to try and see through the old figuration already there.
Once everything was off the mantle, I knew that I really needed to play off the gold tones of the picture frame. The melding of gold and red was too beautiful to ignore. It was also surprising to me since I am definitely a silver-toned person. It was even more surprising to me to find out that I actually had quite a few gold-toned items that would work on the mantle.
With the assistance of the keen eye of my mother, we came up with this new arrangement.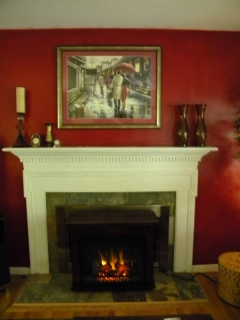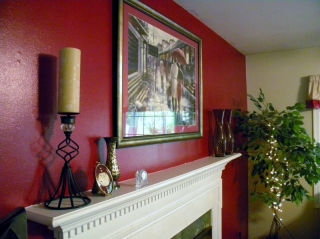 Mom had a great idea; she said that it didn't look that great having items scattered around the mantle. Instead, she suggested grouping them on either end, thus showcasing the picture even more. What a good suggestion! You can see that we used a few items that were on the mantle previously, but also gathered items from around the house that would work well. I was surprised how many gold-toned items I had. Let's take a closer look.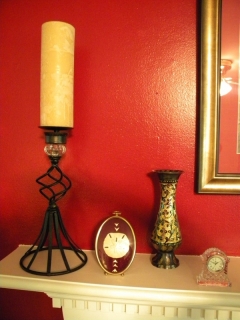 The vase (from China!) and candle stand (stand from Estate Specialists and a super stellar beeswax candle) were already there, but the sand dollar and clock (Waterford no less! A wedding present!) were taken from other areas of the house. Fortunately, they were sort of just placed, not placed just so, therefore no big holes from where they were taken.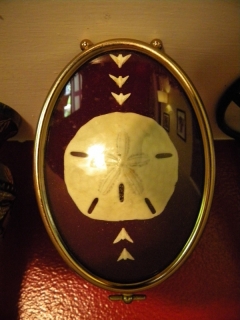 Now the mantle features the beautiful family keepsake that I got for Christmas from my mother-in-law, passed down a generation or so.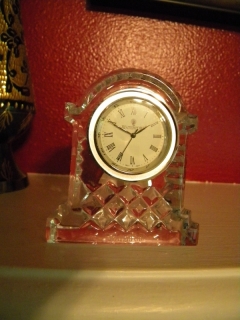 What a sparkle this guy adds to the assortment!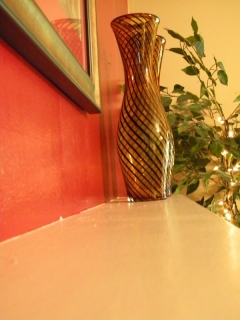 That whole makeover was thanks to these twirly twins! All you need are a few inspiration items to kick-start a sort of stale area. Let's look at the before and after one more time just to conjure up a little sigh of happiness.
Before: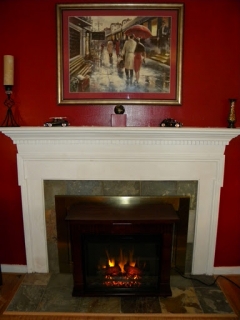 After: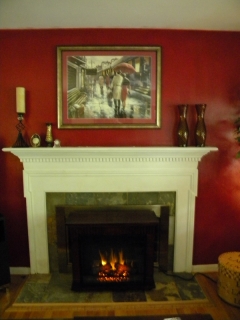 There you go! The first of the teasers revealed!
Question:
Do you have any items that are your items of inspiration? Or how about a place that needs a little inspiration to kick start a makeover?