If you look at any of my posts, make sure you check this one out. Even if you aren't the biggest fan of landscaping; it's okay. The dramatic change will still be exciting. I am still excited about it, and this has been done for about 2 weeks…yes two weeks. I am ashamed but there have been so many projects I have wanted to share that we did before this landscaping adventure. So I am a little behind. This is actually a project that I have been wanting to do for YEARS. So you can imagine my gratification to have it finished.
So this project is all about landscaping the beds in the front of the house. When I moved into this house, there was just old landscaping and this terrible ground cover that had just gone crazy. It had started to run the place. It bugged the heck out of me. So one random day after work I just took a hoe and hacked at it  like crazy. I didn't do that great of a job either. The hubby came out after my mess and had to clean it up. I didn't have the muscle to get at that roots. So that was my first attempt, get rid of the terrible ground cover. Just taking that out made me happy, but we still had a long way to go…and a long way to wait until we were able to tackle it again. Last fall, we were randomly at Lowe's and I had the urge to finally start (or would it be finish?) the project. So we bought a ton of plants and put them in…during the effects of a hurricane. Remember that one that ran up the east coast last fall? Yup, during that time. Eric's parents were in town, and we wanted to take advantage of his Dad's super landscaping skills. So in went the plants during a hurricane. Why all the explanation? Because up until that point (and I am still kicking myself about this) I never took pictures of anything. Hence the minimal original house pictures. Now you are up to speed. This is where we were from September up to a few weeks ago.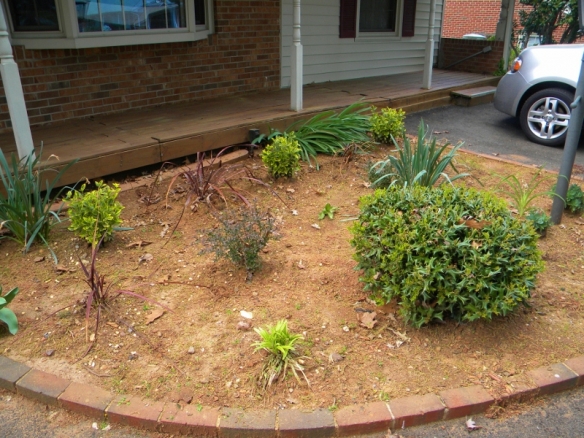 So there are the "before" pictures. All the plants are in but it doesn't really look like it with all the dirt surrounding them, does it? It just looks, well dirty and messy! Our next step was the barrier paper. We are all about doing it once, doing it well, and making it as maintenance free as possible! So we gathered rolls of barrier paper and started laying it down.
I already think it looks better! Having a darker color makes the plants pop with contrast. This step was fairly easy but definitely a two person job. The hardest part was cutting the slits for the plants. Also, make sure you get a lot of anchors to hold the barrier paper down or use rocks from around the yard. We used both. So after we finished this step, life got in the way a little and we proudly boasted a half finished project in our front yard for a few weeks.
Then we finally had the time to move on to our next step. Can you guess what material we decided to use (hint: title!). Yup, rocks. What made us choose rocks? Two words:oak trees. We have two gorgeous oak trees in our front yard. The problem? They drop humongous amounts of leaves in the fall, pollen in the spring, and acorns all year round. When I say humongous, I mean it. So much that it dictated this decision. Rocks will allow us to leaf blow the beds, which makes it much more low maintenance (there it is again!). If we went with mulch, we would be there on our hands and knees scooping up pile after pile of debris and lugging in our cart back to the fire pit (talking from experience). Then there comes the whole burning episode which takes time (and our neighbor likes to call the cops on us when the smoke blows into his yard). Also, mulch has to be put down every year to keep the beds looking nice. Although rock was a pricier initial investment, we consider it exactly that, an investment. Our nicer neighbors (meaning the don't call the cops on us) have had stone for years and never regret it. Let them live and us learn!
We had fun shopping around at all the stone lots. There are many choices – light, dark, red, purple! We decided to go with a nice neutral. Eight scoops later (delivered thankfully) there was no turning back on this project.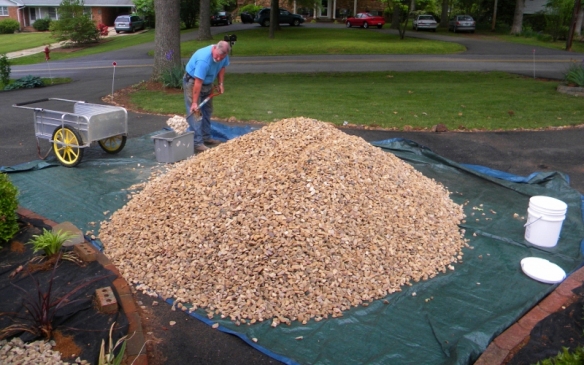 Now that's a big pile of rock (6 tons to be exact!). So we set to (hard) work of putting this stuff down. Thankfully we had some muscle around to help. The in-laws are living with us for a while so we have put them to work (love you both so much!). Armed with shovels, rakes, carts, and buckets we began. Oh, did I mention it was lightly raining? It tends to rain when we have big projects scheduled. We haven't melted yet! Here are a few action shots.

I had the much easier job as the raker. The big men decided they would be the shoveller and haulers. I would have gladly hauled some around, but why fight too hard for that job? Mine was just as important! So here we have it folks, the final reveal: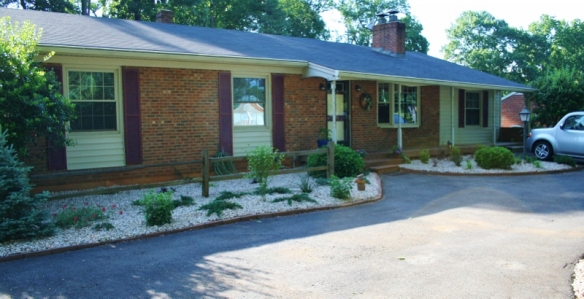 One more before and after for the dramatic finale!
I love it SO MUCH! You can pretty much find me at least once a day standing outside and staring at our landscaping. After two years of wanting this project to happen, it finally did! I couldn't be more pleased with the result.
Another plus of the project? There was more stone left over, so the rest of our yard's beds could have a makeover. Check back on Wednesday to see the smaller bed makeovers. I've gotta tell you, they are pretty awesome too. They just bring a whole cohesive look to the place. Anyways, more on that Wednesday.