Let the house tour begin again! I left off in the master bedroom so naturally it is time to move to the master bathroom. I LOVE that we have a master bathroom. It just seems to make life easier. The evolution of this bathroom takes a little bit of explaining. When Eric and I were registering for our wedding, we ran across a shower curtain that began what we like to call, "The Monkey Bathroom".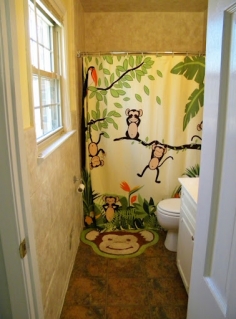 Hey, why not stay a kid your whole life? Eric fell in love with the monkey thing and I thought "Sure, why not?" So we really embraced it. I even think that after our wedding people were fighting over who would buy the monkey accessories!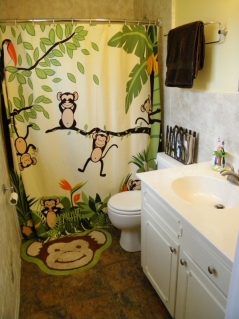 Also, like I talked about in my guest bathroom tour before, this bathroom was also "Rebathed" to cover ugly brown/pink tile on the wall and shower. You can really see this in the shower.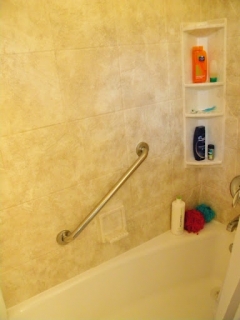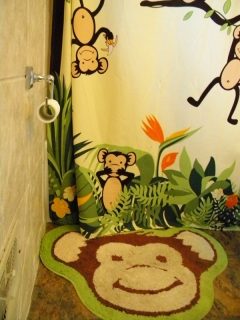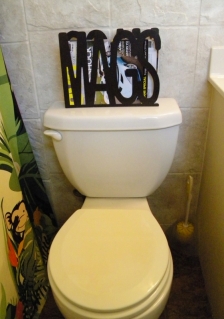 A few goals for this bathroom are to change out the mirror and lights and add some artwork/shelving on that bare wall.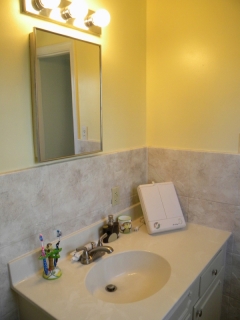 Fun monkey accessories!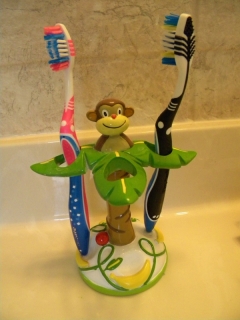 This is another project that I need to get on: window covering! I am thinking either a nice simple green valence or a bamboo roman shade. Any thoughts?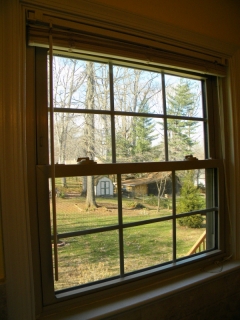 So there it is! Another room tour to add to the list. Only 8 months into the blog to get here!
PS: Here are the other house tour posts if you're interested