So ever since we got these beautiful, shiny new counter tops, I have literally been on a kitchen Kcraze. Yes, I spelled it wrong on purpose in the title. It looks more fun that way with the word kitchen! I have actually been daydreaming about our changes to the kitchen. This weekend another one took place, that was kind of like a test to see if we wanted to make the whole kitchen look this way. So remember this bad boy?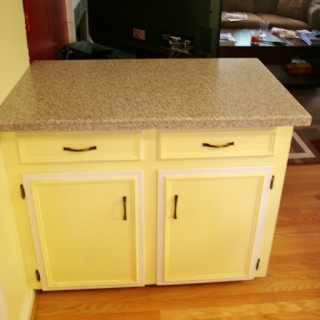 Well, pretty much everything needed to change underneath the counter top on this cabinet. This cabinet came like this with the house, wonderfully matching the walls (sarcasm intended). It has been on the to-do list to give a little makeover to, but low. Well my shiny Formica friends changed that. I couldn't stand to look at it anymore. So the plan was to paint it and repaint the hardware. We also saw this project as a test to see if we want to paint all the cabinets and hardware. See if I think the cabinet passed or failed the test at the end. Any predictions on your part?
Back to business. To begin, I took apart the cabinet, dismantling hardware from doors and cabinet fronts and then taking those off the actual cabinet.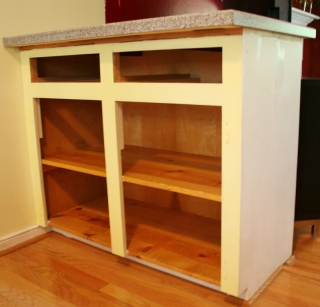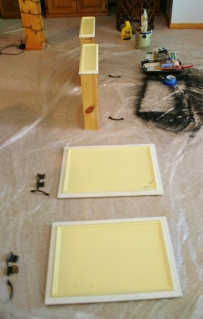 Then I gathered all my supplies. This time it consisted of sand blocks (fine), Next Liquid Deglosser (with safety glasses and gloves to wear while using this chemical), beautiful nickel spray paint, and just a white semi-gloss. Since this was just a test on painting the cabinets, I just used the paint we had. If we actually paint all the cabinets I will purchase cabinet painting specific paint. However, the spray paint was our ideal paint choice for the hardware.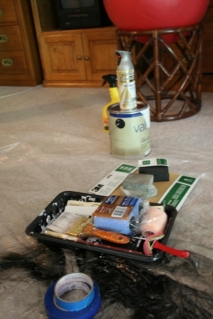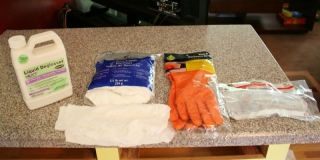 Then it was time to sand down everything: cabinet doors, faces, the entire cabinet, and the hardware. Since the cabinet had already been painted, it didn't really need sanding but lets just call it extra credit. Once they were sanded I used the liquid deglosser for cleanliness and security. The after pictures of the cabinets look pretty much like the pictures above, but not the hardware! After sanding the hardware, I apparently sanded years of grime off of them. Check out this exceptional before and after.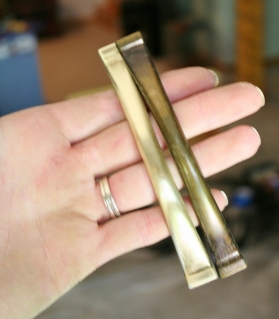 This revelation was too much to keep to myself! I thought it was so cool to find the hidden, bright gold underneath. I jetted up from the basement and outside to where Eric was working on his car to show him what I had uncovered. We both kind of marveled at how beautiful the gold was, had a fleeting moment of "How could we paint something so pretty?" and then got a hold of ourselves. Although we love the classic shape (not outdated in shape, just color in my opinion) keeping it gold would just date the kitchen. So we had an "ahh" moment and then off I went to paint.
I first started by giving a good first coat to the hardware – another item that got in on the mix. That is the shelving unit we use to hold magazines in the kitchen. When we bought it in Ikea we could have sworn it was red (to perfectly match our other pops of red) and when we got it home it was magically orange. Hmm…not worth the three hour drive to return it. So it stayed in all of its orange glory. But not for much longer!
Wonder why there is a giant piece of foam in the spray paint firing field? It was just a one of those ideas I have to say I was pretty proud of. Now look at it again.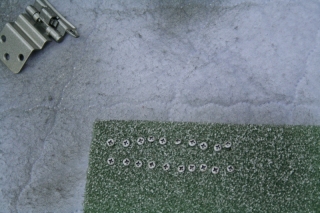 Yup, that was my idea of how to spray paint screws without messing up the threads. It worked! Happy dance ensued! Oh, and why paint screws? You can actually see the screws in our old-school exposed hinges. You also got a sneak peek of the color in that picture. Isn't it lovely? I get all dreamy eyed when I see the results of just one can of spray paint. I did a light, even coat of spray paint, went inside to paint the cabinet, and then came to do a second coat to make it all perfect.
To paint the cabinets, I used just a small roller that we had already, which did a pretty great job actually, but if we paint all the cabinets I will definitely get the door and cabinet rollers. They are more foam like so they don't leave those unnoticeable indentations when on the walls but show up glaringly on cabinet doors. Anyways, this is why it is a test, to see if you are doing it right! So I cut in the edges and corners using a brush and then went back with a roller to try and eliminate all brush strokes to make the surface look even. Two coats of that, two coats of the spray paint, and some dry time (overnight – boo!) and it was time to assemble.
Did I tell you that I day dream about our kitchen? Well, unfortunately all this painting went down on Sunday so dry time was overnight and while I was at work on Monday. I literally found myself day dreaming about coming home and putting the cabinet together to see the final result. And the result? So. worth. it.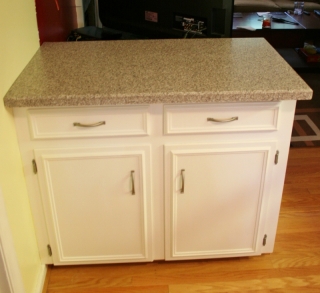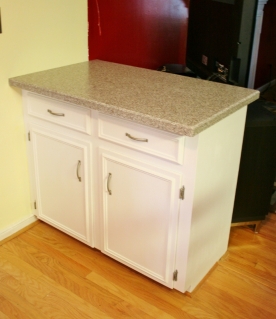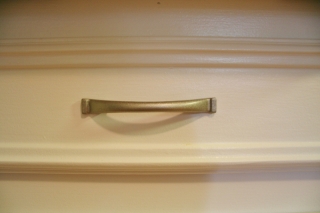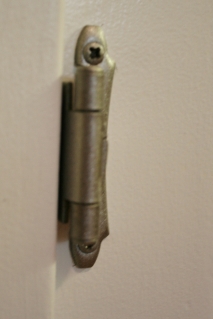 Now let's see that dramatic before and after, shall we?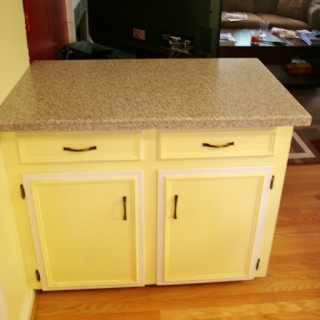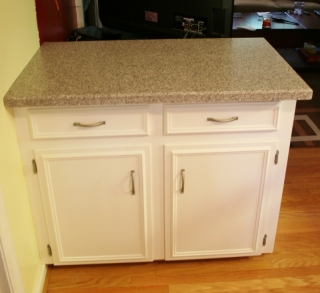 LOVE IT! So Team Megan is 100% into painting the cabinets now, lovely wood and all. Team Eric is probably about 95% into painting the cabinets. Our votes come with a condition, which is to finish all the other kitchen updates, live with it through the rest of summer, fall, and winter, and then decide to paint or not to paint in spring. Why so much crazy waiting if we know we want to do it? Our philosophy is to take things slow, to make sure you absolutely love the choices you are making, and if you aren't having fun with it, it's not worth it. Since we have so many other projects to keep up busy, the wood is so beautiful (albeit old, we know), and this painting thing would be a HUGE undertaking, we want to be absolutely sure before we paint. There's really no going back on that one.
So let's review the kitchen upgrade list now:
Paint yellow cabinet white
Paint pea green garbage compactor black
Paint yellow walls tan
Put up new back splash (doing that this weekend if all goes well!)
Put up under mount cabinet lighting
Change light fixtures above the kitchen and eat-in kitchen area (bought and waiting for an electrician quote on Monday!)
Paint all hardware and hinges (well, a few are done, but I plan to keep at this arduous process a spray paint can at a time)
That's the to-be-completed list and live with it a while before the possible (but most likely) cabinet painting. What do you think? Paint or not to paint? Any tips out there for painting cabinets? We will take any and all advice!