It's been a while since there has been a recipe on the blog, and it's about time to remedy that, don't ya think? So here it is! I also wanted to put this recipe out there now because a) it is a wonderful summer recipe and b) it was made in our old kitchen and it's hilarious to see the yellow countertops! I also wanted to share it with all of you because it is probably one of the easiest things to make ever.
If you are ever invited to a party last minute or someone unexpectedly drops by and you want to whip up something that will knock their socks off and quench their hunger, then here is your answer my friends! Now let me introduce you to my homemade salsa recipe (with salsa as an ingredient – is that cheating?)
Summer Party Salsa
Can of black beans
Can of petite diced tomatoes
Can of mexicorn
Some of your favorite salsa (optional but makes it juicier)
Cilantro to taste (also optional)
Chips for dipping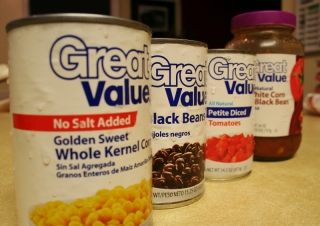 So what do you do with all of those ingredients? You just pop open the cans, drain and rinse them all well, and then stir together. Then add some of the salsa to make it juicier if you want. I like to add some fruity type of salsa (like mango). Then chop the cilantro and stir it in.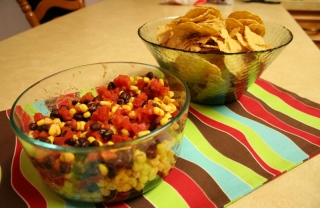 That's it! Isn't that easy? Now just serve it up. Or, you don't have to serve it to anyone but yourself. I have been known to make this my dinner! You definitely don't even need to just save it for summer; it can be a really yummy dip all year round.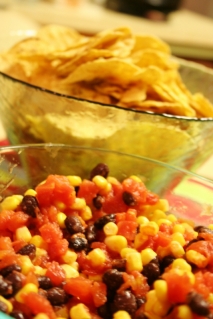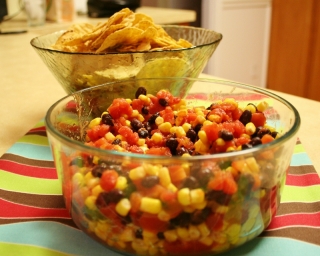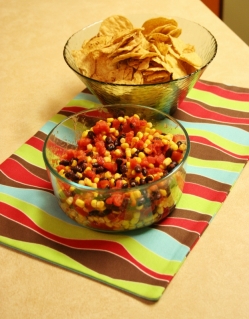 How about you? Any go-to party recipes to share? I would love to hear about them – and make them!