Our house has really been lighting up recently! Literally.  You can check out the lighting glam scene here in our kitchen. Since we had an electrician out to the house anyways, we thought to ourselves, what else can we afford to do right now that we need help on? Light bulb moment (hee hee, couldn't help it)! The bathrooms. Our bathrooms had the plain old big bulb lights that I think have been there for about forever.
Guest Bathroom (check out the whole tour here):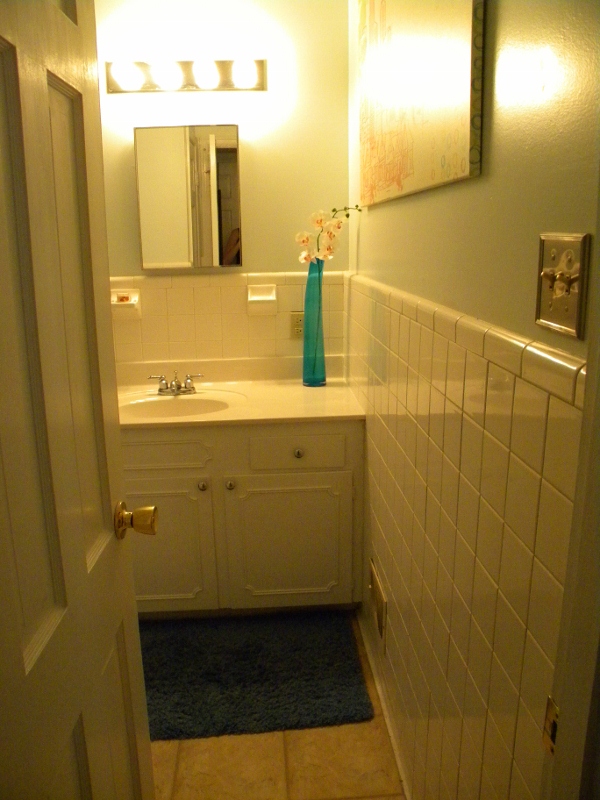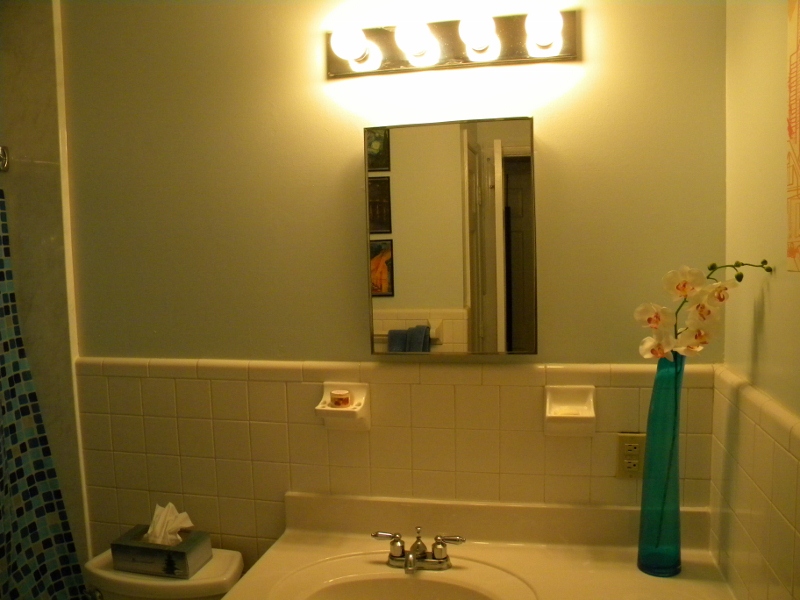 Master Bathroom (check out the tour
here
):
They aren't terrible looking but they aren't that great either. Especially when you get up close, you see lots of gunk caked on it that is impossible to clean off. Yuck. There are also some errant paint marks on these as well. So when the Lowe's mailer (or circular like I call it that always makes Eric chuckle at my old school language) came in the mail and they were having a sale on nice, modern looking light fixtures, I trotted on over there and scooped two up. We contemplated getting two different lights, but decided to go with the  same light fixtures. Reason number one was price; these were the best price for the look. Reason number two was the simplicity and modern lines. I love that is has a classic yet modern look that will grow with our house yet hopefully not date it for a while. Reason number three was that they interchangeable glass shades. They sell all sorts of variety of these glass shades for about $4 plus. So if we are ever in need of a change-up we can do it for probably around $30! Sold!
So these joined the growing pile of waiting lights until Mr. Friendly Electrician stopped by the casa. These were a pretty easy change (famous last words, right?) except for allowing space for the medicine cabinets to open. We had never noticed this before, but the cabinets and light fixtures were different sizes. Notice the bulb count? They were also positioned differently. So the electrical box in the master bathroom had to be moved up while the hall bathroom was fine where it was. So after one patch job and some touch up painting in both, we had a new look and feel with the glow of the light fixtures!
We love the look and the new light it throws. It is still plenty bright but gives a softer glow, compared to the bare bulbs of the last fixtures. Eco-friendly me is also very happy that CFLs can be used in these fixtures!
Just like most projects, when one project gets checked off the list, a few more get put on. With these new fixtures, the light is bright but a little more focused downward. We are contemplating getting a dual light and fan to replace the ancient and loud fans so there can be more light (which is always a good thing) in the shower area. Since the fan is on a separate switch, it doesn't always have to be on all the time. We are also contemplating (well, we have been thinking on this one ever since we moved in) about changing out the mirrors for a more decorative framed look. We do need the storage though, so it would mean finding alternative means than the medicine cabinet or buying a fancy medicine cabinet and cutting bigger holes in the wall. Things to ponder…
Sharing This Here: