No, I don't mean that we are skinning it…that thought train just gets too weird. I mean that the kitchen has literally gone tan! At least the walls have gone tan. That means the final part of our yellow kitchen is gone, gone, gone!
Here are the before pictures of the kitchen (I mean way before – you can see the original tour here):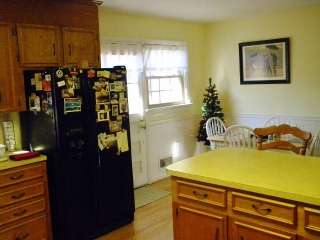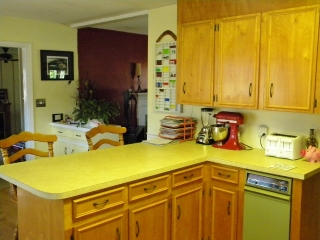 Then here is the kitchen prior to the walls being painted: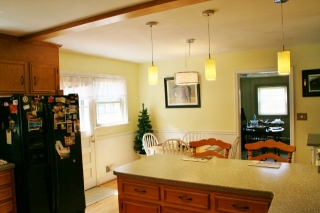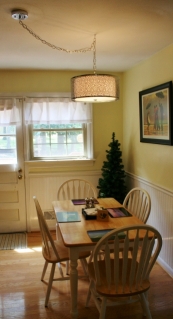 Now here it is in its new color!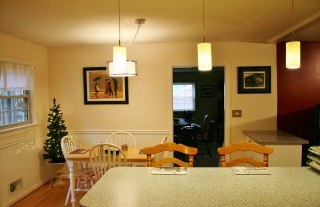 This color has actually made an appearance in our house already in the main guest bedroom. We wanted a nice neutral in that room so we picked Valspar's Riviera Dune. [Sidenote: Although I love the color, sometimes I want a bigger splash of color in the guest room.] Anyways, back to the kitchen. We knew we wanted to pick a color that was neutral and blended well with the other areas of the house. You can see the kitchen walls from the living room, entry way, and the Mego Cave, so we didn't want it to compete with the other rooms with a big, bold, look-at-me lashescolor (yes, no? Anyone get that Covergirl commercial reference?). One kitchen wall also butts up against our red accent wall. Based on that, we immediately ruled out a green of any shade (too Christmas-y, even in our house). We thought a nice, soft tan would be best, especially beside out cabinets. No more yellow reflecting in the cabinets. We are doing everything we can to bring out the richness and golden tones of the cabinets.
As we were looking around at paint samples, trying and trying to figure out what color to pick, it was actually in our house the whole time. I walked into the guest bedroom one day, looked around, and thought how the color would be beautiful in the kitchen. Then I kind of forgot to mention it to Eric, until, no lie, a short while later he said, "What do you think about painting the kitchen the color of the guest bedroom?" Whoa. It was meant to be.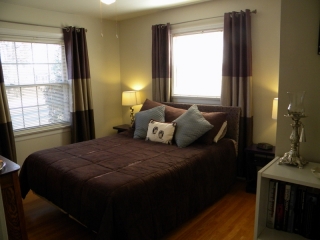 So one rainy Saturday morning I prepped the room: taping, puttying and peeling an old telephone line off the wall. After a first coat, a two hour-ish drying session, and second coat, I was ready to reveal the new kitchen. Isn't it amazing how color really can make a room look new?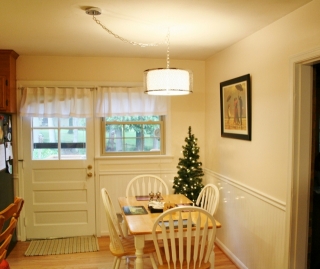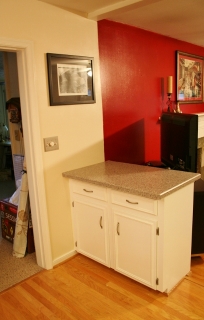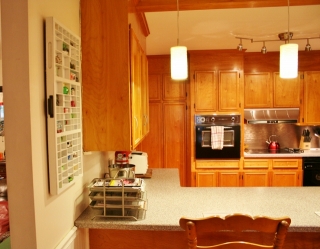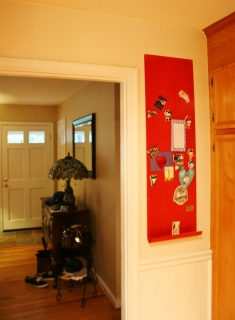 I love how this color just effortlessly fits into the room. I don't think people will really notice that the color has changed, which suits me just fine. It means the color is so right, that it doesn't scream "Change" at us. It just blends. I think it really makes the kitchen makeover feeling more complete. We have put our stamp on most everything in the kitchen now, which makes the house feel more like our home. Don't you just love personalizing your space? I feel like it makes the home feel more loved and therefore it loves you back even more. Yup, I believe your spaces can definitely have a feeling. The main goal in the changes we are making our home is to make it feel more "us" and it make it the most welcoming, inviting, cozy, and comfortable home we can.
Don't before and afters just make you all happy inside?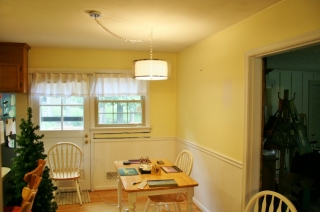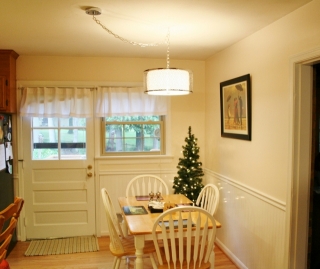 Let's review the ultimate kitchen list:
Paint yellow walls tan

Put up under mount cabinet lighting

(shown in the backsplash post)
Paint all hardware and hinges
Here's a secret for you too: the last thing to check off the list is actually done! Tune in on Wednesday to see its reveal!