Think I have a spelling problem? Maybe I don't know how to wrangle the space bar? Nope. This post is all about acorns! With acorns basically raining down on our yard (and heads) from our two giant oak trees in the front, it finally hit me (quite literally actually – an acorn has bonked off my head before). Acorns really just provide a plethora of free fall decorations! The best thing about this little acorn project I'm about to show you is that it's practically free and just so cute and fun. Also, for all you with kiddos out there, this would be a great craft to do with them. Kids of all ages will have fun making acorn jack-o-lanterns and lovely painted acorn decorations.
It all started with me harvesting the yard of acorns. After a whole basketful I didn't even make a dent in the yard. I was a little nervous though, because all I could think of were a bunch of angry squirrels gathering in the trees above me planning an attack as I snatched up their food. Yikes!
Then it was time to get my painting on. I gathered all my supplies (basically brushes and a variety of acrylic paints), complete with a Halloween cupcake. It's a must for this project, I'm telling you.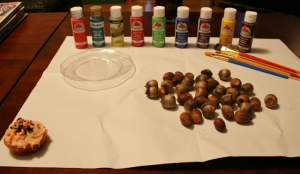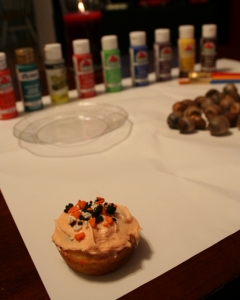 Then I just had lots o' fun painting my acorns a myriad of colors. I started out just thinking I would just make my pumpkin acorns, but when I started pulling out my paints I thought I would just go crazy with color. Oh, and with glitter of course. What's better than an acorn? A painted acorn. What's better than a painted acorn? A glittery painted acorn. You know me!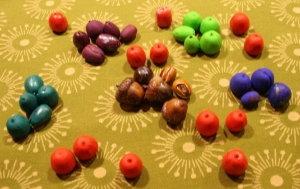 After some drying time it was jack-o-lantern drawing. This is where it gets even easier. Hello, Sharpie's! After drawing a few practice faces on paper, I just started going at those acorns. First it started with faces, and then it just kept progressing. I was going acorn crazy! A chevron acorn? Yes! How about a monogrammed acorn? Woop!
After making these beauties, it was time to have fun putting them around the house. Maybe a few on the mantle, although they were a little small on such a large-scale mantle.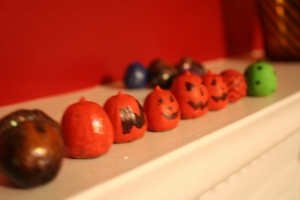 Next up, peeking over the edge of the entry shelf.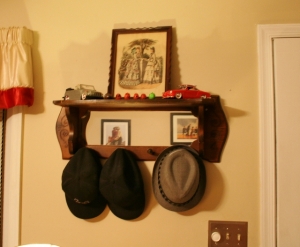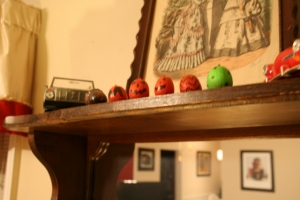 How about trying them as sweet little faces grinning (or scowling, however you draw them) down at you from the corner of a doorway.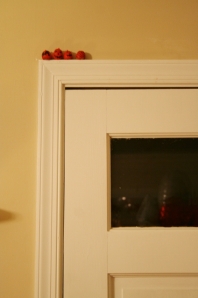 The options are endless. How fun would they be for little girls playing with in their dollhouse? I hear an acorn family in the making. I'm sure some boys would have the acorns fighting each other somehow. Or maybe just throwing them at each other. I also thought the monogrammed acorn could be a fun "place card" for a dinner party. Where else could you imagine these little guys popping up?
I'm so loving these acorns, I think I will experiment with more ways to play with them around the house in fall decorations! You know I'll share!