So I decided to jump on the bandwagon because the bandwagon is so pretty. Also on sale. Let me explain. I've been seeing terrarium posts all over the place. Most recently, on a Pinterest Challenge I saw on the Bower Power blog. What really got me was when she mentioned that the succulents were on sale at Lowe's. If something is at sale at one Lowe's, it is on sale at all Lowe's. So I scurried my little self over there to browse through the clearance rack. There was good news and bad news. Always start with the good. They had succulents! Bad news: There weren't very many, and they all looked like they were dying. I had faith that I could bring these plants back to life with some love, water, sunlight, and plant food. So I nurtured them on the window sill for a week or two, and then I realized they maybe weren't getting better in those little pots. It was time to replant so their roots could…well take root and grow.
Here were my brave little plants.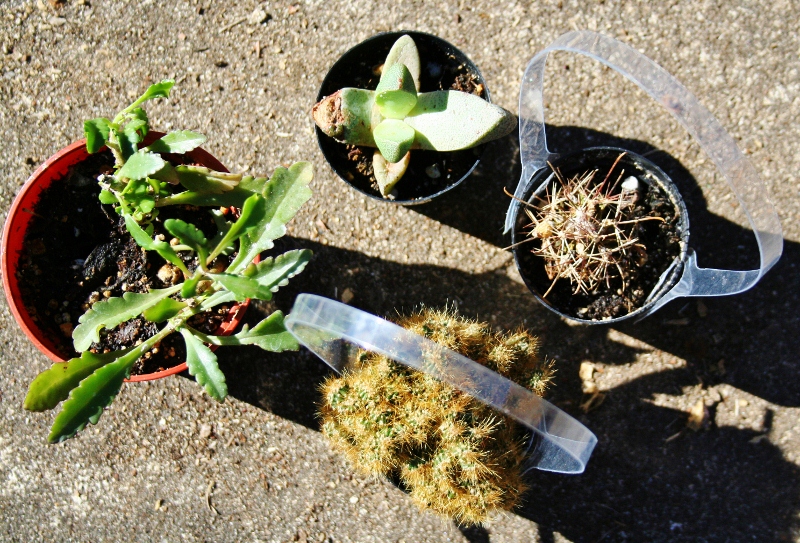 Mostly looking all perky and ready to plant. Until they came out of the container. That cactus in the middle/right that's looking a little frail. Well, this may be hard to read, but it was decapitated. On accident, I promise! But I popped it out of its little pot and wam-wam. Off fell the top. RIP cactus, RIP.
But I digress. Before we get to the planting, it is time to gather supplies and prep for planting. First you need a glass container of some sort. I bet you can find one around the house you aren't using. If not, head to a thrift store or even a dollar store to find one (or more). I've even see mini-terrariums in drinking glasses. Yup, one plant per glass. The glass container I found was one that my mom bought me when I was a resident assistant in college. I would put candy in it to lure people in to talk to me. I can't remember if it worked or not, but I know I did end up eating a lot of candy. However, in my current home the glass container has just been sitting on my shelf with no purpose. So, along with soil and rocks, I gathered it to prepare for planting.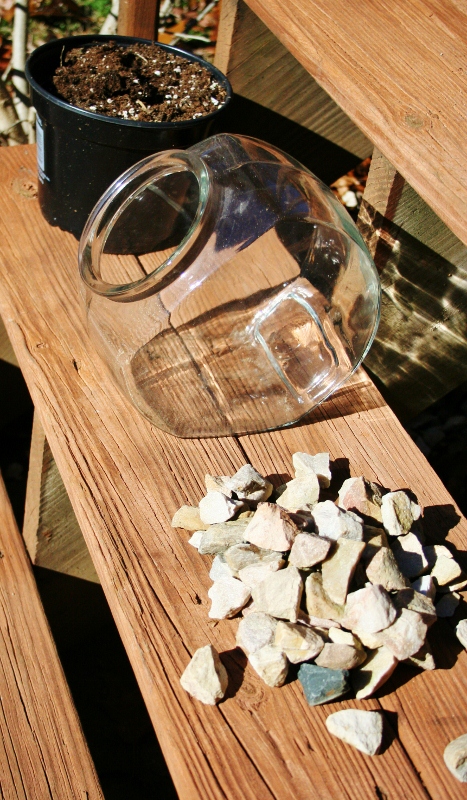 Gosh, don't those stones look familiar? They have come in handy! Check them out in all their full glory in what seemed like the endless stone-scaping part one and two. Next step, layer the ingredients. First stone, then soil, then plants.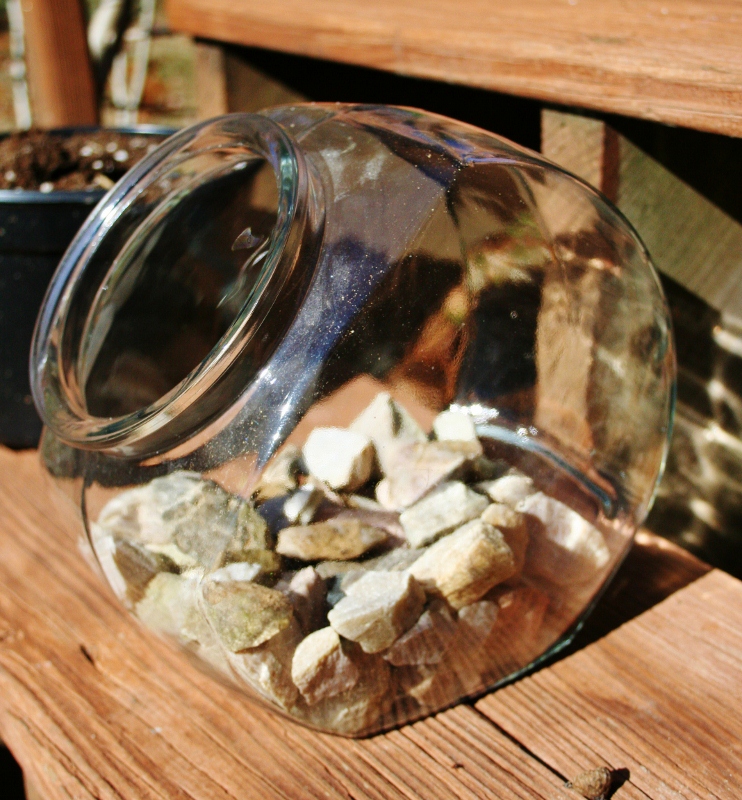 It took a while to arrange my plants, but I had enough, even with one poor little cactus down. Thankfully, my leafy green plant was actually a bunch of little plants in one pot so I was able to split them up to provide a nice, symmetrical look. Geez, I'm not an organized crazy person am I? Organizing my plants.
That's it folks! As simple as plant, rocks, and soil! It landed on a nice sunny place on my desk.
That little spot of green on my desk makes me very happy! I am starting to really believe in the suggestion of having something living in every room. It seems to lift a room's energy and make it feel more fresh and alive. I love it. Especially these, because they are supposedly pretty hardy. Here's hoping!