It's frolicking season in the Rapp house with lots of Christmas cheer galore. As you know from this last post about how to de-stress the holidays, we Rapps are living it up on our high of Christmas cookies, Christmas lights, and those oh-so ooey, gooey Hallmark Christmas movies. Sigh. Those movies really should happen all year round. Anyways, the real purpose of this post is to show you the Christmas décor around the house o' Rapp. One of my first posts last year on my new blog was our Christmas house tour (ahh nostalgia and non-edited pictures). We've made some tweaks and changes this year so I thought I would share what the casa is looking like right now. Cause who doesn't like looking at Christmas lights?
I'll bring you in the front, full of icicle lights, Santa heads, a giant red star,  and a mini Christmas tree.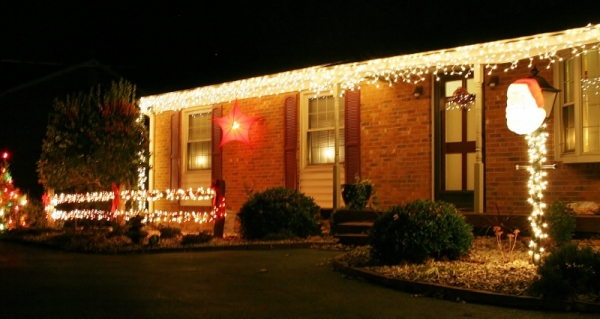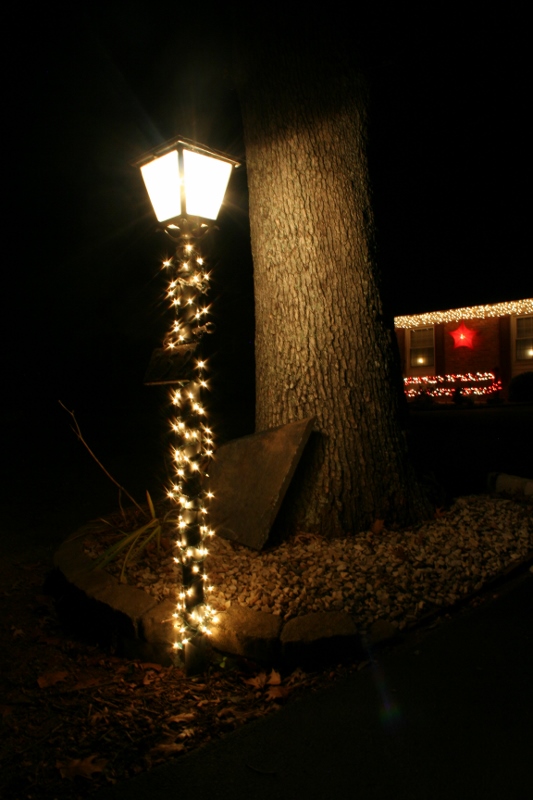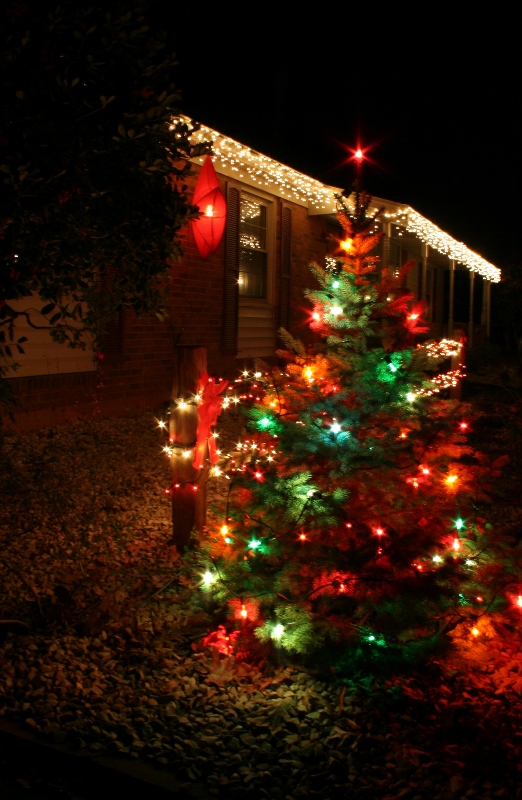 Now let's jump on in and check out the main Christmas tree in the living room…because we have four Christmas trees of all sizes and one lighted plant! Can you find them all?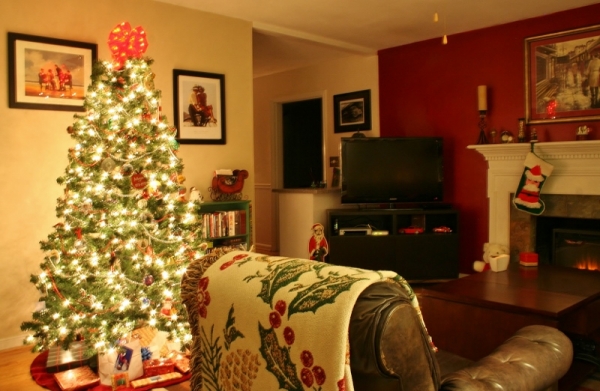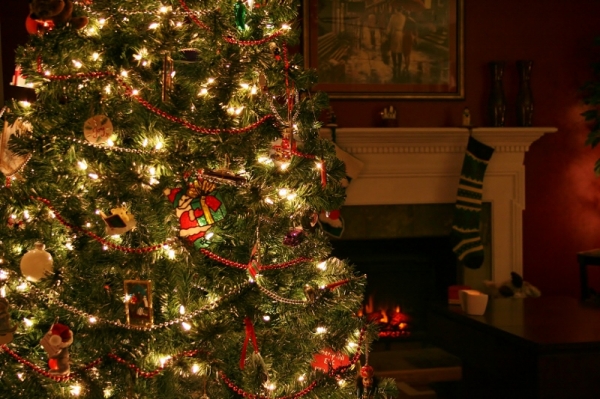 One of my favorite parts of the holidays is bringing out decorations with memories, like so many of our ornaments have. Like this one from my preschool days and Eric around age 12.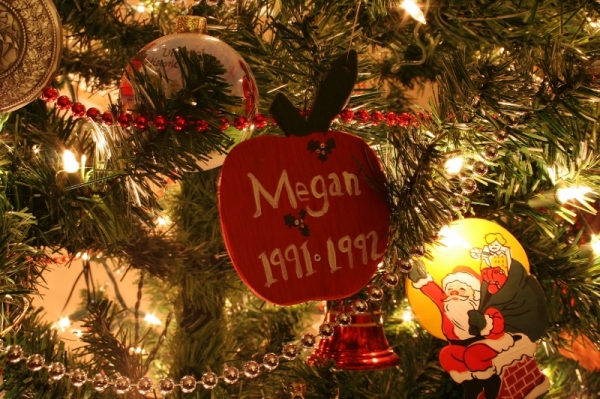 Our stockings were hung by the chimney with care. Eric has had his hand knitted stocking most of his life and since my stocking since childhood sadly moved on at one point during one of my family's moves, this newbie came from World Market this year (an early Christmas present from Eric – fill 'er up baby!). Of course you can't forget our lighted plant!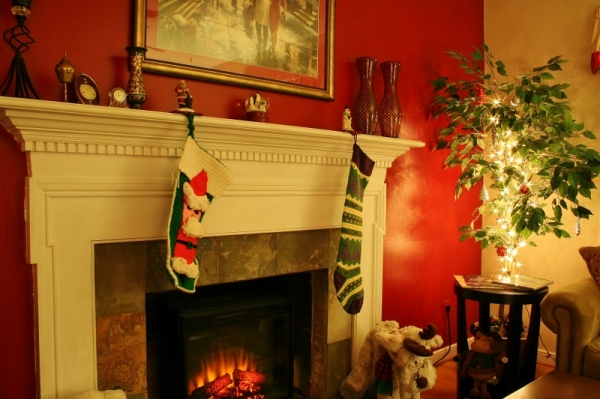 Here is our kitchen Christmas tree. This is the tree my mom had in her house awhile before it got gifted to us!

Now let's travel to the basement, where some of our newest editions to the Christmas family now live. This is Eric's lair, and we wanted to make it cozy, since he is usually only down there at night. A vintage Santa face (it matches the lit one outside) welcomes you.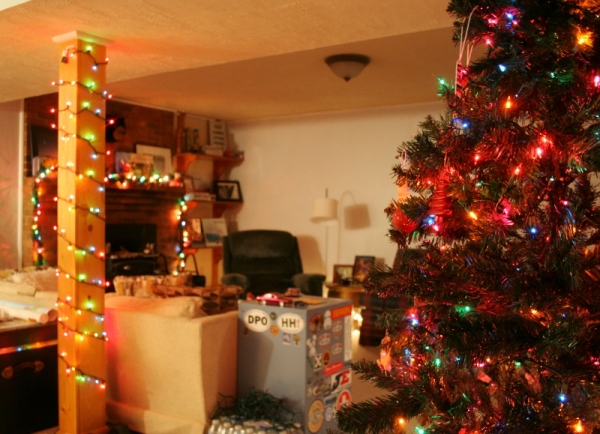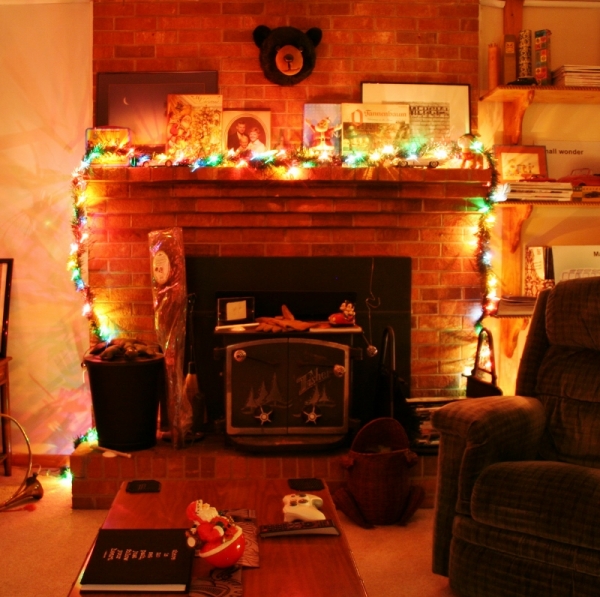 This spur of the moment decorating with random car items found in the basement will probably inspire a full-fledged car Christmas themed tree next year! Zroom, zroom!

There it is! The official Rapp Christmas house tour 2012. You should put that on an ornament! What are you doing for Christmas decorations? Sticking to traditional or going all inflatable on us? Or keeping it simpler?