Now that I have looked back at 2012 in all its accomplishments and adventures and looked ahead to 2013 to set some goals, this post is all about capturing the memories throughout the year. When I was idling through Pinterest the other day, a pin (among a bazillion others, of course) caught my eye.
Source: keepersministry.com via Megan Rapp on Pinterest
I loved the idea in so many ways: chronicling memories as they happen, using a Mason jar, having something on display to remind me that this moment is special right now. So what you do is fill the jar up with memories written out on little slips of paper throughout 2013, and then read them at the end of the year. What a fun little commemorative project. I had also just gotten a Mason jar full of goodies from Eric's cousin, so I had a special jar just for this project.
First I gathered all my supplies to figure out my plan of attack. I pulled out my scrapbook paper, glitter pens, markers, stickers, and of course, the jar.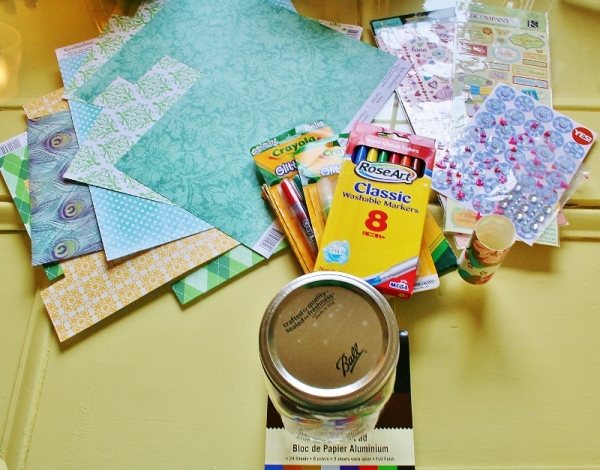 Then I looked at it all together to try and figure out what I wanted to use. And what do you know? I used a tiny scrap of fabric wrapping paper that I am using for another project right now. I decided that I wanted to cover the top of the jar with a pretty little pop of color. I just traced a circle using the top as the template, cut it out, and taped it on.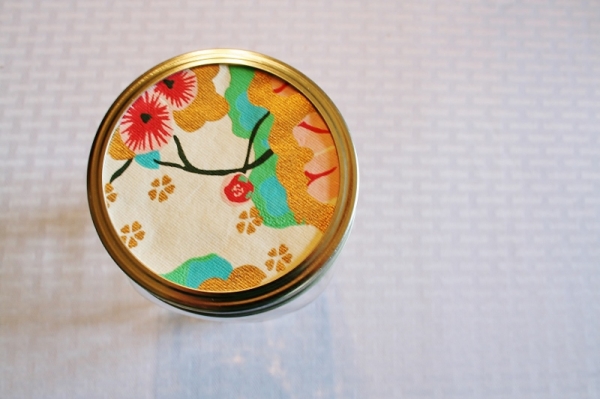 I also wanted to mark it with "2013". After hemming and hawing over how to make that happen, I opted for simple and just filled in a blank space on top with a handwritten 2013. Then I added a sparkle and heart sticker, and I was done!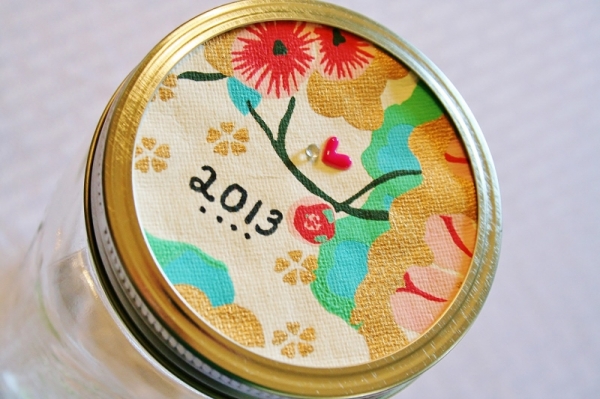 Now it was time to fill it with some memories. I originally had thought to use my scrap book paper and cut it into little squares, in the spirit of using what I had (so far I had everything on hand for this project thus far). Except when I was in Michael's on Friday I saw a little pack of metallic foil paper on clearance. You know I snatched it up with this project in mind. This brought this project total up to $3, but the paper just made me too happy not to! I thought all the different colors would just glimmer in the jar as it filled up. So I thought of two memories of the year so far to start off the jar.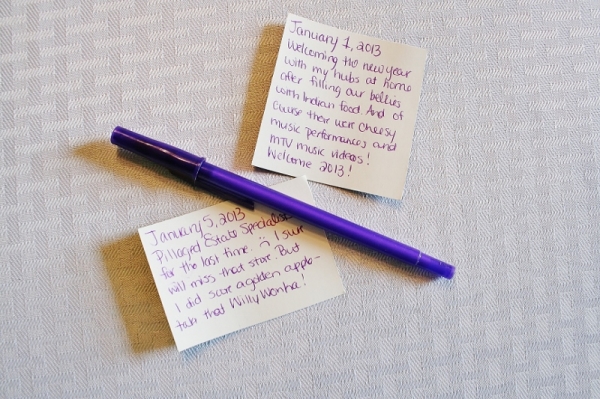 I popped them in and set them on my desk, where I could remember to keep adding memories. I just love it!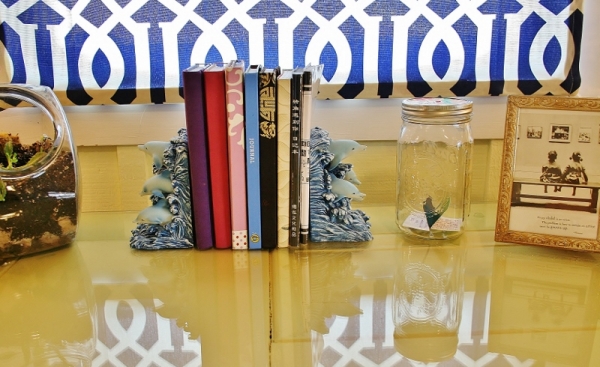 Since it is so light by that window and pictures are hard to get, I did a little photo shoot with the jar so it had an opportunity to look its best. I couldn't help but use the teal chevron to bring out the teal flowers on the top.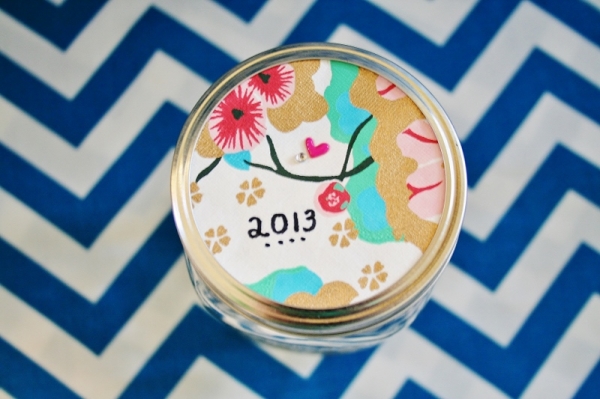 This is a great little project that anyone can do, using what you have (use a cleaned out tomato sauce jar or jelly jar) and make memories all year round!