Boom. Did the title just blow your mind? If not, wait until you taste this baby.
It has been a birthday kind of week in Rappville, since Eric's parents were born the exact same week. How crazy is that? So this Monday we celebrated the lovely Mrs. Rapp's birthday and on Thursday we get to celebrate the Colonel's (yeah, don't mess with my family, right?!).
When my mother-in-law requested chocolate cake for her birthday, I was all over that like, well, the way chocolate was all over my face by the time I finished making the cake. The cake also has a special background for me as this recipe was kind of a theme in my Australia abroad. The "resident counselor" on the abroad (more like a great friend who would listen to us) was the  most wonderful woman who scored extra amazing points when she brought out this cake…which we then requested again and again and again.
It is a melt-in-your mouth, amazingly moist, and superbly easy triple chocolate cake to make. I even bought a Bundt pan just so I could make this cake at home. That is cake commitment at it's finest.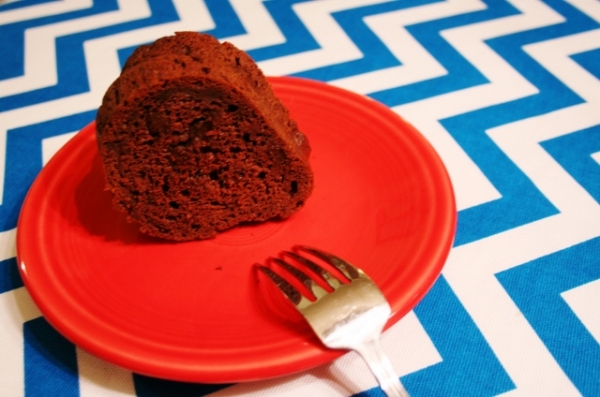 Ingredients: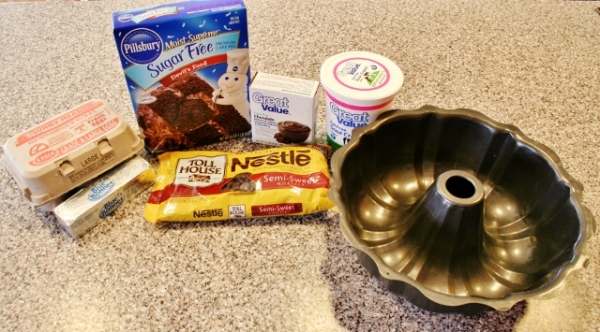 1 stick of butter (I used margarine)
1 box of devils food cake (can use sugar-free)
1 box of instant chocolate pudding (can use sugar-free)
4 eggs (can you egg substitute or apple sauce)
1/2 cup of water
1 cup of sour cream (can use fat-free)
1 bag of semi-sweet chocolate chips
Directions:
Preheat oven to 325 degrees.
Melt stick of butter.
Add in cake mix, pudding, eggs, water, and sour cream. Whip it (real good).
Stir in chocolate chips.
Spray bundt pan with non-stick spray (or wipe with butter or oil). Pour in batter.
Bake for 55 – 60 minutes.
Let cool completely before removing from pan by covering the top of the pan with a plate and then flipping.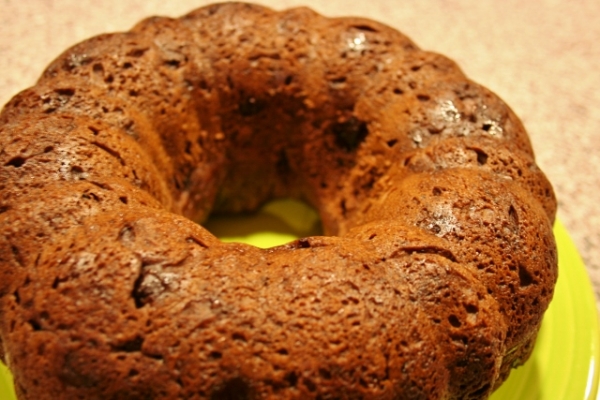 How simple is that? And how cool is it that you can actually make it semi-healthy (using the sugar-free, fat-free ingredients) without losing taste (for real!)?! So there is my secret weapon chocolate cake that will bring people weeping at your knees. Thankfully, all it got was gleefully chocolate smiles during birthday celebration one. So go on, go make a chocolate cake!