One thing that I have found having a DIY blog is that is that you start looking at everything in the world and say to yourself "I can make that!" Most of the time it's realistic and some of the time it warrants an eye roll. So over time I have found that some things are definitely worth the DIY effort and sometimes it's okay to hire out. Well, in the case of my NEW blog design (HURRAY!) I decided to hire out. It has been an interesting process, so I thought I would provide some more behind the scene details about how it all went down. [PS – It's way nicer for email readers to read this onsite so you can actually see the new design.]
Well, let's just remember where this all started with The Mego Blog (aka my first attempt at a blog / my first attempt at a blog design).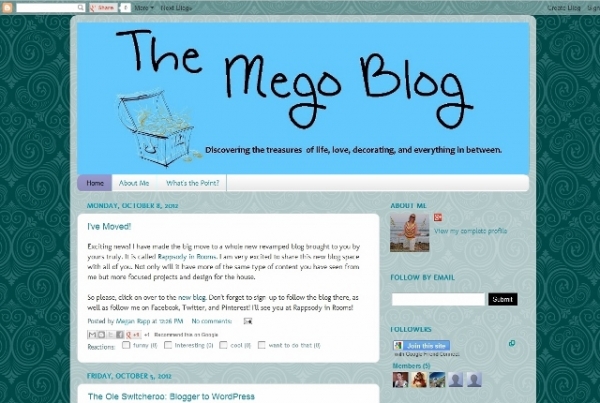 The header made in Microsoft Publisher (can I say clunky?!), since those were the tools on hand. Honestly, I still don't mind it (mainly that background pattern is divine). Then, I made the transition to WordPress and along with that came a new name: Rappsody in Rooms. And that's where we are today with the blog looking like this: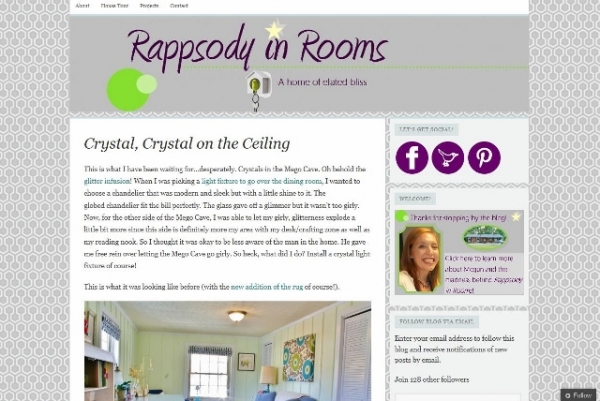 This was also made in Microsoft Publisher. I liked it but I was never really thrilled with it. I had ideas and keywords and other blog inspirations in my head, and my blog image was not living up to them. So I played around no Microsoft Publisher even more, yet to no avail. I could not hit on inspiration. I wanted a look that I was not able to achieve (in hindsight I blame the lack of vision and the lack of good graphic design tools). So one day another blogger happened over to my blog and left a comment.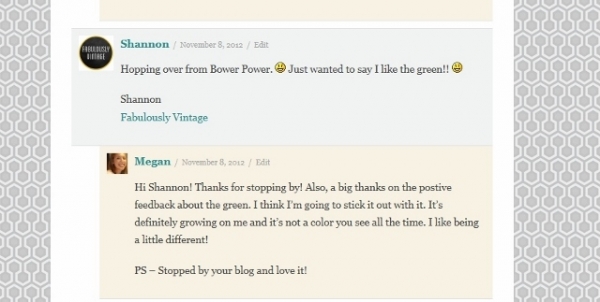 She left a nice comment and her blog seemed cool, so I hopped over to Fabulously Vintage. I instantly loved her look and was excited to see that she offered some design services. I kept that in the back of my mind for a while, until, after more fails of trying to achieve a certain look, I decided that I would spend a little bit of money, hire someone who does design, and see what the result was. She has experience, creativity, vision, and the proper tools. I thought it was time to allow myself to not DIY this one and hire out. Sometimes you have to admit that right now, it's okay to ask for help (as for later, I am working on learning the Adobe Suite and hope to expand my graphic design skills later on down the road – they can be confusing!)
So Shannon and I started emailing back around December, but I wasn't ready to commit financially with Christmas right around the corner. Come mid-January, with Christmas bills behind me and after an 11 day vacation from work when I pretended to be a full-time blogger (it fueled my desire to make this blog even better), I bit the bullet and finalized with Shannon: I was ready for her to design my blog.
The first step was me filling out a questionnaire. I answered questions like what colors I wanted, other sites I like, my layout preference, and explained what I wanted. Problem was, I really didn't have much vision. I had keywords like modern, professional, bright, clean, and streamlined. After my first draft I realized that in order to get the design to be something I loved, I had to give more. The first design was pretty, but it wasn't me yet.

That's where the hubs stepped in with one of his (many) moments of brilliance. He said, look around you, what do you see that inspires you? When I do stuff on my car, I take inspiration from things that I am drawn from. From that profound thought came vision! I was able to put together something like this:
The second draft hit it on the nail of what I wanted! After some fine little tunes and tweaks about colors and such, the blog was ready to go. And now you see it today! I am so happy with the result and very glad that I had Shannon make it happen. I still aspire to make my blog design by myself the next go around but right now, this is what was right for me. So I am just going to settle into this new look with glee! Thanks Shannon!
Now what do you think?