Any HGTV lovers out there? Yeah, I didn't think so. Never mind, I guess you wouldn't be interested. Oh wait. There are? Then perhaps you have caught an episode or two of Salvage Dawgs. It's a show about a store called Black Dog Salvage run by these two good ole southern boys. They travel around to old houses or buildings that are going to be torn down and strip it of all the old goodness that is still inside. They also are masters of taking one item and turning it into something completely different. They really go for the unpredictable and oddities. Who doesn't love someone who owns oddities and  embraces the unexpected or even, dare I say, weird? It's one of the reasons I love the show. That, and the cute dog who the shop is named after.
One of the coolest things about the show is that it is Roanoke, which is just about an hour away from Lynchburg. Isn't that awesome? For all you big city dwellers, this type of thing happens to you all the time, since a lot of people you see on TV are housed in larger cities. For a smaller town in Southwest Virginia, having a national TV show filmed here is pretty awesome (although now that I think of it Moonshiners is filmed pretty locally, but I'm not one to brag about that).
This past Saturday Eric and I thought it was high time we visited the famed Black Dog. We weren't the only ones either. I'm sure they were a busy place before the TV show, but I bet it hasn't hurt them one bit. Even though we only pulled into the parking lot only a half hour before they closed, they were packed! I felt sort of proud for them. Let's go local!
This is definitely a store that you can't miss. Even if I had never heard of them, it was a place that would have pulled me in with just the awesomeness that surrounds it.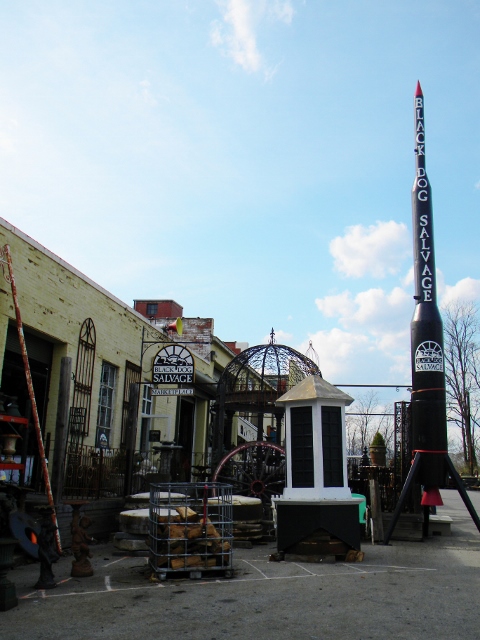 I mean, come on, they  have a rocket with their name on it. Wish that could fly in my neighborhood. The Rapp Rocket. That would be awesome!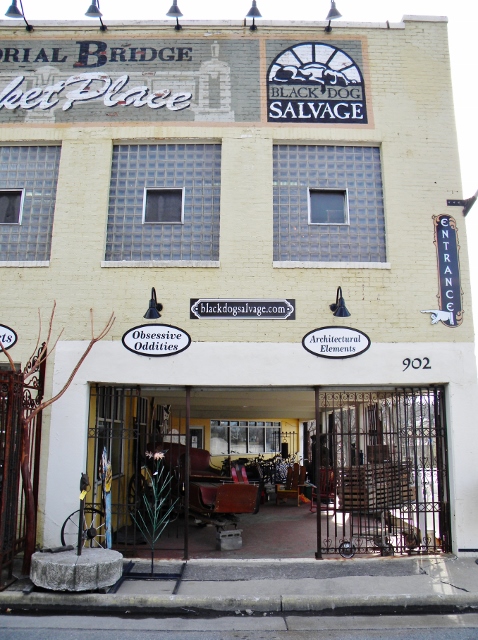 I think it is great that the store is an old historic building in downtown. It just adds to the charm. It also makes sense, since they must have had to restore the building to make it store ready. It's fitting.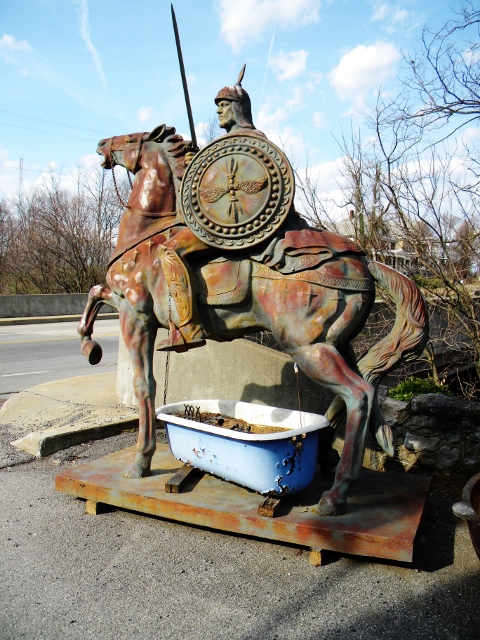 Did you see this episode? Some dude pulled up in a truck with it and they couldn't say no. It is one of the main items that welcomes you when you pull into the store.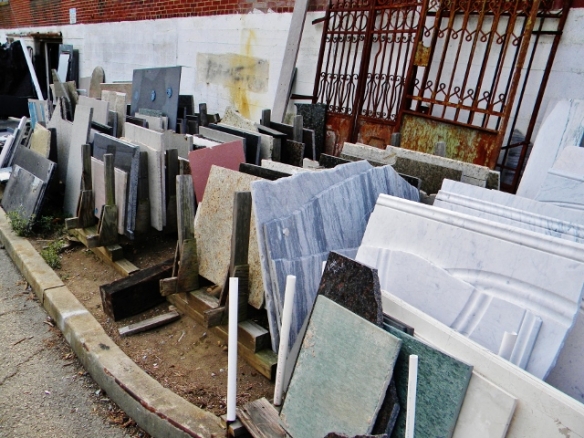 Before we actually went inside we picked around the items outside, which is where we found all these stone slabs. We will definitely keep in mind if we ever need one for a future project.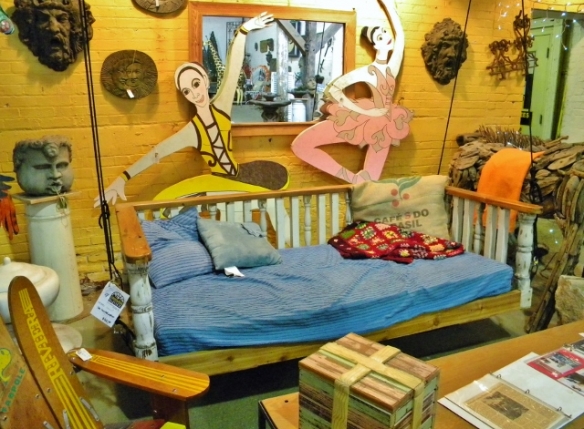 Oh man, I have seen one of these types of bed swings on Pinterest and have swooned over them on the web. In person they are even better. I would love to have a big porch to put one of these on. Heck, I would put one in our living room!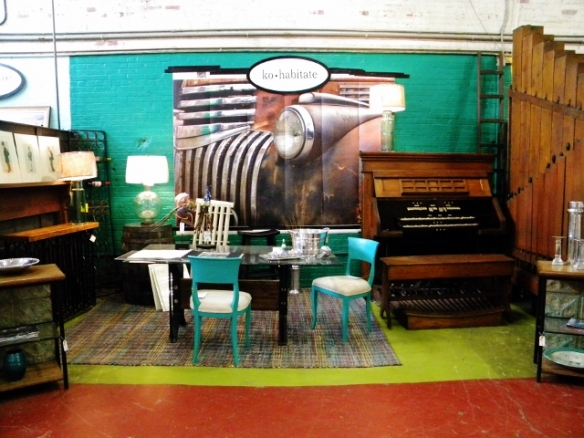 Teal and big graphics with a touch of organ. Need I say more?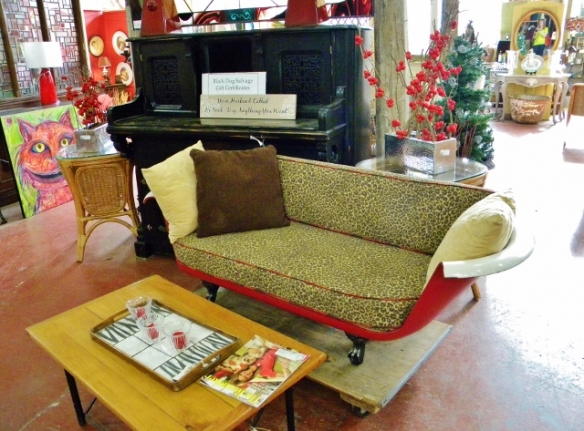 This is just their style. Where we see a tub, they see a couch – and make it happen! You would need to have a special home to house this piece but it is definitely one of a kind!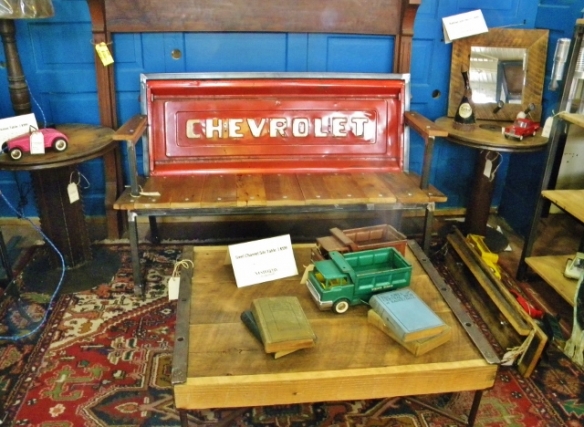 I loved this bench made from an old truck. Eric was all over this section, gleefully snapping pictures to share with his friends.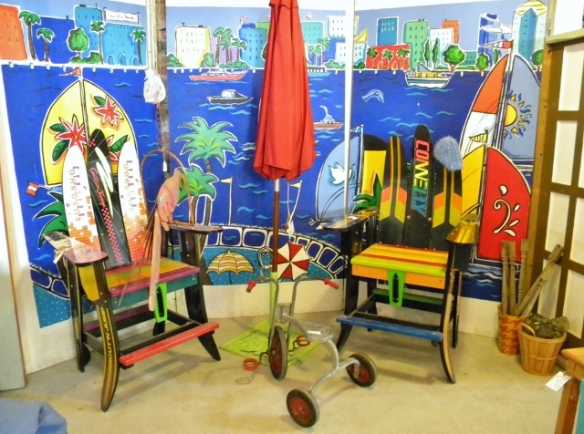 How sweet is this little tropical scape? What a neat idea for a chair!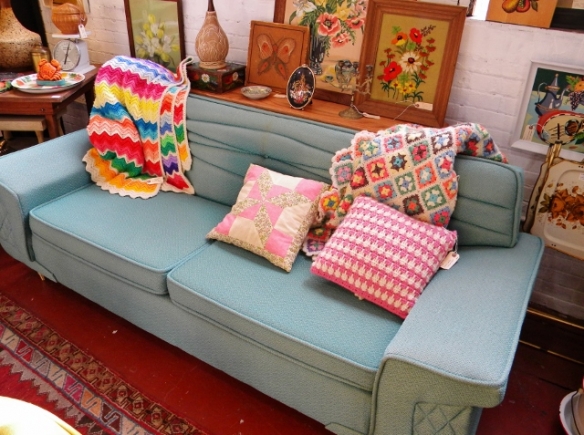 While I didn't actually buy anything at the store, this was the only item that really got me thinking about slapping down some cash. This mid century TEAL couch was amazing. Guess how much it was? $300! I call that a steal. I stared at it longingly. I gently caressed it. I snapped a few pictures. Then I walked away. The size doesn't fit the one spot where we are looking to put a loveseat. Sigh. It was beautiful. I'll probably dream about it for weeks.
That is my little virtual tour of Black Dog Salvage. This only shows some of the store, as there is much much more! More odds and ends and restoration hardware and salvaged doors and wood. Also, as we were walking through the store, I couldn't help but get a little giddy when I saw one of the owners working with a client. However, I didn't do the whole subtle secret picture snap. Then the giddiness went up even more when his dog walked around the corner! What a sweet pup! I would name a store after him too. If you are local I definitely recommend checking out the store and if you aren't, make sure to catch an episode of Salvage Dawgs. It is definitely worth the watch!