Hey everyone! I'm back with another dish of my latest thrift store finds that I snapped up whilst I rummaged through some local shops. The other weekend was the last day that my beloved Estate Specialists was open (although I hear they may reopen under a new name in a new location. Hurray!). All the items were 60% off so you know that I had to get my hands on everything something there. While the store was pretty picked over of many of the nice and larger items, there were still lots and lots of odds and ends that had the utmost potential. Here are a few little items that I got.
First we have this cute little mug, monogrammed with an "R" for Rapp. I had been looking for a stylish cup of some sort to hold my lip gloss (I know I'm girly but I don't like to admit it all the time – I think the mug of lip gloss confirms it) after I restyled my jewelry cased with my blue metallic tree. I had originally just grabbed a mug from the kitchen but this one was so much prettier with its curly cues and feminine curves. Me-ow mug.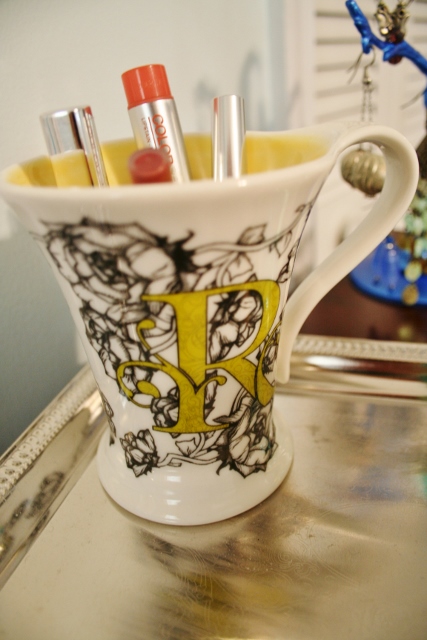 I already revealed that one of the items that I bought was a lovely frame that I used to make my memo board. Crazy that this beautiful frame was a find that I happened upon in their deep, dank basement.
A memo board always needs some push pins and tacks, which I originally had stored in their cheap plastic containers that they came in. However, I bought this dainty little glass with my favorite colors (blue and green to any new readers) with a delicious retro flair. It is such a wee little thing (still got a little of St. Patrick's day in me) that I was having a hard time finding a use for it (except for it looking pretty). However, when those gold tacks came out, I knew that the glass and tacks were a pair made in heaven. What a cute little holder!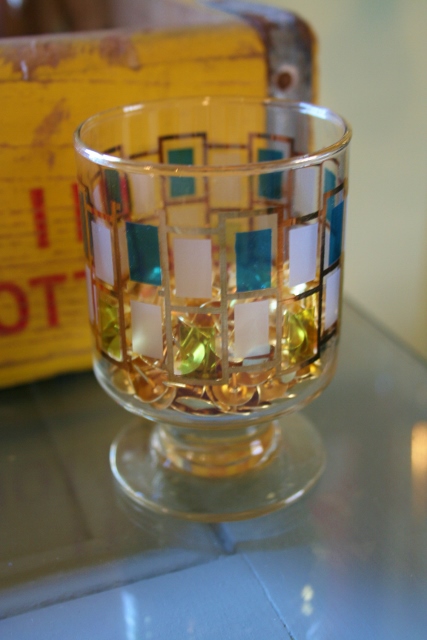 I once heard that decorating in threes is a good thing, so when I stumbled across (in the basement again) these little ladies, something up in the top of my head started percolating. If you remember from our living room, we have a little lady print there.

I picked this up at some point and finally stuck it up on that shelf, where I think it fits nicely and I like for the most part. And now there are more to add to the family.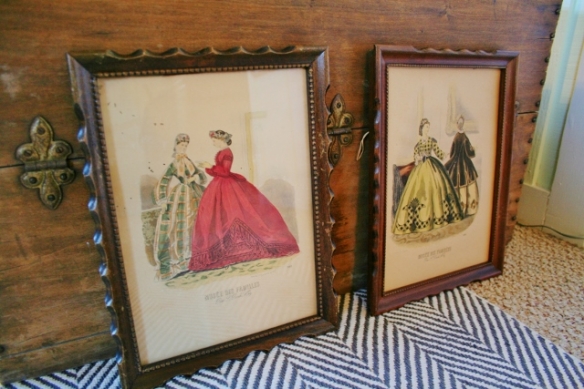 Now, in full disclosure, I am not sold on these three prints yet…I like them but I don't love them. I do think they have a lot of potential in the right place and with the right mixture of modern items in the room. I like their time period, vignette style, and how pretty and dainty they are. I hope to find a perfect place where these three prints may be one big happy family. For now, one little lady print stays in the living room while the other two float in the Mego Cave.
I don't know if you can tell yet but I am a sucker for books. Books that have a dual role, for reading and for a lovely decoration item, are a huge win in my book (ha!). So when I spied a large coffee table photography book of the world, I was sold.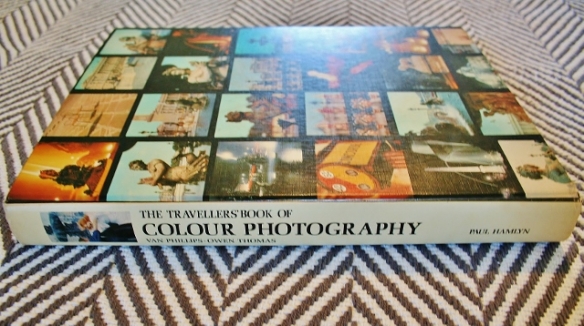 Come to find out, it teaches the art of colour photography (yes, colour) with examples of beautiful pictures throughout the world. It also captures the iconic 1960s/1970s. Beautiful…and hilarious, but I guess the pictures and people are not as funny as it was 5 years ago since this style is coming back in style.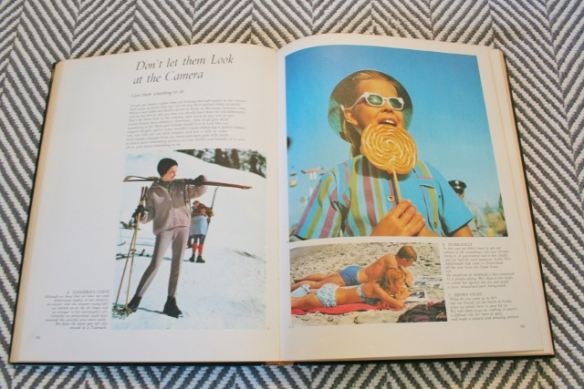 Now for the last item I picked up at Estate Specialists, well, it is still a work in progress. Envision with me this rubber floor mat (I think?) as a piece of artwork on the wall. Perhaps a different color, even two-tone. I'll keep you posted on how it progresses. My vision is still coming together.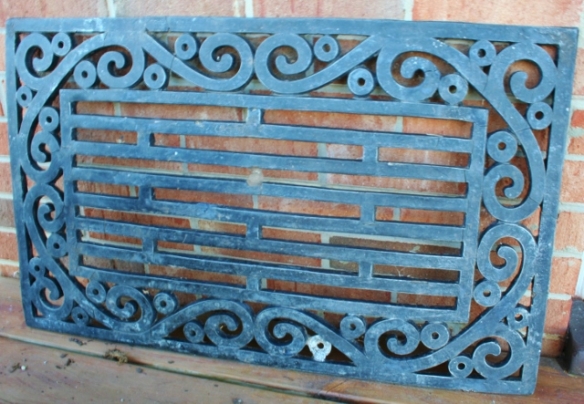 Now for the grand finale of my finds that day. This one comes from another store, since I was already up way too early on a Saturday morning and couldn't just hit one store while up and out. I feel kind of proud of this find since it definitely reimagines an item, and I feel it really represents my personality.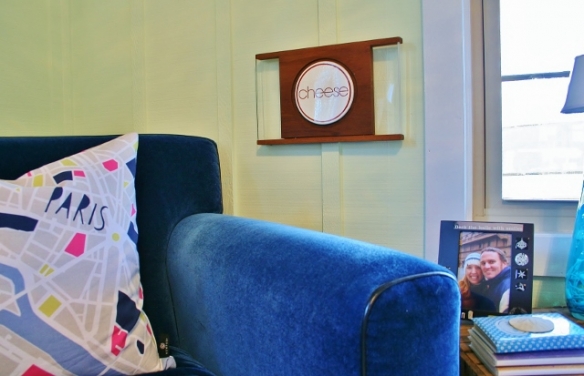 Yes, that is a cheese board on the wall. Let's get a closer look.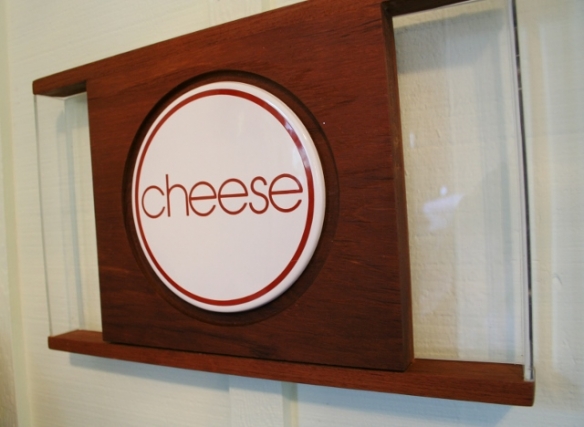 I get thrilled every time I look at it! It just screams Megan to me. I'm cheesy, so cheesy that I would hang a cheese board on my wall. Plus, cheese is sooo yummy. Mmm, my favorite is brie. Yum. Oops, I might have drooled a little on the keyboard. Back to business!
There ends a little tour of my thrift store finds around the ole Burg. I always feel so good after these thrift store adventures. I feel like I have just finished a treasure hunt! Also, I love to buy secondhand. At what modern store could I have gotten such an awesomely cheesy cheese board to stick up on the wall? Where else, I ask you!? No where! So get on out there and thrift away, thrift away, thrift away all!