Take this title literally, because we visited a ski slope way up a mountain and then took a spontaneous visit to an antique store at the bottom of the mountain this weekend. Since Eric was off of work this Saturday (yay!) we took advantage of having a whole weekend together and went off on a little adventure. Even though Spring officially started this past week, we have had a pretty cold winter thus far so we thought it would be fun to go up to the ski slope that is about 45 minutes away to wave goodbye to winter (or so we thought). I have been up to Wintergreen lots before, yet never during the winter so I had never seen it snowy up there. It sure was beautiful!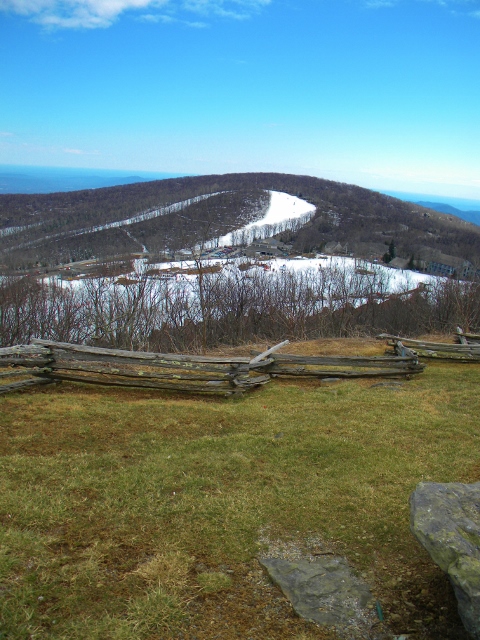 The above picture was from the lookout but we got right on the slopes. Here Eric is scoping out the snow boarder's moves, reminiscing on his high school days when he and his buddies would be on the slopes almost every night.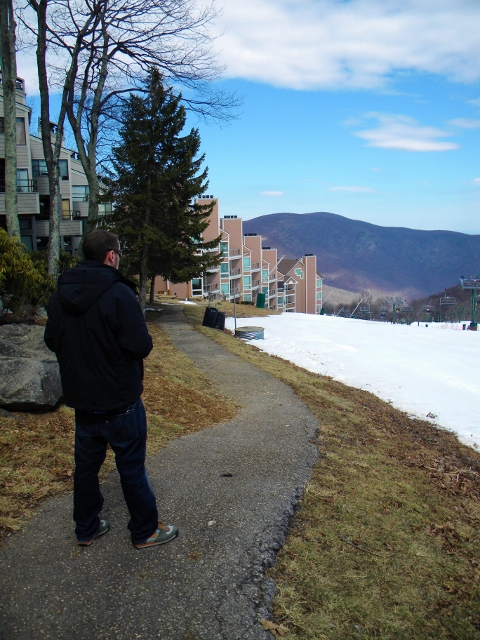 After we had enough of the slopes, we headed back down the mountain. Not done with our adventure, we spontaneously decided to turn left instead of right when we reached the highway. Left meant more adventures and right meant home. Left we went and headed to an antique store that we always pass on our way to Charlottesville but have never gone in. But Saturday was the day!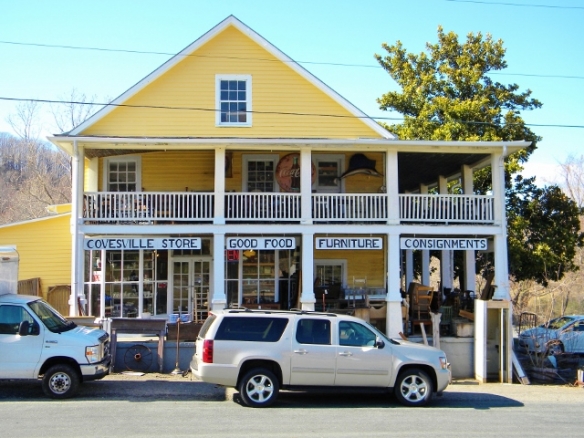 Isn't that such a pretty, eye-catching building with its bright yellow exterior and crisp white trim? Its contents were pretty great too, even the ceiling, which was a white tin that was gorgeous!

Look at all that beautiful antique wooden furniture. Unfortunately this is most definitely an antique store and not a thrift store, so prices were high. However looking was free.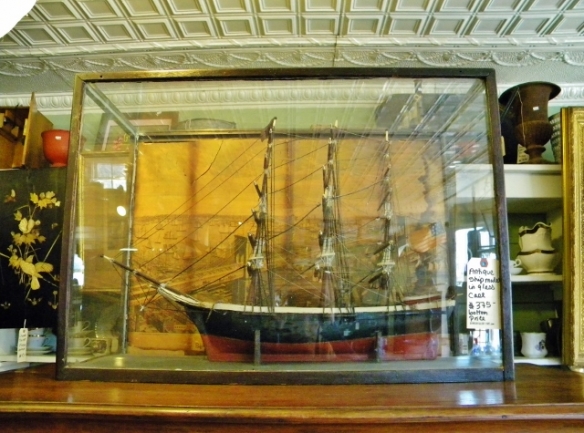 What an amazing boat, right?! I caught Eric staring at it like a little boy. Adorable. Then he caught me in here, staring all glaze-y eyed at all these glass pieces.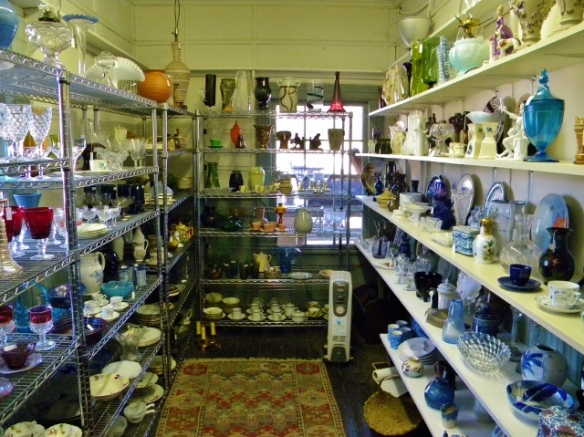 There are always a few funny items that catch my eye for their oddities and charm. Here are a few.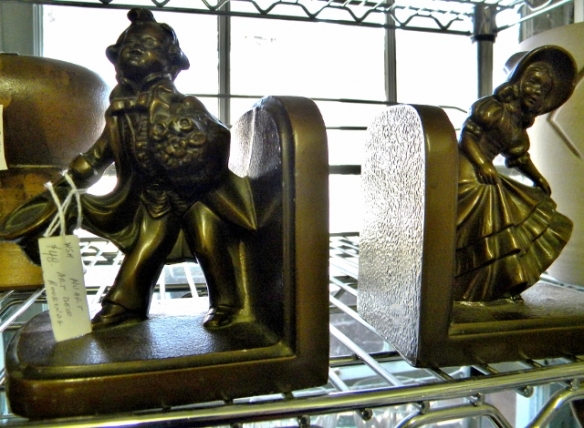 I also loved these framed play bills and the ceiling details here.

Wouldn't this look sweet in a little girl's room? It also had a cool old curling iron. #girlglee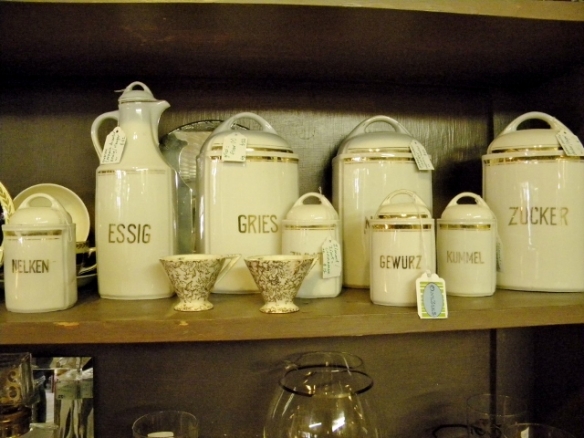 These German containers were the only items that I contemplated really buying. I thought they were so cool and were a nice twist on the regular ole "Flour", "Sugar", etc. jars.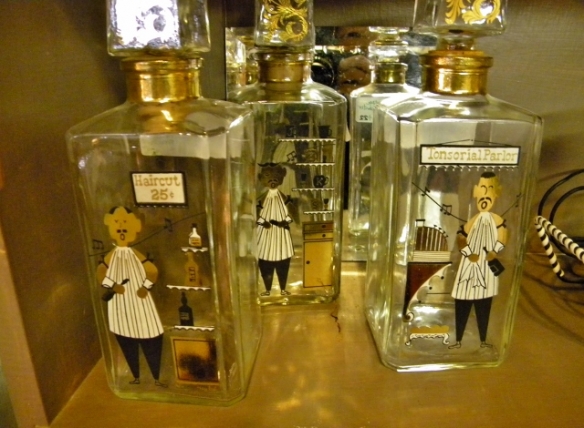 These barbers on bottles were random, which made me like them lots!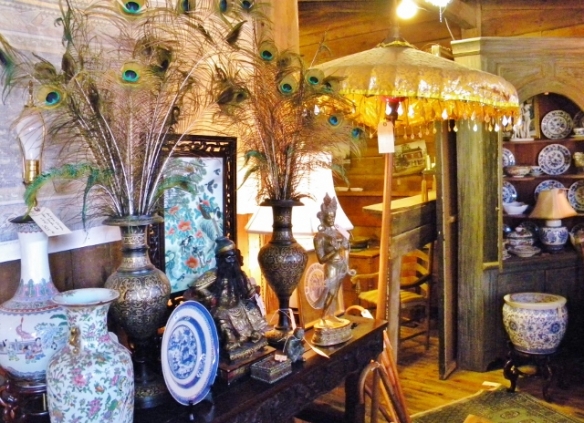 I liked this corner that brought in some Peacock flair with a little bit of Indian. It was fun!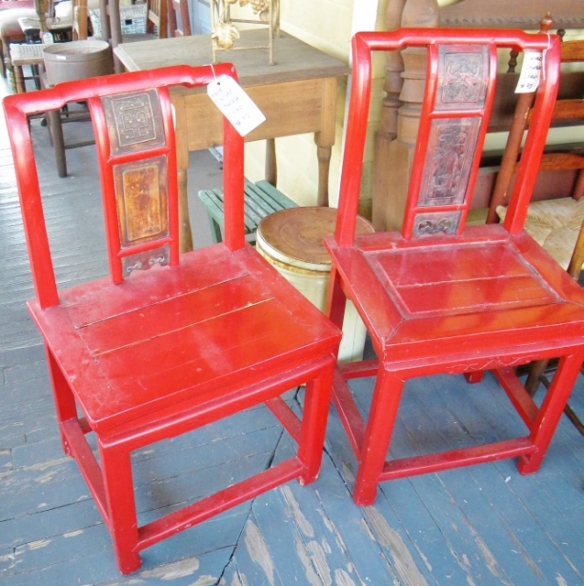 These bright red chairs with some Asian writing caught my eye. Wouldn't they be great to head a dining room table?
So that was our little Saturday day trip adventure full of slopes and antiques. We thought we were bidding farewell to winter by driving up a mountain to see snow, but I guess we brought it home with us as we actually got quite a doozy of a  snowstorm today. Check out the view from the window Sunday afternoon!

Also, my mom is coming to visit for a few days this week (hurray!!). I will try to stay on regular schedule with the blogs but if I am a little MIA this week it is because my mom and I are either out shopping for household items, talking a mile a minute, or watching a movie! Happy Monday!