This past week when my mom was visiting we definitely had some fun hitting up some stores, throwing ideas around, and buying some pretty great stuff for the house. She has a great eye, and I definitely think I got my decorating itch (and sweet tooth as I mentioned in this dessert post) from her. Our big trip together was to IKEA. I was so excited to go with mom because she had never been. Gasp! It was great to bring a newbie through the winding ways of IKEA. I definitely wanted to document some of my favorite "rooms" they stage because they always have such fun ideas.
Of course it started with lunch in the IKEA cafeteria, which came to costing nothing since they were hosting a special buy a certain amount and get your meal deducted from your purchase. Hurray! Oh, and the salmon lasagna was amazing!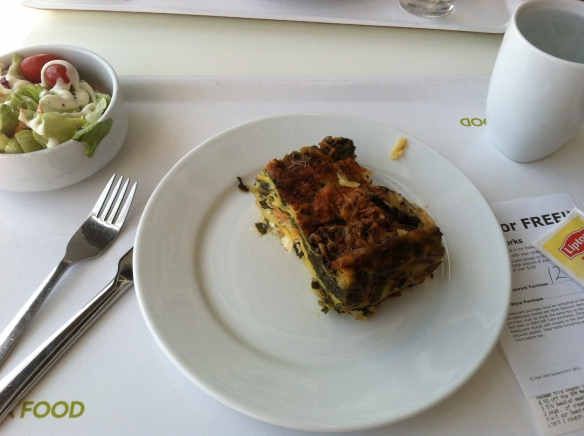 I loved this room's funky fresh feel. The wallpaper was a fun, bold statement, and I like the yellow, purple, and blue shades they used together. I almost bought that black shelf too, but came up with something better!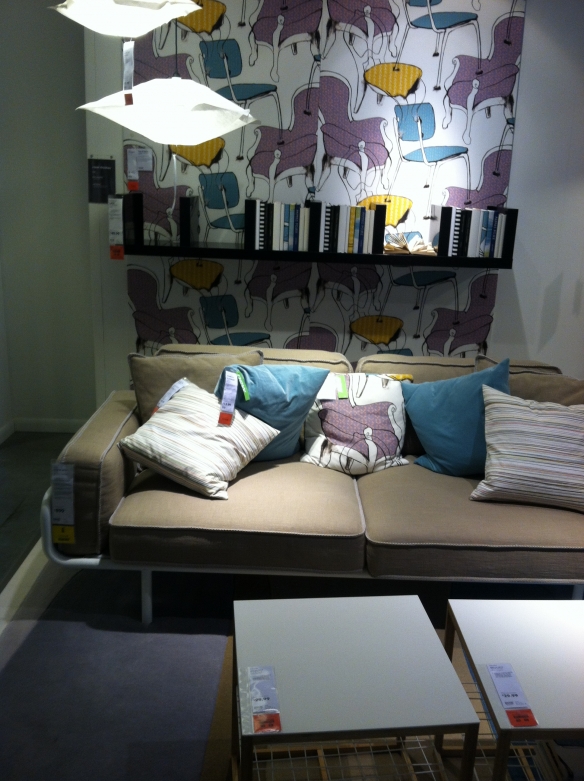 I love this idea of wrapping fabric around a frame. It's so pretty it doesn't even need a picture!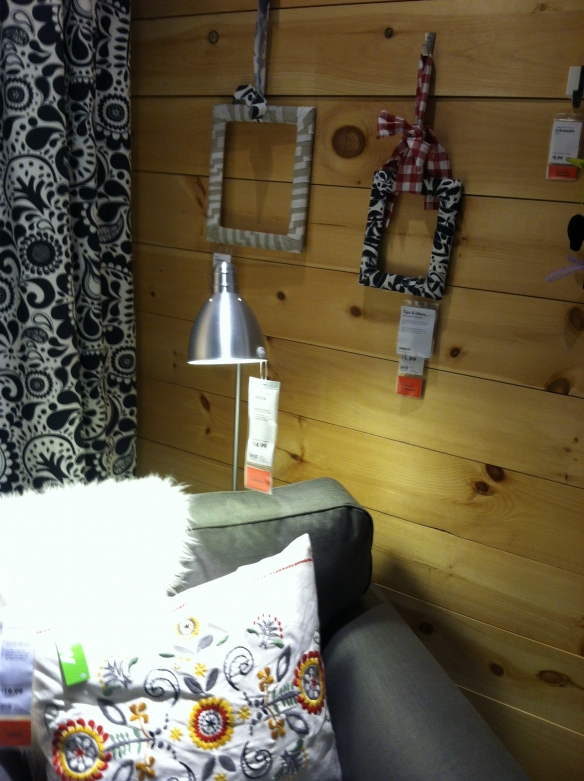 Oh my, you know I am a sucker for maps (as seen here with buying our huge map for a deal). I think this one is so cool because it is HUGE but also because they used the clocks to put the different time zones. I would have this in an office, stat.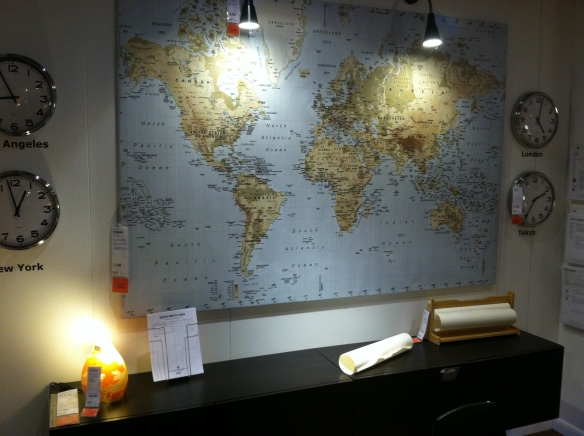 My mom and I both fell hard for these clear chairs. We did a seat test for quite some time as we oohed and ahhed over their oh-so-prettiness and their comfort. Who knew plastic could be so comfy?!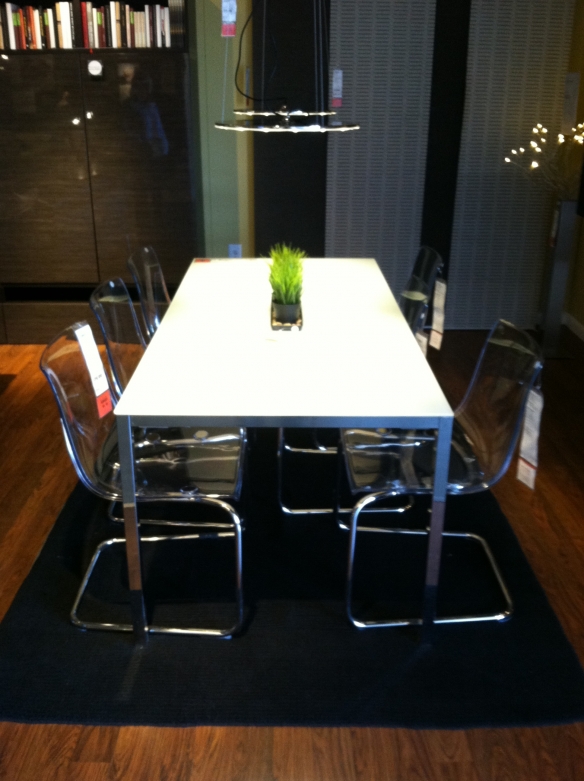 Oh the library room, the library room. One day (maybe) I will have one. Sigh. Did I mention I love library rooms?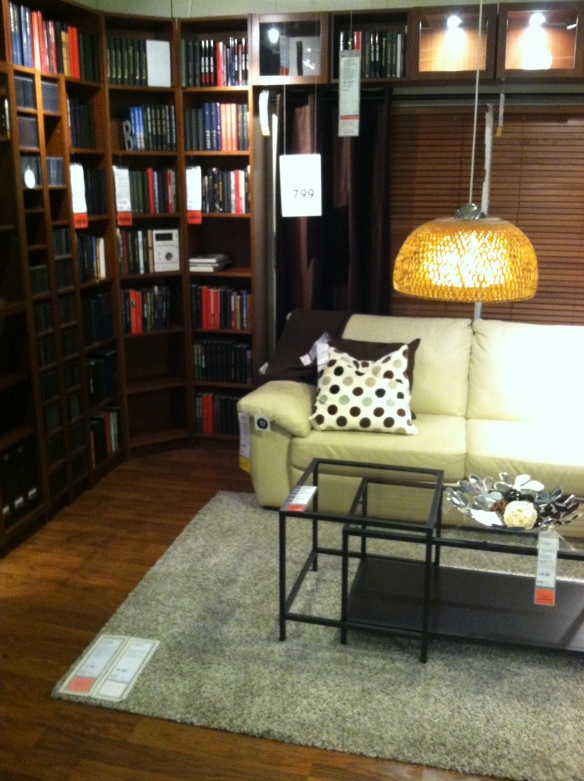 Here's a sneak peek of what hopped off their shelves and into our cart. I won't do a full show of our purchases since you will see them in their revealed posts. Well, all except for the cinnamon buns. They are happy in their new home in my belly – and you don't want to see that. Mmmm delicious.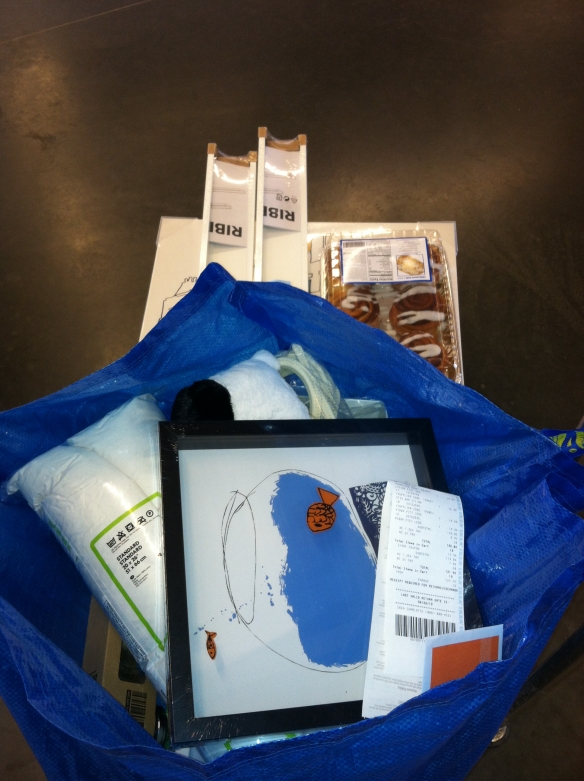 On another day of her visit we decided to hit up one of my favorite local antique stores: Peddler Antiques. It was a place that Mom had shopped in when she lived here and bought some beautiful items. Alas, no purchases were made here (well, except some tin Christmas coasters for Eric, that lucky dog) but I did find some pretty great stuff that is worth a share.
Here are some adorable trivets that I thought would be way cuter as art on the wall. But at $12 a piece, I thought they were a little pricey for that purpose. They were only about 2-3 inches wide. [HA! I just saw the stink bug photo bomb! Ick! But it helps show their true size cause that bug looks GIANT!]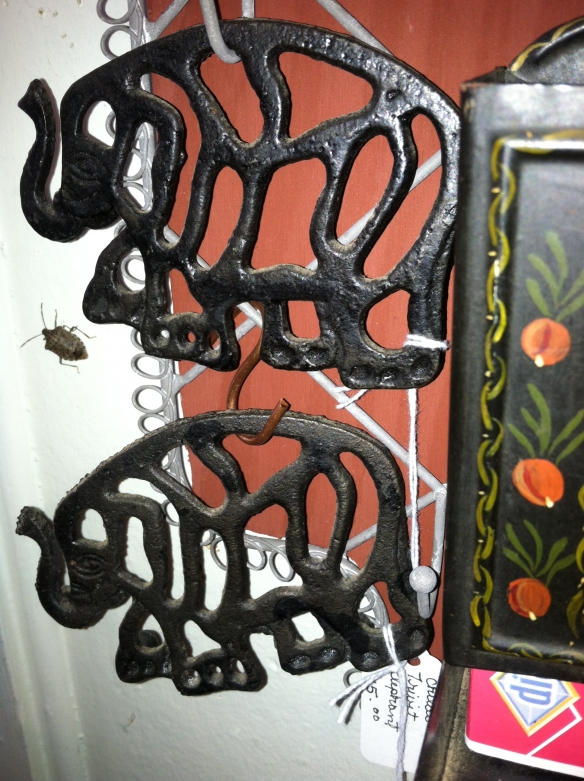 You know me, I like to find the odd things as well as the beautiful things. More and more I want items that are unique and conversation starters. This piece would fit! Or be fun for a kids room. It is a musical bank, which I assume means that it plays music when you drop a coin into it. What a great motivator to help teach kids how to save!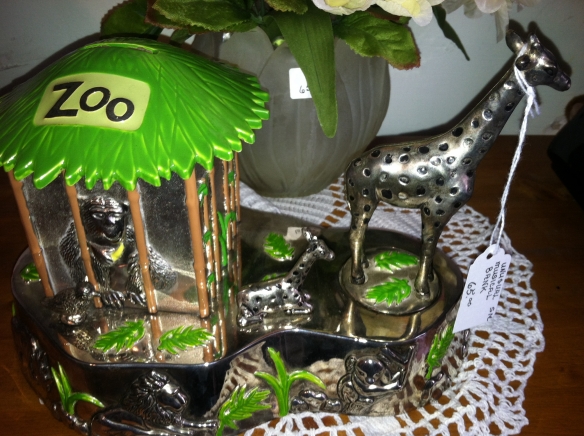 Is it weird that I fell in love with this brass unicorn? I almost walked away with it but thought that I had one too many brass knick-knacks. Isn't it fun?!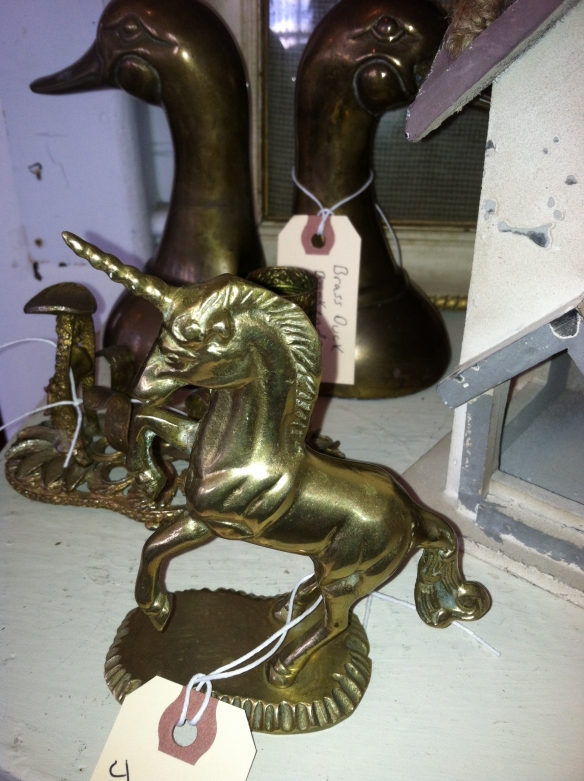 This piece was just beautiful. A teal buffet. Ooo-la-la. My kind of piece, although I would rather refinish one myself instead of finding one already refinished, but this would be a good inspiration piece.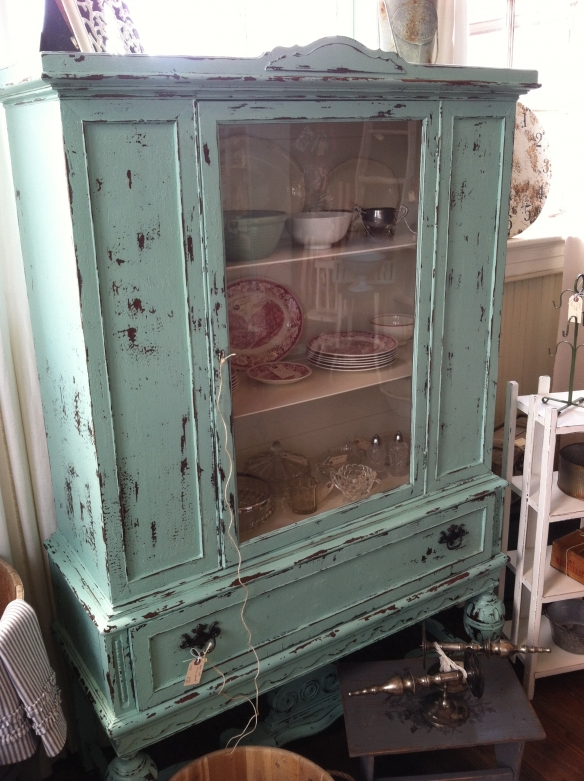 This piece almost came home with me as well. It is a star/lantern which I love! But I couldn't think of a place for it to go, so it stayed. I try not to bring in superfluous items into the house that I don't instantly know where they would go or love so much I can't let go.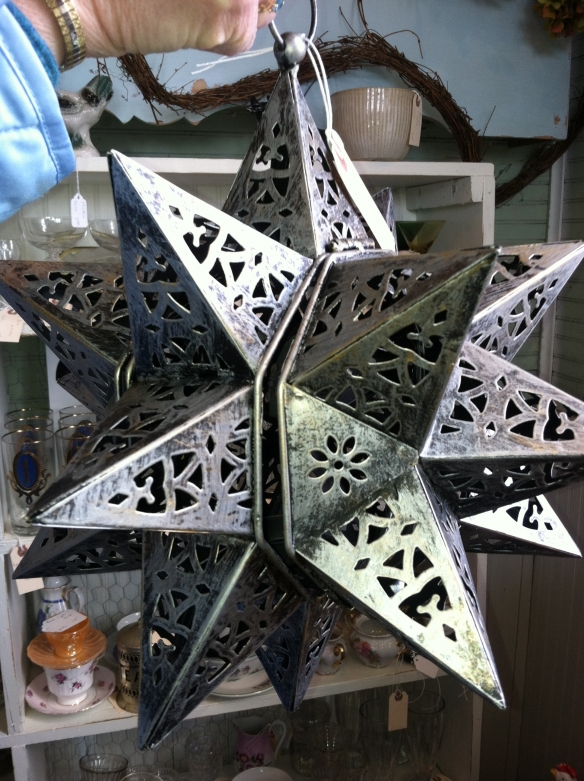 Finally, this little picture pairing was just so sweet. Being so influenced by Gone with the Wind growing up, I still love items that remind me of that book/movie and time period. These were small (maybe 3×5), delicate, and lovely prints. Although at round $40 I thought they were too much. Although I am enjoying gazing at them in this picture!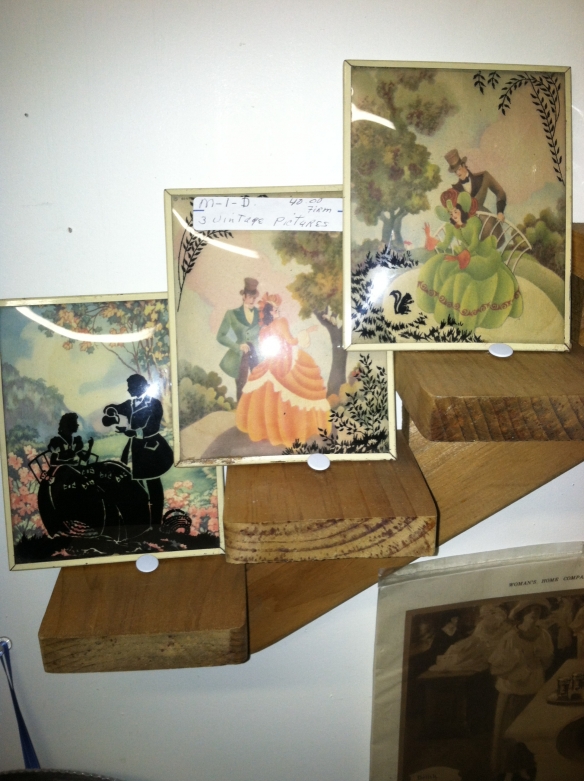 That concludes my little picture tour of the shops that Mom and I visited while she was here. We had so much fun just poking around and talking about all the ideas that came to us. Inspiration is all around. Stay tuned for the projects that are to come from my various IKEA buys. Hurray!