When I wake up in the morning, the sun is already shining, the birds are singing, and green buds and beautiful flowers are sprouting up all around the house. Not only is it beautiful to look outside, but it is beautiful to be outside. It's that rare month of spring weather we get in Virginia of perfect warm, non-humidity ridden weather before the full force of humid summer days hits. All it makes me want to do is slip on my flips-flops and skip around outside. When the skipping urge subsides, I then want to start outdoor spruces around the house. You saw me start this with the back outdoor organization project, and that just whetted my palette. I am in full-on planning mode as to what I want my hit-list to be for outside this year.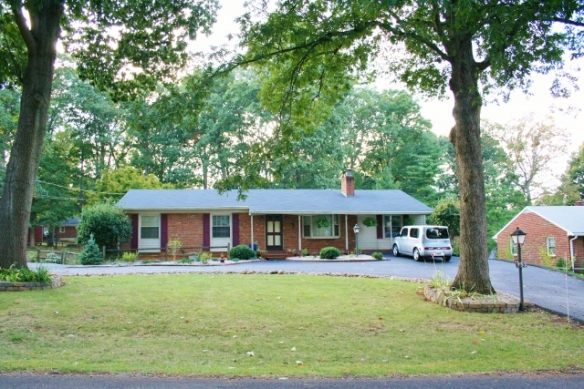 This is what my outdoor 2013 goals were:
Paint front door red
Paint shutters black
Bonus Project: Anything in the back entertaining area. Perhaps sprucing up the screened in porch, or making the outside porch an oasis, or perhaps staining/stamping/painting the concrete area.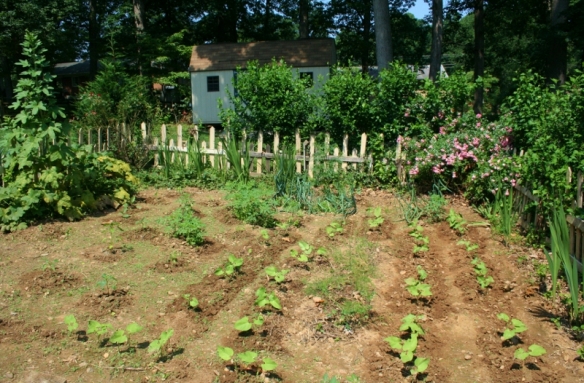 Those are my main, big projects that I want to tackle. That of course does not include any of the regular planting and little, fun projects. Here are some thoughts on those:
Plant garden again.
Replant where certain bushes and plants didn't make it through the winter. 🙁
Get flowers for front porch. Spray paint old urns I unearthed and set them out front with flowers.
Plant flower boxes on back porch.
De-winterize geraniums and see if they survived.
Brainstorm about DIY-ing an entertaining area or more built-in planters on porch.
Get trees limbed and/or cut down.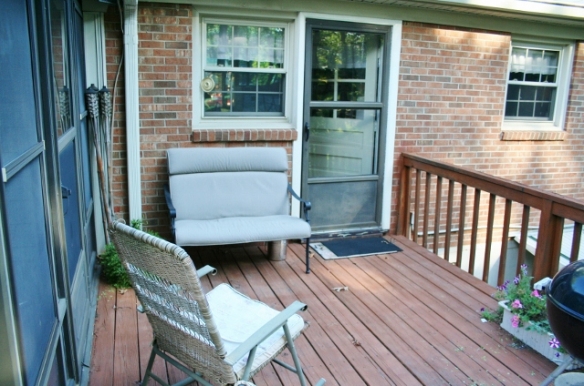 So those are some smaller goals for this planting/outdoors season! I can't wait to go buy lots and lots of beautiful flowers! However, I can wait on all the watering that brings on. Perhaps I should start thinking about adding a rain barrel to that list. Hmm…interesting thought.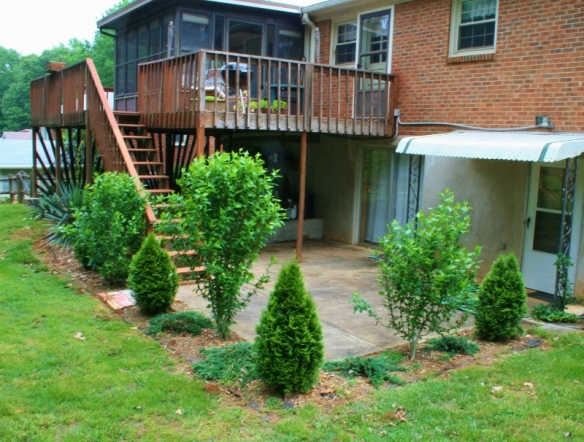 In the mean time, since I am brainstorming, I thought I would put together some inspiring outdoor spaces to get us all motivated to get out and dig in the dirt!
This first space is probably one of my favorites I have ever seen. I am completely over the moon for it. I love the colors, the lights, the painted patio, the fire pit area. Agh, I drool over it every time I see it. I'm definitely wondering if we could make our back patio painted like this one.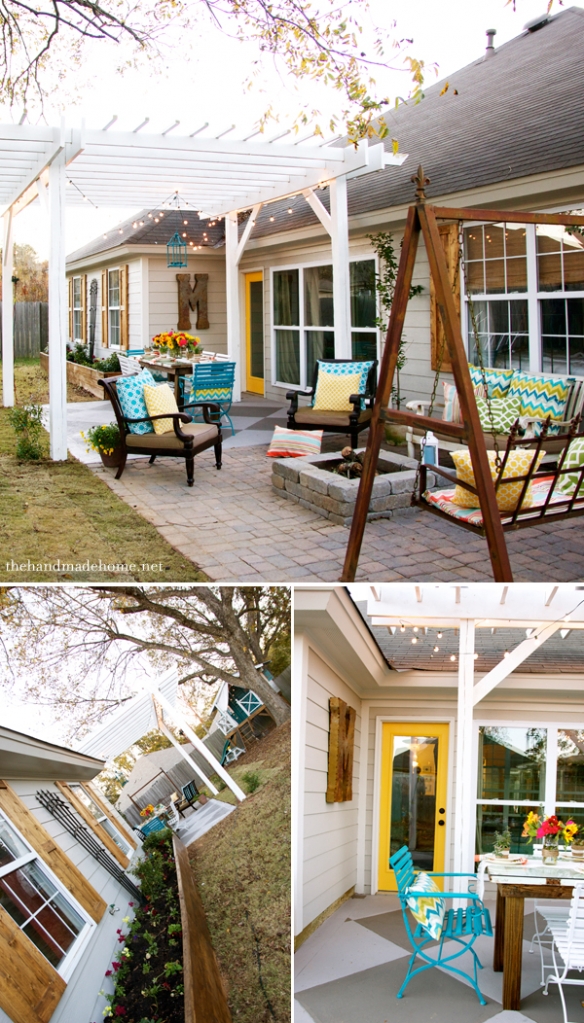 I love this space because it is embracing the natural beauty of the outdoors and sunshine by just adding a few bright items to make it inviting. I love its simplicity, which would definitely work on our deck since it is a small space. I also like the idea of the floor deck pillows!

All it takes to freshen up a space are some potted plants and lanterns! Another simple fix that I can do for our space. I also love that the watering can is part of the décor. ANd twinkle lights are a MUST.

I am really digging the layers of flowers here. The trails and trails, when all else fails…flowers, flowers, everywhere. [Umm not sure what that little diddy was but let's just roll with it…]

Source not found
So this one is fun! I like the idea of perhaps a bookshelf or rolling cart that I can layer with flowers and such but then put inside for the winter. The DIY wheels are starting to turn on this one.

I couldn't help but put this type in again, with the many layers of trailing flowers. I think my vision, no my dream, would be to have an outdoor space with walls of flowers. Sigh. Doesn't that sound magical?

There is my round-up of goals and inspiring outdoor spaces to kick start our spring off! Now who's ready to head outside this weekend?