Well, I had thought that I had covered almost every wall in the house of this point and was pretty much done with painting…until I decided to paint my closet in the Mego Cave. Now I am a huge fan of painting closets! Check out what the closet was looking like pre-painting and pre-organization (although you have seen it before in my closet organization and clothes rotation system):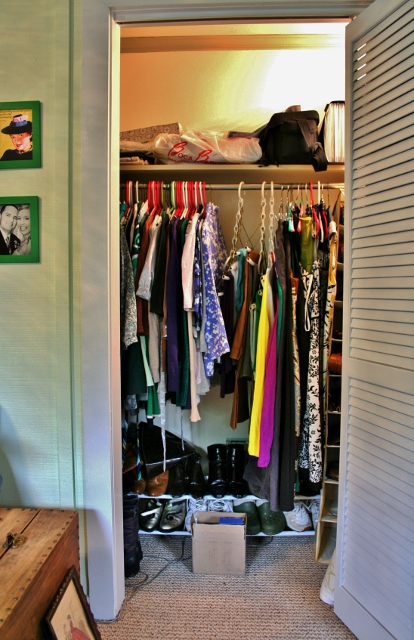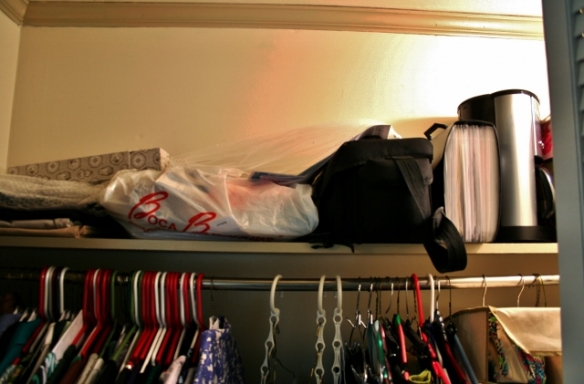 It was looking okay for a closet. It had some minor organization on the shelves and the clothes were pretty organized. I even had some shoe organization going on below. However, the color was pretty dingy – isn't it crazy to think that pretty much every wall in the house was that color when we moved in? That's when neutral goes bad folks! As I have been redecorating and re-imagining the Mego Cave space into a beautiful, multi-function room, I came to realize that every nook and cranny needed to be utilized. As my craft supplies and fabric stock were growing, my organization seemed to take a dive. It was time to seriously look at the closet and see how it work harder. The first step in any organization project for me is taking everything out of a space. Then you can go through the items and decide what to save and what to get rid of. You can also see if anything should be relocated in a more practical place.
Everything came out of the closet and the room looked like this. Yikes!! Thank goodness for closets, eh?

Now, with everything out, it was a perfect time to paint it. To me, every space should be loved and beautiful. The first step in loving this little closet more was to prettify it up!



I decided to go with a pale blue (ah-la the basement). The color is a custom mix of a Color Place brand: it is a gallon color amount of Foggy Morning Frost and a quart color amount of Northern Ontario Blue. Initially, I was bouncing around the idea of doing some stripes or stenciling it, but since a lot of stuff had to go back into this closet, I didn't want to go too wild since my hard work wouldn't be seen. Instead, I decided to make the closet a glitter closet! Hurray! No where else would I be allowed to paint a wall with some glitter in it, but a closet – heck yes! I chose to use the remaining Valspar Paint Crystals in silver that I had first tested out in the desk painting project. I thought the silver crystals would look great in the ice blue paint. Boy was I right!
Just like before, I poured the paint into the pan and then mixed the crystals into the paint, just eyeballing the amount I liked. Then I just rolled it on. It actually is a pretty subtle approach so maybe one day I will actually be able to do a glitter wall somewhere else. It is also incredibly difficult to photograph this subtle sheen. I tried really hard so hopefully you will be able to see it in some of the close-up shots.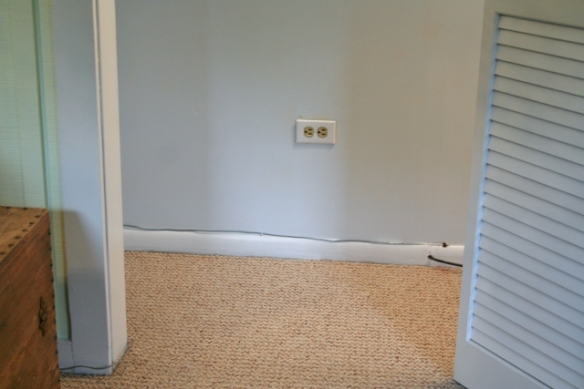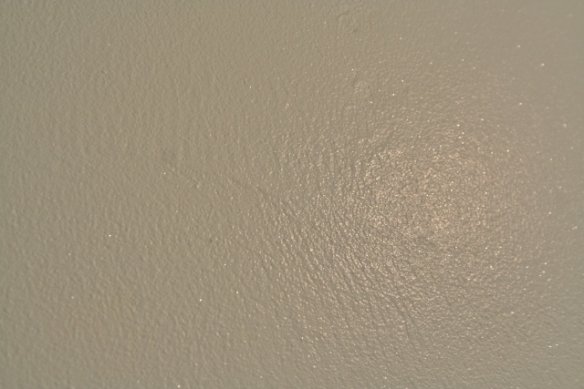 I didn't know painting a closet could make me this happy. But it really does. I love having the door open and just gazing inside. It brightens up a normally dark space (although I do have a light in the closet which is so nice)! Let's do a before and after, shall we?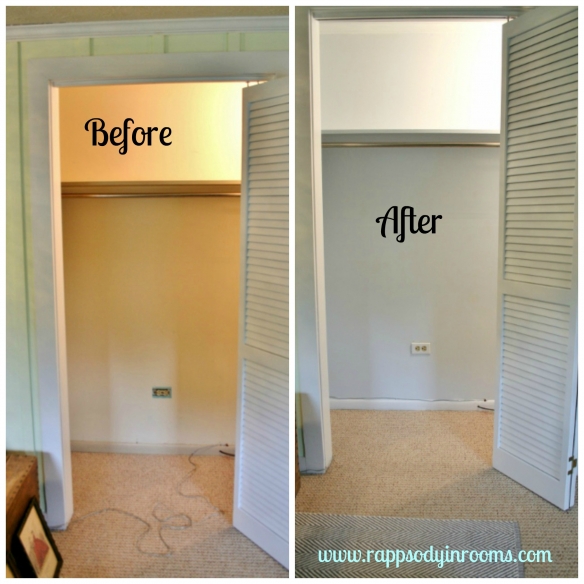 Now what about those organization projects that I mentioned before? Well, not to be a tease or anything, but I am still working on those. I want to do it right and do some DIY storage projects. That's what I am working on this week and can't wait to show you all when the project is finally complete! However, I just couldn't wait to show you my glittery closet. No closet is now safe in our house! I am definitely going to attack my closet in the bedroom now. To glitter or not to glitter, that is the question!