I don't think I have ever really shared an indoor/outdoor room that we have, fondly called our sunroom/screened in porch. It is built off the Mego Cave right on the deck. This is how it is just hanging out right now, with some a table and chairs and rocker. Warning: this are the real life photos with just a bunch of loosely placed stuff. Oh, and it's kind of dark because I totally forgot to take the pictures until I sat down to finish this post around 8:30pm last night. Oops!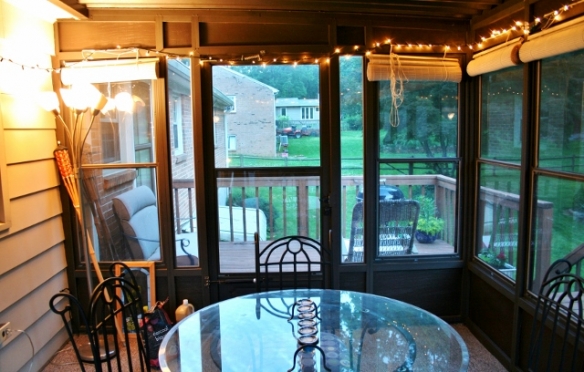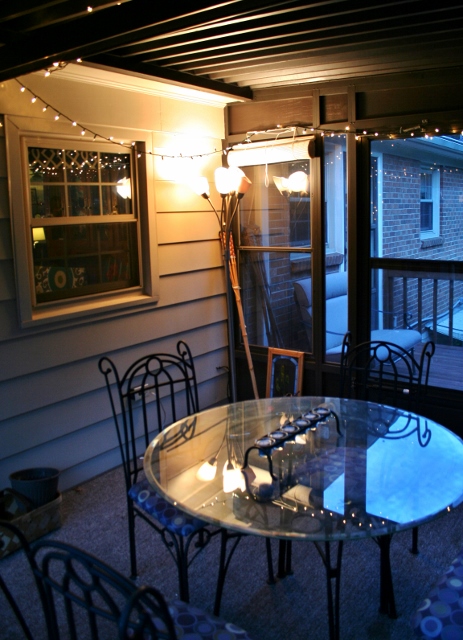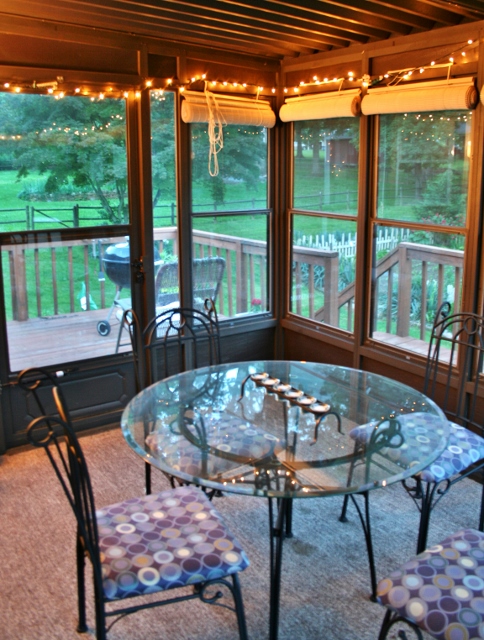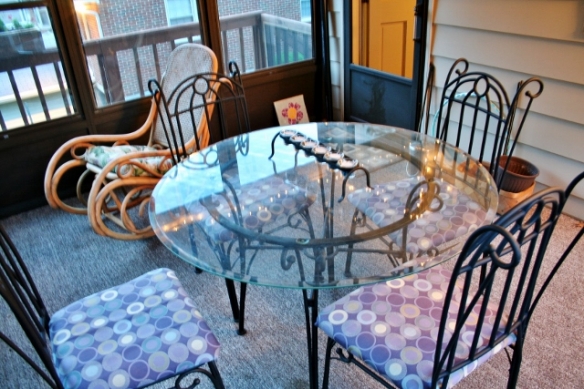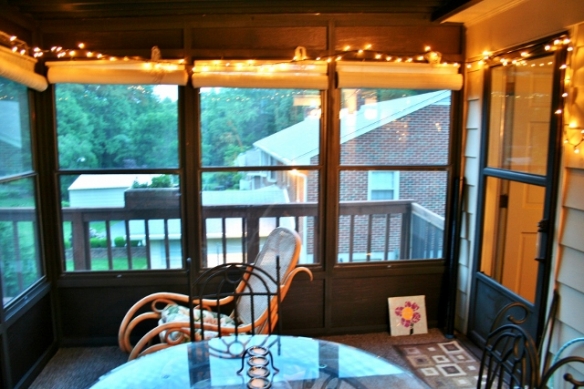 I did recover the chair seats a few year back but not too much else has really happened in that room. As a room that is a little difficult in the Virginia seasons. There is no insulation in the room at all, as it is basically just metal, glass, and screens. That makes it impossible to use whenever it is cold outside except as an overflow freezer or refrigerator. Then, when the hot, hot humid o Virginia summers hit it can become stifling in there, even with all the screens allowing some cross-ventilation. Basically I am just saying darn you weather! But that doesn't mean that I am forsaking that room. Oh no room, I have some plans for you…or at least I am trying to work on some plans for you. So I thought I would do a little inspiration roundup of screened in porches and sunrooms since I know everyone with them is definitely getting their use on right now.
Let's go exploring, shall we?
Outdoor Rug: I came across the tutorial on painting a cheap outdoor rug and I am in looooove. I'd much rather make something myself and invest my time to save some moolah. I am thinking I might make one of these for this space and the outside section of the porch.

Lights: I've had a some supplies lying around for quite some time for a DIY chandelier, in a very loose sense of chandelier. We also need to wrangle those Christmas lights as they are dangling everywhere. I'm also thinking of stringing some lights across the top as well in a criss-cross pattern.

Another idea I just came across were these DIY outside sconces. Perhaps do a few of these outside too?

Source: The Art of Doing Stuff
Bar/Food Cart: I think this space would be a great place for a cart on wheels for food and drinks when entertaining in this area. It can basically just be decorative and pretty most of the time but also double as a food serving cart both inside the sunroom and outside when we are grilling. Bam. The cart on wheels can just roll out. Spoiler alert – I already have something to go here! It just needs a little loving.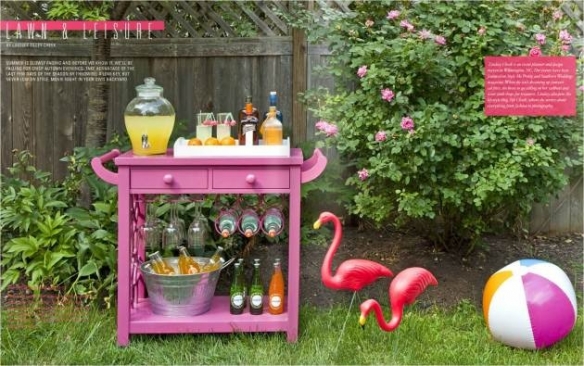 Source: Classically Chic Interiors
Artwork: there definitely isn't much space for artwork here, and that the artwork needs to be temperature resilient, so it will be interesting to figure this one out. I have a few ideas for this one too…


Source not found
So there are some ideas and lots of teasers. My goodness I feel like I am teasing myself too with so many projects exploding around the house. Mamma Mia! You should see our house! Why is it projects seem to make your home just explode?! Oh well, it's for a great cause!