After glitter painting explosions episodes and many tin upcycles (both popcorn and coffee to be exact), I am back with the final reveal of the Mego Cave Closet. This has been a closet makeover two weeks in the making. Geez! I have decided to take my time on projects and do it right the first time. Do it so I don't just like it but love it. Also, this closet had many functions, including:
Out of season clothing storage
Out of season shoe storage
Fancy dress storage (including one prom dress and a wedding dress)
Fabric storage (both folded and rolls)
Craft storage
Personal file storage
Camera storage
Printer stand
Let's throw in a little bit of miscellaneous storage for fun
So that is one hard working closet (it works hard for the storage, so hard for the storage). This is her looking all rough and tumbled.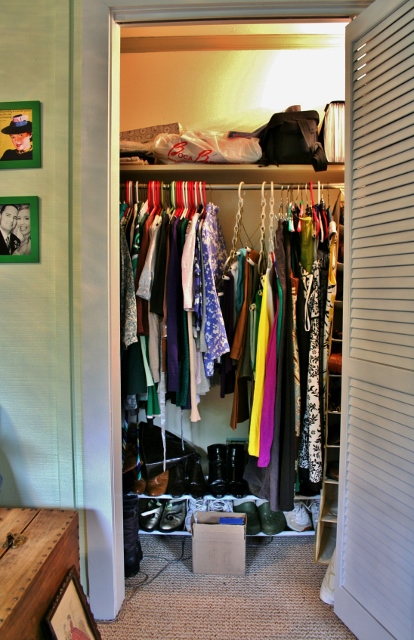 This is her looking all gussied up, ready to party. Now let's take a stroll through this glitter party zone.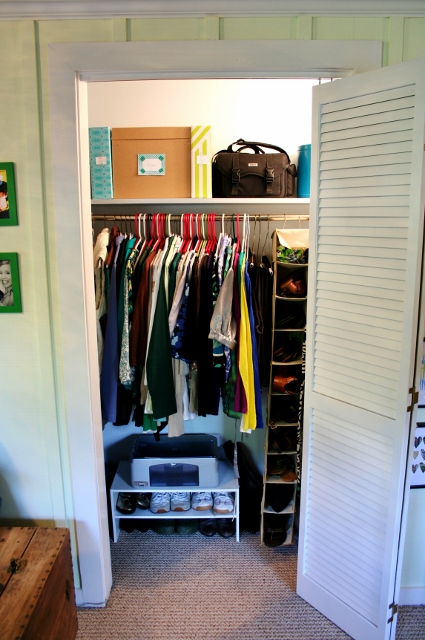 For the clothing and shoe storage, I tried to pare that down as much as possible. Purge people purge! It does the soul good. So you see a little less of all that in there. There were also quite a few other items that got stored elsewhere in the house in places that it made more sense. The items in the closet needed to be items I go-to frequently and wanted to keep in easy reach.
This is what the top shelf was looking like.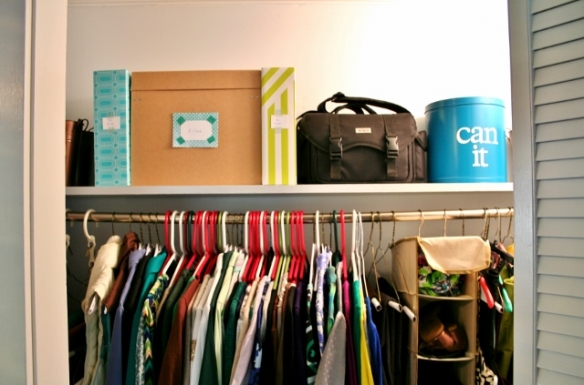 On both ends of the shelf I have two tins (count it – four in total, two are hiding behind the other two) that I picked up from the Dollar Tree (love it!). I thought those would be good for items I go for frequently, like the paint brushes. I took some craft paper and washi tape to make an easy label.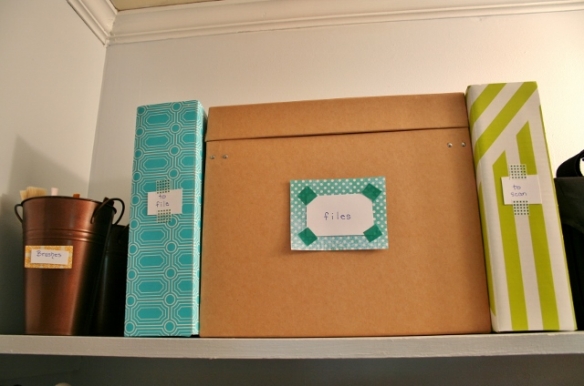 The next item on the shelf is my file storage. I didn't DIY this section but went to Target instead. I found those file holders for $1 (although I was originally going to make my magazine holders from cereal boxes but couldn't resist the dollar price and patterns) and the file box which is all gold and chevron fun inside.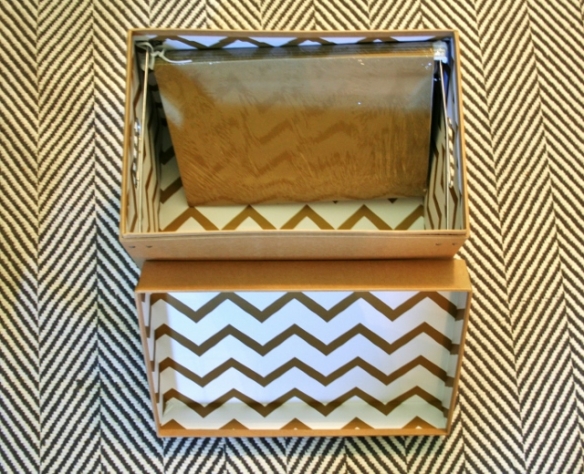 I then reorganized all my files that I had in an accordion style file that was exploding at the accords… I sandwiched the box between the two file holders: one labeled "to file" and the other "to scan". During the week I can easily slip papers inside and then just go through them once a week. Making it easier on myself.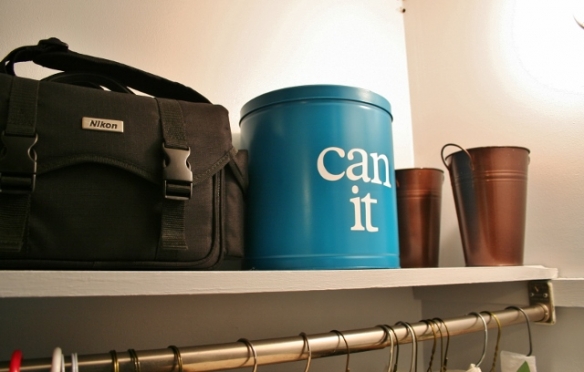 I didn't get any brilliant ideas on my camera storage. It needed to be there for easy access but it didn't make sense to put it in a bin since it is storage, so there it stayed all black-tacular. Then of course comes the popcorn tin and the final two $1 tins.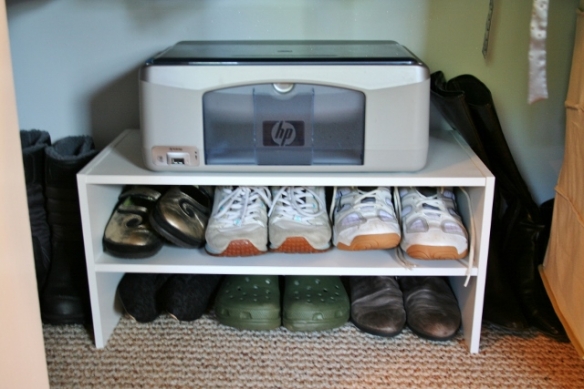 Moving way down you see that my shoe stand became a printer stand as well. I am actually going to invest in a wireless printer so I don't have to plug up any cords to the computer (for that reason and that this printer just broke).

The last section of the closet is the side cubbies. Starting at the top I repurposed a cardboard box into an organization container. Cover it with pretty paper and it's usable and oh-so-pretty!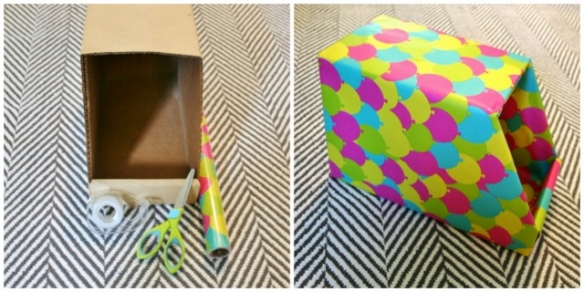 Then I used two shoe boxes that I had kept because they were pretty. Put a label on them and instant organization.

I was also able to organize all my fabric so I could easily see what I had and use them more frequently.

Then there was the coffee tins. There is actually more space behind the second row of tins too for future storage (the first row has scarves behind them).

Can you believe that? I cleaned the closet out so well that there is now empty space ready for me to fill it up over the next few years! Although, I do believe that when everything has a designated space clutter doesn't build up as much. Thus ends my closet reorganization in the Mego Cave. Lots of fun, glitter, and patterns were had!
Let me just leave you with a final before and after: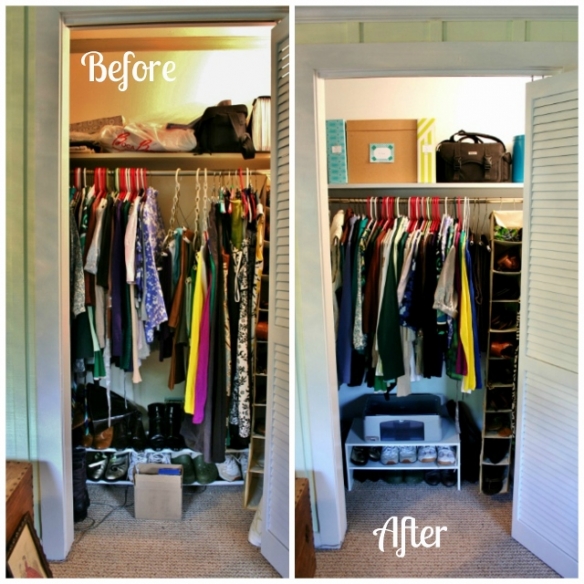 Sharing This Post: