I hope you are reading my blog not only because you either a) love me (thanks family and friends) b) love design and décor project but also perhaps because you like the snarky, pun-loving, ridiculous person that I am. I hope that jumps off the page at you and grabs a hold of you a little. I like the idea that we have this internet bond (wait, does that sound wrong?), even just a little one. In my mind, we are friends. And I like that.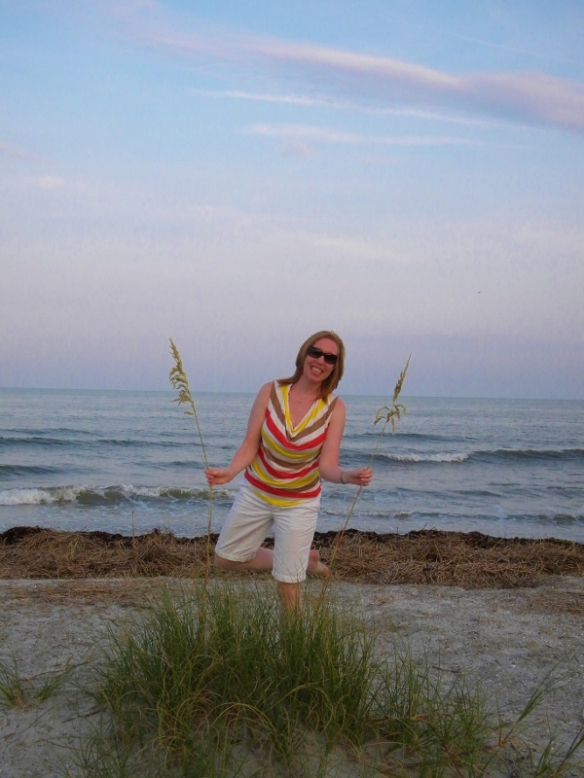 I say all this because this post wasn't meant to be written. Why? Because of life people. That's been my excuse a lot these last few weeks, and I will take it! There has been vacations, spontaneous weekend trips, busy family time, and work…lot's of work (like my real job people!). So after a crazy busy weekend full of big dreams but no realities in the form of projects and then a Monday with a whole slew of random activities thrown at me all of a sudden, and then working late tonight, I was going to just throw my hands up and not do a post.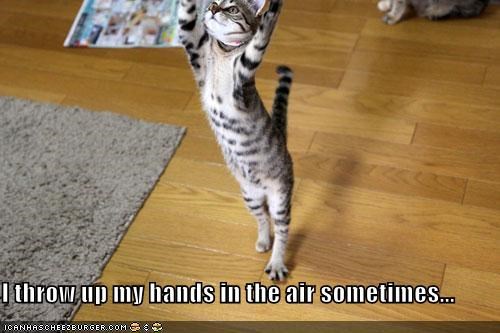 Source
Then something awesome happened. Our board meeting let out before 8pm (I'm usually outta there at 10pm). Which meant I had this whole new free evening! Shops were open! I wasn't tired. So what did I do? I buzzed around Goodwill for until they closed.
What happened there? I got hit on. By an old man. Now, this may not be big news to anyone; girls get hit on every day right? Well, not me. I think I can count on one hand how many times it has happened (including both old and young men). For real – but it's cool; I think it's kind of awkward. I blame it on my independent vibe (well I did before I married the love of my life and now I blame it on my I'm blissfully happy and in love with my man vibe). Since we are friends I thought I would share this story that I just thought was too funny and inspired me to actually put fingers to keys and make a blog post happen today. Let's get into the details, shall we? Cause this is sooo important (did you catch that sarcasm)?
I walk into Goodwill, beginning my browsing through the glasswares section. Suddenly, the big swinging doors open up from the back and this jolly man steps out whistling a tune and immediately says, "Hi darling. How are you?" That kind of talk is normal in the South. Lots of honey childs and sweeties from strangers. You get used to it. I continue my browsing until all of a sudden Mr. Jolly just kind of walks up to me.
"Hi there darling. I hope you don't find this offensive. It's not what I mean. Actually, I really hope you don't get me fired. I don't do this much but I just had to tell you that you are one beautiful woman. You got that shade of red hair. I just had to tell you. But don't get me wrong and please don't get me fired."
Me: Laughs. "Oh. Thank you. No worries, I won't get you fired. Thanks." Laughs awkwardly.
We move on but he's still around the store. He tells me as I check out, "I'll give you my discount. Oh wait, we don't get one."
Bummer, that had actually gotten my heart rate up! I thought I was going to score a discount.
But silly little me, I thought this story is hilarious. I wish I had gotten all creepy on him and taken a picture on the sly. It would have made this story better. Oh well, I hope you enjoyed it and got a little chuckle out of it. Cause I not only want to welcome you into our home and show you around, but I want to welcome you into my life. Show you around my head a little bit. This is a prime example: it's a little awkward but usually funny.
Back to Goodwill though, eh? Since I wanted to share this story, I thought I could throw in a little décor since I picked up a few things. Perhaps a few future thrift find makeovers in the future.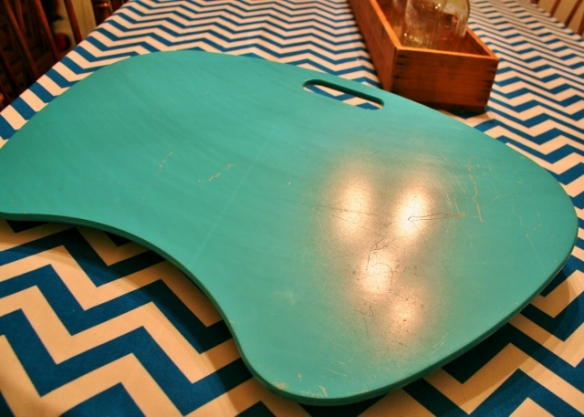 I picked up this little lap desk because geez I'm on this laptop so much and it's always over heating since it usually sits on blankets, pillows, and beds. Might as well treat it right. I'm definitely thinking about giving this a facelift…maybe even breaking out the decoupage. Yikes!

Then there is this lamp shade I bought for the guest room. I thought it could go on my crystal lamp. But it doesn't fit. Sad story. So maybe another place?

I swear I have been wanting to make a gallery wall in our hallway for three years (oh wait, I've lived here three years!). Every once in a while I randomly buy some possible gallery wall pieces. Like this one. Gosh, I hope I actually do it one day. Although I'm definitely going to be painting that frame.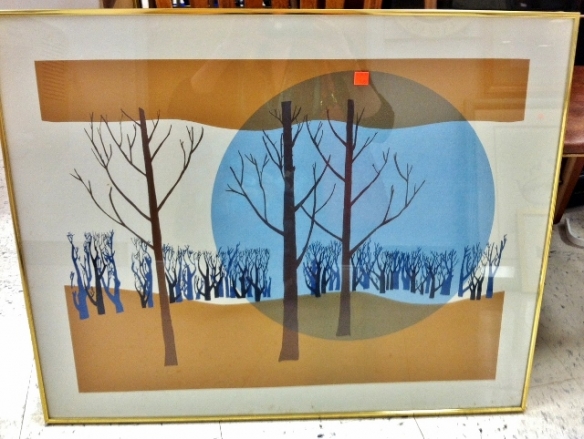 That's the only picture I took at Goodwill. It didn't come home with me. But I was contemplating it. I thought it could have been cool. Now that I look at it, I'm pretty sure it's just weird. Thoughts?
Last but not least, as I type away here in bed (cause gosh darn I still did get home a little late and I had to type this spontaneous late night post in a comfy spot) I bought a DVD to play as I type this post. Who doesn't love a ditzy blonde going to Harvard? I sure do!

So thanks for sticking with me on this post that is 100% random which means it is 100% Megan. I appreciate you hanging with me and liking my whole take on the world. I like yours too, friend.