Do you ever look at your room after you've worked so hard to put it together and think, "Hmm, this isn't exactly what I was going for. I like it a lot but I don't love it. Something seems just a little off." Well I do sometimes and it drives me a little batty. I realized there may be a reason I am feeling this way. I don't plan a room (which is shocking because I am a Planner) from the beginning. Instead I piece them together with a vague thought of the final outcome. Now, you shouldn't plan everything and you can't because you find things unexpectedly that you just must work into the room and life happens. But having a plan in mind, well gosh, that can probably help a whole lot in getting a complete look that you love.
I did an earlier post about our sunroom that had some mini-plans. Sorry, but let's scratch those. I made a real plan. Don't go getting all excited for a beautiful graphic because to me, there's nothing better than sitting down with a pencil and paper and drawing up a plan, complete with doodles and eraser marks. That's my plan.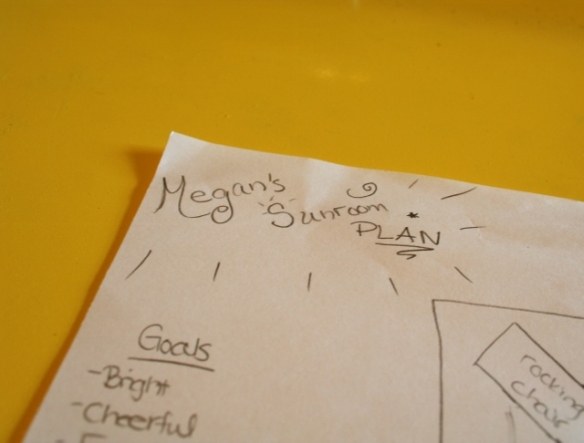 Now that I have finished some big outdoor projects for the exterior of the house, I wanted to keep going on more outdoor living projects since this only happens for a couple of months. Plus, the other day I was sitting in our sunroom, awkwardly trying to put my feet up and read when I realized, "Megan, all you want to do in this room is relax and read, so why don't you make the room around what you want to do out here!" Duh!
The room was full of a big table and chairs that just weren't working the space for what I wanted to do.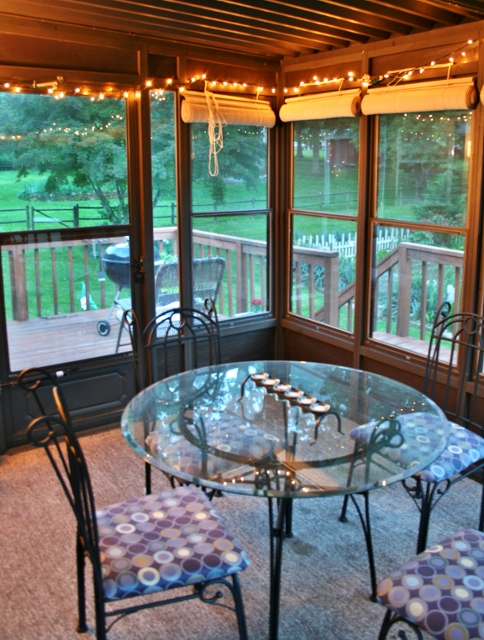 Here comes the plan (oh yes, all photographed and such since scanning does not like my pencil marks). Don't worry, I will explain it.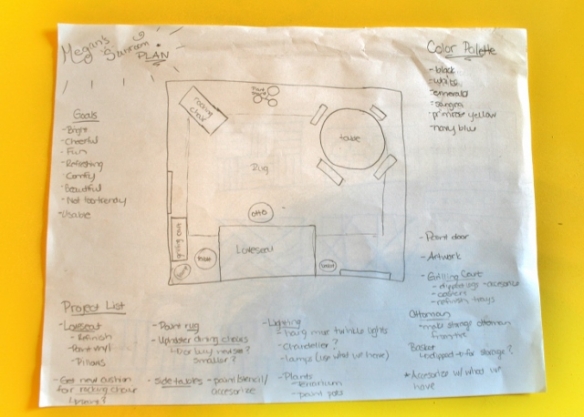 First, I drew my room and moved around some furniture on paper to figure out the best layout.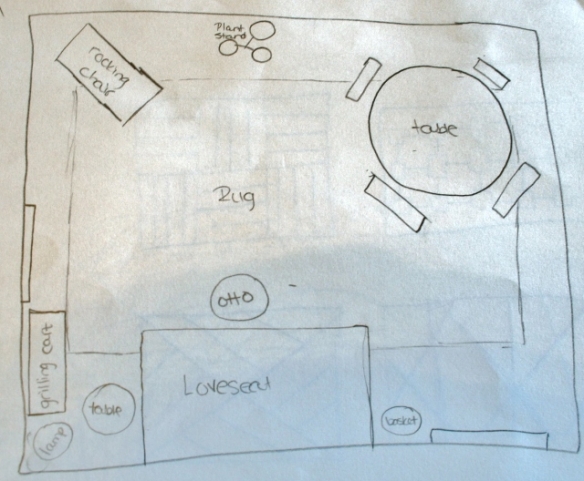 Then, I drew up a list of projects that I could do for it with items I already have in the house or possibly thrift store finds in the future. Oh the possibilities…Since you can't read them, here's what I'm thinking:
Love Seat (already bought): Refinish wood frame of love seat; paint vinyl seats; pillows!
Rocking Chair (already have): Try fabric paint on cushion
Rug (already bought): Paint a fun pattern
Dining Table and Chairs: sell old, buy thrifted "new" ones (chairs already bought) and refinish if needed
Side tables (using what I have): Refinish and accessorize
Lighting: Use lamps that we have; rehang and hang more twinkle lights
Plants: make terrarium and put other plants in pretty painted pots
Paint door from house to sun room
Artwork: find/make and hang
Grilling Cart (already bought) that can serve as a multipurpose cart: accessorize
Ottoman: Make one from a tire
Basket (already have one): give it the dipped look or paint stripes
Then I picked a color palette (after a quick visit to Lowe's for some color inspiration). I decided to feature the color of the year: emerald! The main colors will be emerald, white and black with rustic wood with pops of yellow, navy blue, and sangria (that yummy pinky color).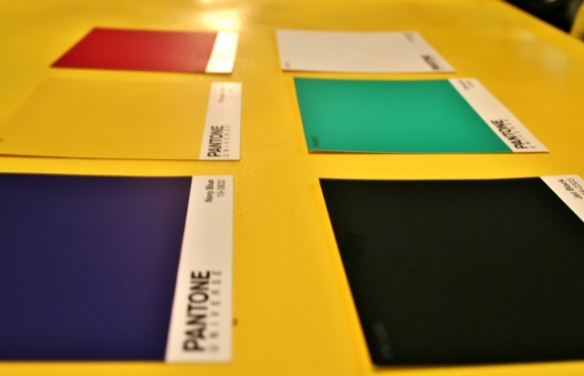 Then I started scavenging the house and placing some objects in the room to see how they looked. Warning: it still looks like a mess. This was mainly for real life spacing.
Finally, I started buying up the pieces that I will need for it. Good news is that everything has not only been inexpensive but I dare to call everything cheap! I am even looking to sell the current table in there, hoping it will cover all my new purchases. Here's a sneak peak at the items.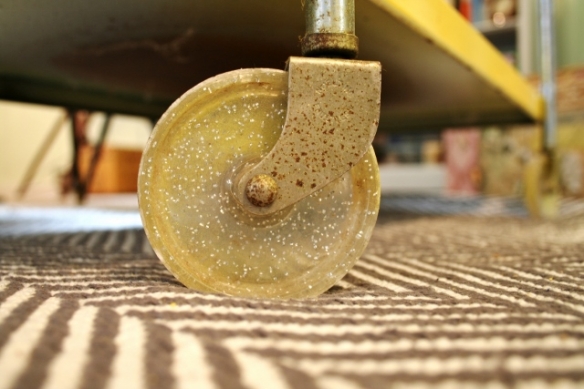 My next step will be making over the "project pieces", putting them together in the room, and working to style them up!
This is definitely going to take time, but it's totally going to be worth it. Now you know what you'll be seeing in the next few weeks (or months even) in posts. I can't decide which project I want to tackle this weekend. It makes me giddy thinking of the options…