Let the sun room projects commence! You've been hearing a lot about sun room projects that I have planned, and I have even teased you with all my delightful thrift store finds, but really, I haven't gotten to the tofu and potatoes (hey, I'm a vegetarian) of this sun room makeover. In my mind, it's all about turning some run down items into something beautiful.
My first project: this cargo loveseat found via Craigslist.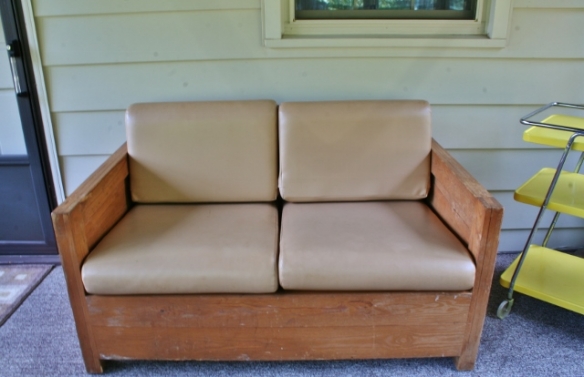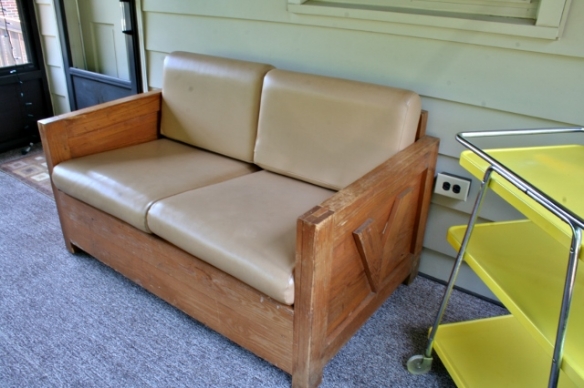 I've had my eye on cargo furniture before just because I thought it held so many refinishing possibilities. It turned out the sun room was the best space to make this furniture makeover happen. After striking out on finding one on Craigslist, I actually put a wanted ad on it instead. Within a day someone contacted me with exactly what I was looking for. Plus, it was $25 with a $15 delivery fee. Sold! She arrived a little beat up and very pale/beige-y. I knew I wanted to stain her into a rich, handsome, darker color and spiffy up those seats.
This is the story of how I took her from ho-hum pale wood to a rich, delightful, dark wood.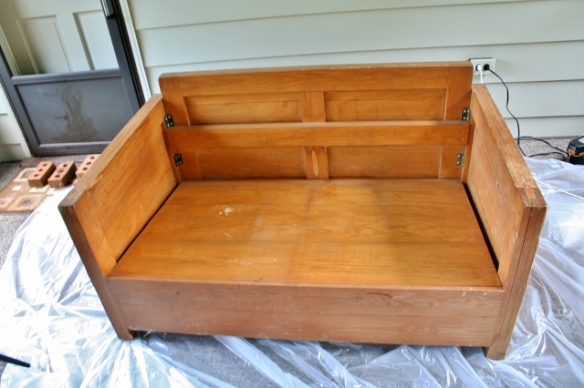 Step 1: Sand, sand, sand away all. I used our mouse sander with two different types of grit sandpaper. I started with 80 grit to really rough her up (sorry little lady, but it's for the best) and then went over her a second time with 120 to smooth things over a little. I also had to sand by hand some of the corners and crevices.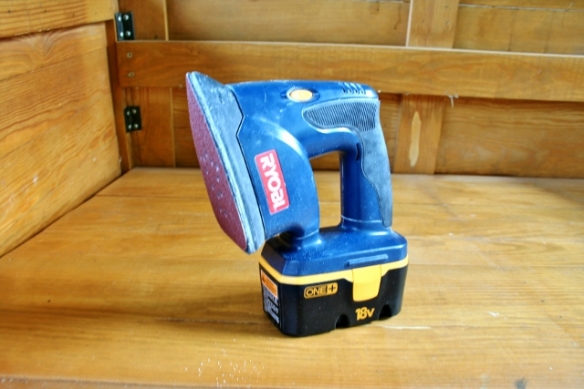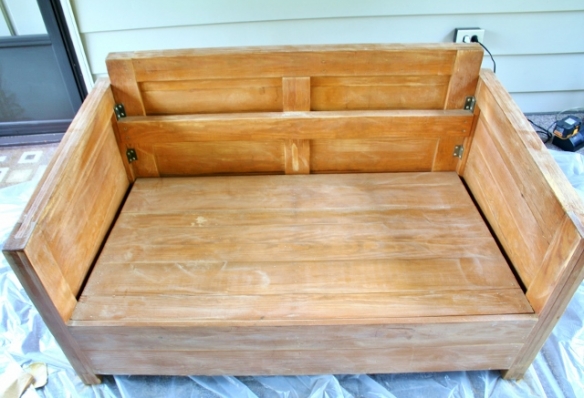 Step 2: Clean, clean, clean! After sanding, everything was quite a mess. I wiped her down with isopropyl alcohol and then with a deglosser (I used Next Generation's Deglosser). Just to make sure my staining surface was free of all the fine bits of wood, I finished by wiping a tack cloth over her.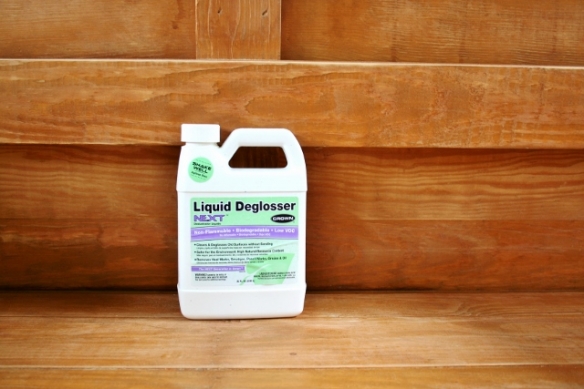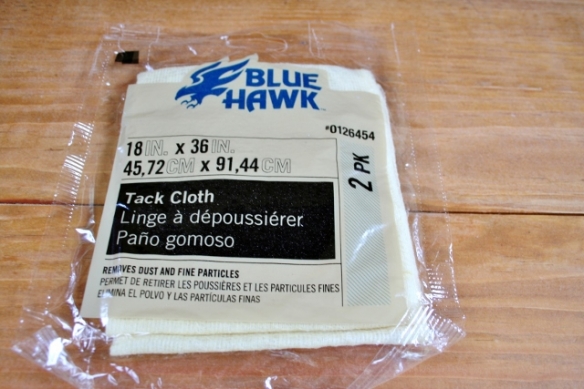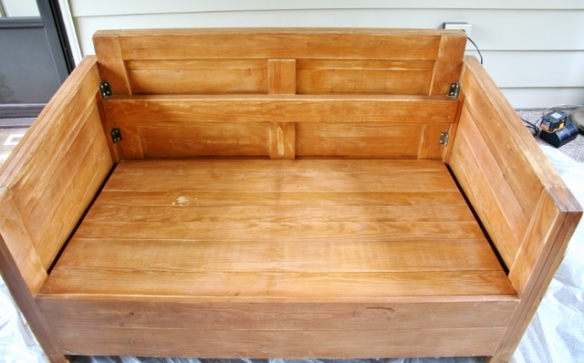 Step 3: Next, pick your stain and darkness. I decided to go with Minwax's Dark Walnut as I was going for an older, barn wood feel. I sampled the stain at different time increments on the bottom of the seat (where no one would see it). I did an immediate wipe off section, 30 seconds, and a couple of minutes. They all looked the same to me.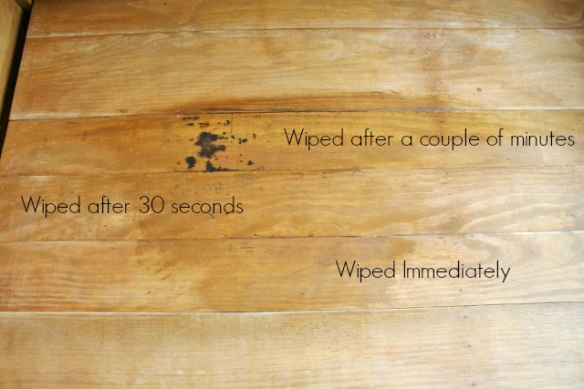 Since I really wanted that dark wood look, I decided to wing it just a little bit here. I decided to put on a thin first coat of stain and then wipe off the whole thing after it had all been coated. This was quite a few minutes.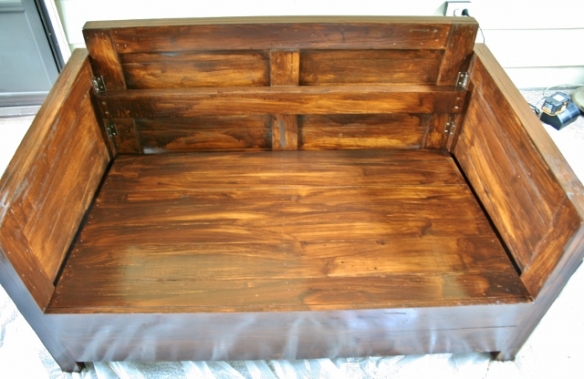 Step 4: After giving the love seat one thin coat, I took an old t-shirt and began wiping her down. It was a little tacky in wiping it up (I blame the humidity) but it was definitely giving me the desired look! This is also where I learned how important it is to really wipe off the stain well. Since this is my first staining project, I'll let myself off the hook on some of the blotchiness. I'm just saying it was the look I was going for (because, well it really was).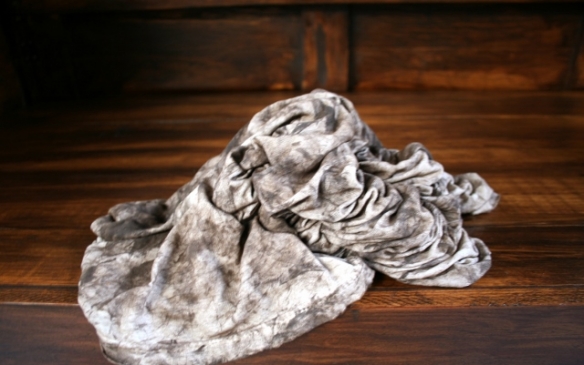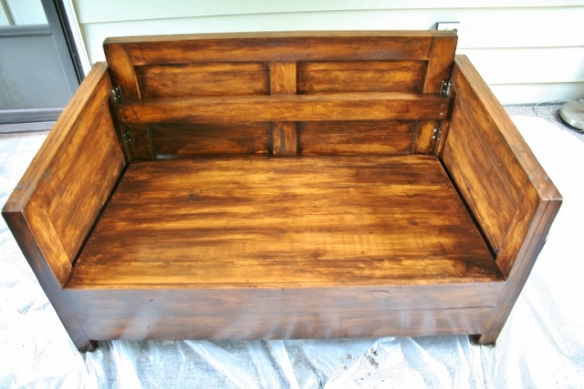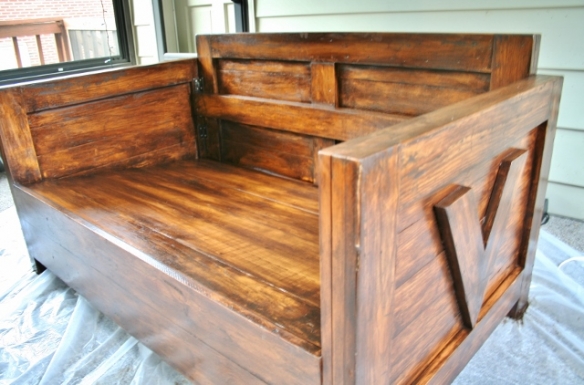 Step 5: After letting it dry for the recommended 3-4 hours I put a coat of poly on it to seal it in. I used Minwax Polyurethane in Clear Satin. After a couple of more hours I put another coat of poly on to ensure it was sealed really well.
Here is my finished product! I am absolutely in love with the dark wood. It covers all her bumps and bruises and makes her look so much richer and handsome. Next up, get rid of the tan vinyl seat covers, but that's for another day!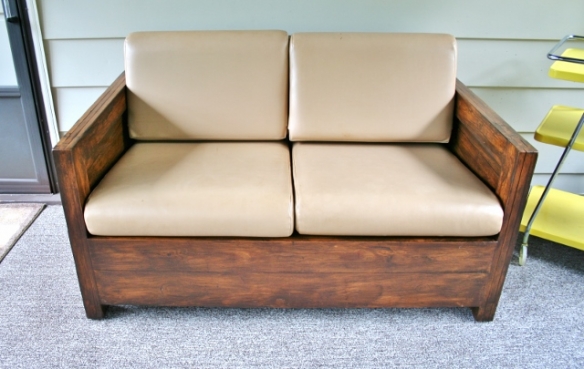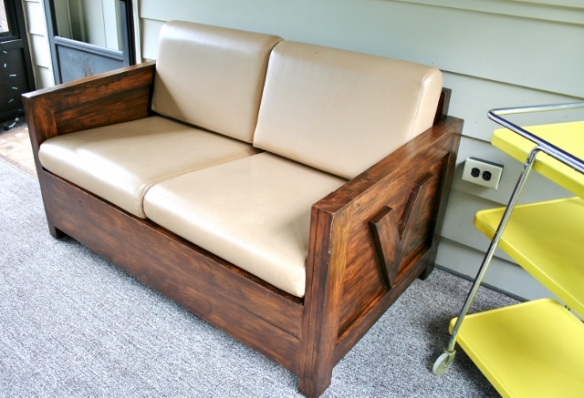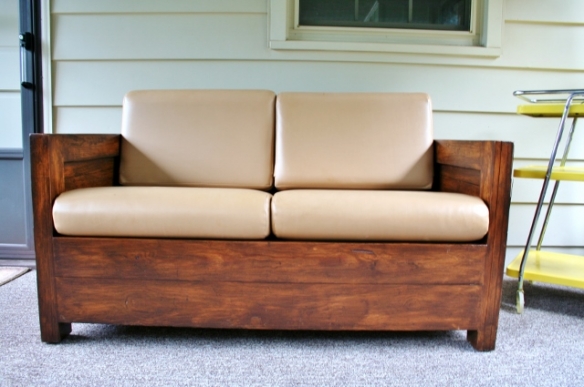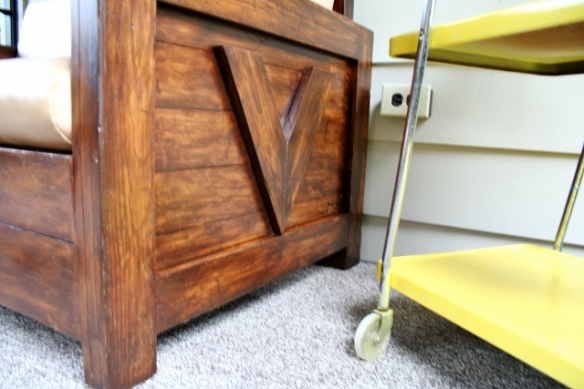 Sharing Here: