The other day my friend Jamie said to me, "I want to have a yard sale". I laughed a little and responded, "Jamie, you don't have a yard. You live in a condo and barely have a place to park your car. Why don't you have it at my house?" So that's how this weekend's yard sale happened. It was actually my first one I have ever hosted (although I've been to many). I thought I would go through the steps that we did to market it and some of the lessons that I learned.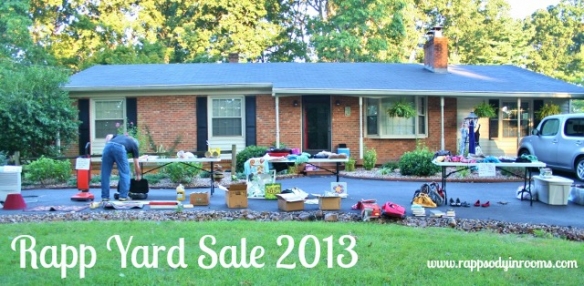 Marketing and Organizing a Yard Sale
– Post it on Craigslist and the local yard sale page on Facebook. We listed the items (in general that we were selling). Pictures are definitely a plus.
– Get those signs up. As good as an online posting is, I think the signs were the best advertisement. Thankfully we live in a very yard sale friendly neighborhood that a lot of people come to anyways for sales. There were two yard sales up the road from us (not in sight) that we were afraid would take our business. I posted a sign right after theirs with an arrow pointing towards our sale.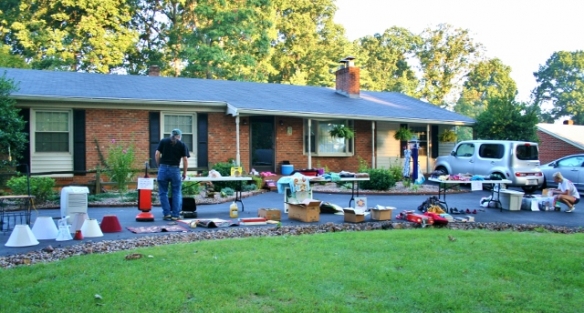 – Put prices on items – and make them fair. Sometimes it can be annoying if there aren't prices on anything. People like to know their starting point. You also need to remember that people won't pay much at yard sales. Sell the higher dollar items on Craigslist if you want to make more. If not, pretty much take what you are offered.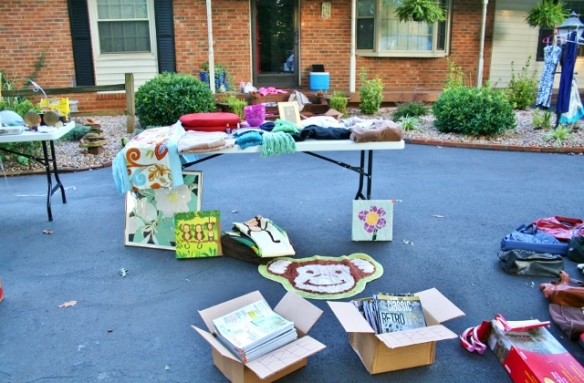 – Organize ahead of time so it's easy to setup in the morning. It's nice not to be running around at 7am on a Saturday (although I prefer not to be awake at 7am on a Saturday).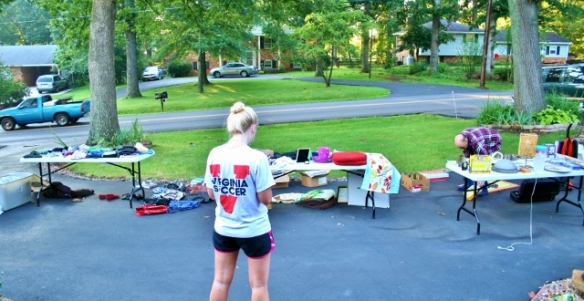 – Do what you can to make it known but don't stress about it. Drive by traffic will be your friend.
Things I Learned
– The most surprising items will be sold so don't be afraid to put them out there. Things that were hits: wash clothes, my mother-in-law's rooster stuff, a hand-made mosaic, a broken pressure washer (sold for parts), just to name a few. Just don't put literal junk out there. It's bad yard sale etiquette.

– Keep the yard sale running until noon. So, this one was all Jamie. We had an early rush and then around 10 it was pretty dead. Then it picked up again at 10:30 and kept us busy until noon!
– People are SO NICE. I know, I know, this seems silly but it is so true. One of my favorite things was chatting with the people who came by.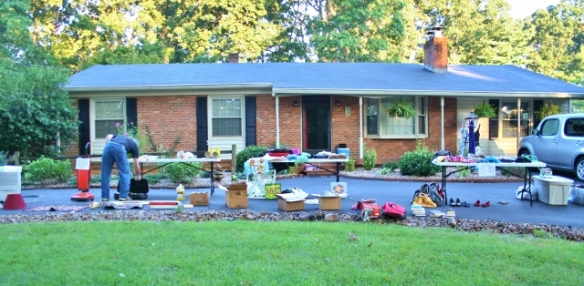 – You will hear "Now I just have to get this past my husband" or "My husband will kill me if I bring another BLANK home". It was hilarious. We should make a women's group for this since it is such a common problem.
– What you think will sell – it might not. People will pick up certain items repeatedly but never buy them. Things we thought for sure would sell, didn't. Next time, if people put things back after they pick them up, I will ask them if they want to make a deal before they leave.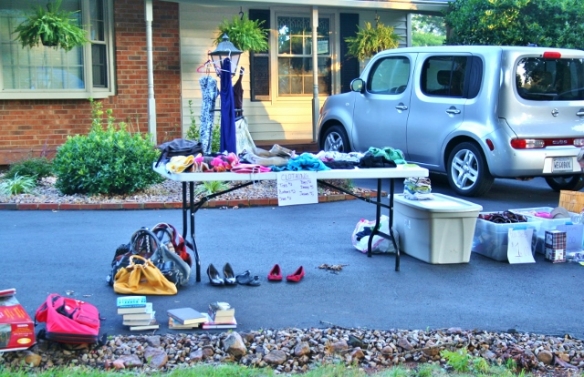 – Yard sale buddies are the best. Random dance parties, someone to talk to, a person to help you negotiate and someone to watch the yard sale while you have to run in to use the bathroom a million times.
-Don't bring anything back into the house that went out. Well, except for larger items you can sell on Craigslist. For me that was a saxophone, a set of dishes, lamp shades, and a skateboard bag (Eric's). Just box it up and bring it to Goodwill. It will make you feel better.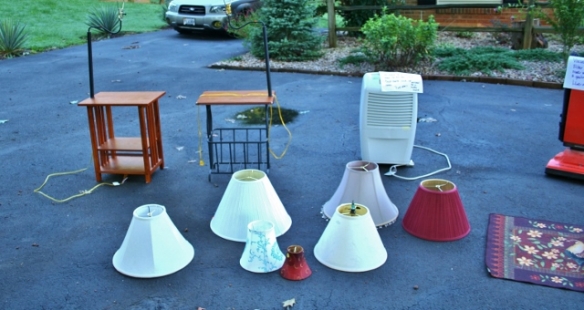 -Be thankful for what you make – it's more than you started with! We deemed it a very successful yard sale for a morning of work.
– Remove emotion from items. You will feel like people are practically stealing from you compared to what you paid for it. However, it's okay. If you don't sell it, it's being donated. So anything you get, even just 25 cents, is a profit. When you remove the emotion it is easier to let things go and it also is very freeing. It makes you want to do a crazy-purge in the house!
– I actually find it more fun to sell than to buy! It's freeing to just get rid of the stuff! I felt overjoyed when it was all gone (sold or donated).
So that's just a little bit of what went down at my yard sale and inside my head during the yard sale! Now, I'm already planning for next year!