I'm back with another installment in our sun room makeover. This is probably one of my favorite rooms  I've ever done. I'm having fun trying all sorts of things, like making a room plan, staining a cargo love seat, painting a table in golden and geometric patterns, and rub 'n buffing chairs. It's been a whirlwind that's just going to keep on trucking. The new project I tried out this time was spray painting vinyl cushions. As you remember, the cargo loveseat came to me all rough and ready for a makeover.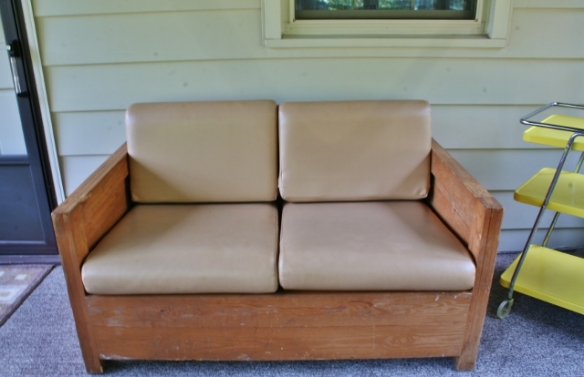 Then it got a little makeover…
It was looking quite charming with its new dark stain, but it just made the brown vinyl cushions look even more blah. They just faded into the love seat. I was never a fan of the color to begin with and always knew that I was going to change them. Originally I was just going to recover them with fabric, but when I saw how great a condition they were in and what a great material they were for an indoor/outdoor room, I just knew I had to try something different. Enter, Dupli-Color Vinyl and Fabric spray paint (found at an auto store near you – I cleaned out the meager supply in 3 stores!).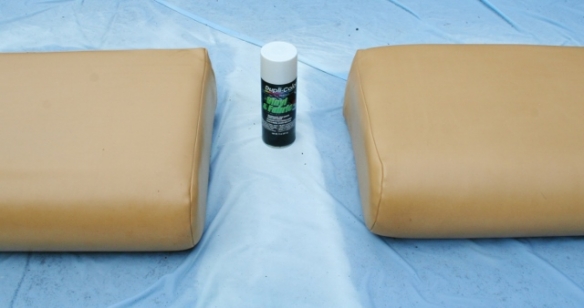 The first and only step in readying these seats was to clean them. I scrubbed them with a microfiber and rubbing alcohol (my go-to method of cleaning just about anything). Then, after shake-shake-shaking the can for a minute, I started to spray.
Now I could go and say, hooray! That's all it took, which is technically true. However, the spray painting method was a little different. This type of spray paint is the finest I have ever seen. When I did an initial pass over the seat cushions, it was like the paint had barely touched them.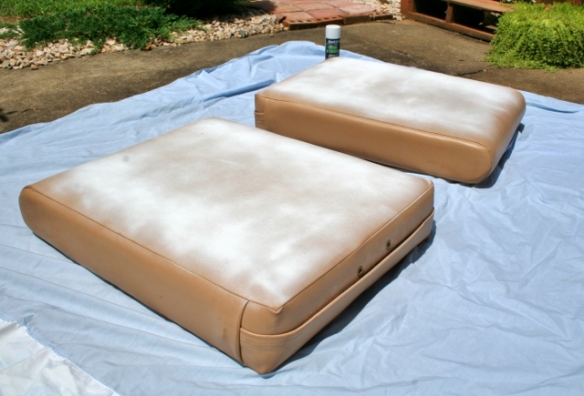 Here is the best method I found for spraying these cushions:
Hold the can 4-6 inches from item (this is slightly closer than they recommend on the can but I found it got the best coverage).
Always start spraying off the item. This is always true for spray painting but especially true for this paint.
Do slow, even passes with the can. Not super slow but slower than (at least my) spray painting technique.
You are going to have to make a lot of passes/coats to get the item fully covered in this spray. However, I found that you can do it all in one sitting. The paint dries SO fast. I would do a coat on one cushion and then the other and just alternate back and forth until each side was fully covered.
The item has a fast dry time but leave it outside as long as possible. I found this paint to be VERY smelly and even irritating to my eyes. Only use it outside and I recommend using a mask and eye gear. It's not cute but it's safe.
After it's all sprayed and dry, it's an amazing finish. It's like the original finish. I don't think anyone ever could guess that these seats hadn't been white forever!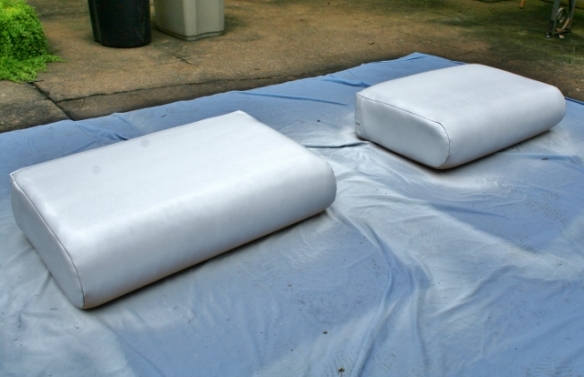 Now, here it is all put together. I'm giddy with delight!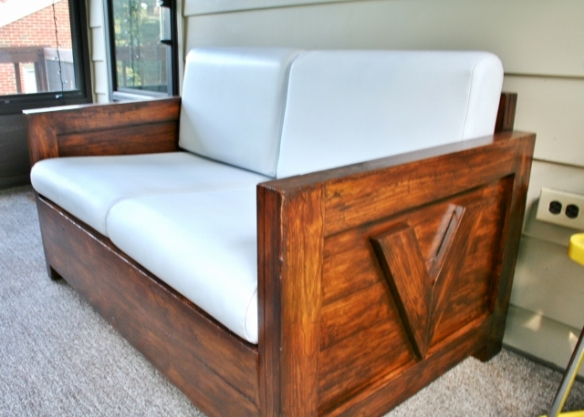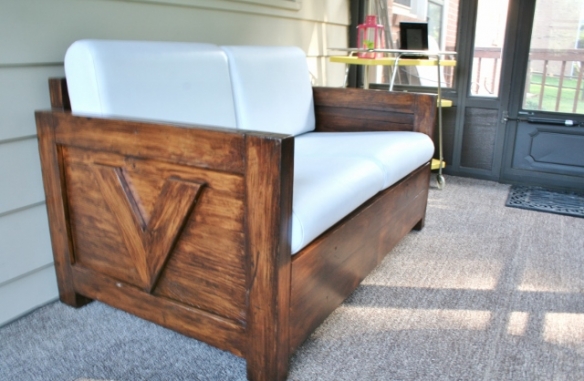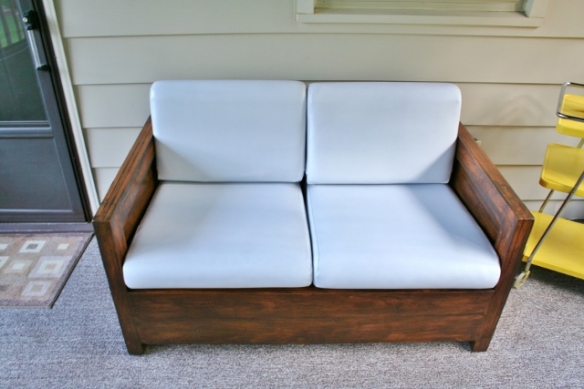 This is definitely a win for spray painting vinyl cushions. These seats have had many bum tests with no scratches or paint coming up. However, dirt has gotten on them and it just wipes clean (with the paint staying on the seat). Now these cushions just need a little bit of styling, eh? Working on it!
Now, as a grand finale, the always beloved before and after: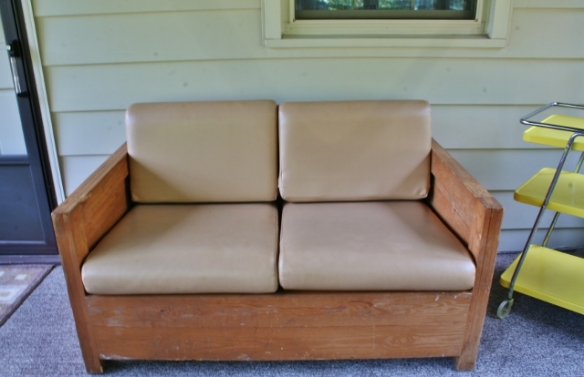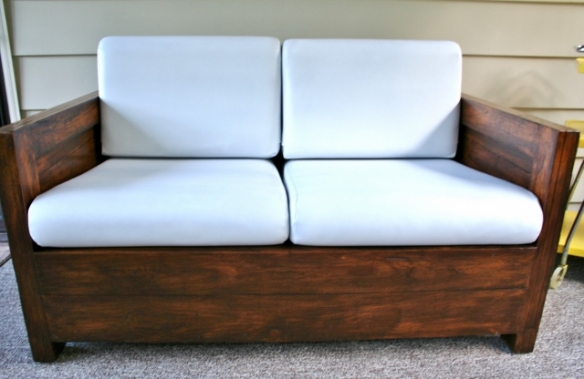 Sharing This Project: