Isn't fun when you find new friends in unexpected places? Like the world of blogging, for instance. When I started this little creative outlet, I didn't really think that it would extend so thoroughly into all parts of my life, including my circle of friends. Blogging has actually increased by circle of friends, and awesome-ly enough introduced me to some in my own hometown. I first connected with Paula, blogger at Virginia Sweet Pea, when we both found out we were going to Haven from Lynchburg. We met up for the first time at Haven and then have periodically gotten together since we've gotten back. It's so fun to have a local gab pal who gets this blogging…and someone who loves thrift stores as much as I do.
Paula sent me an email a week or so ago with a great idea. What if we went thrifting together and each did a post of the things we saw. Having different aesthetics and being in different age ranges made it seem like a really fun idea to share with you – and was a great excuse to just get together!
Without further ado, let's get to the goods! Our first stop was Estates Revisited.
First up, this lovely credenza/buffet. I love the lines – especially the hardware. Look closely at those geometric handles! We are looking for something new for the entryway but this was just shy of too low.  Bummer!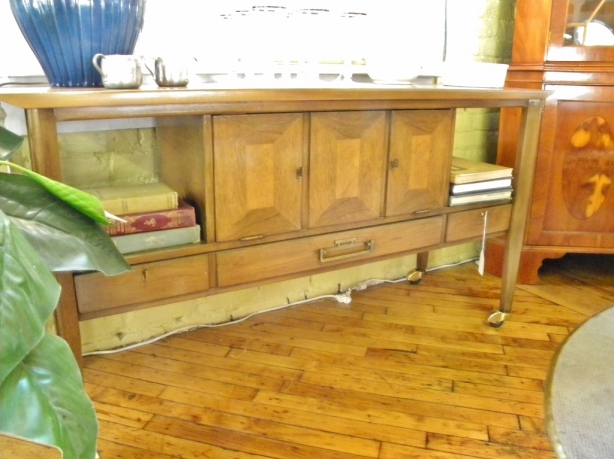 This little beauty caught my eye too. It's Asian in feel but has a neat mix of glittery element and metal. The trunk of the tree is copper metal twisted around. Love that detail!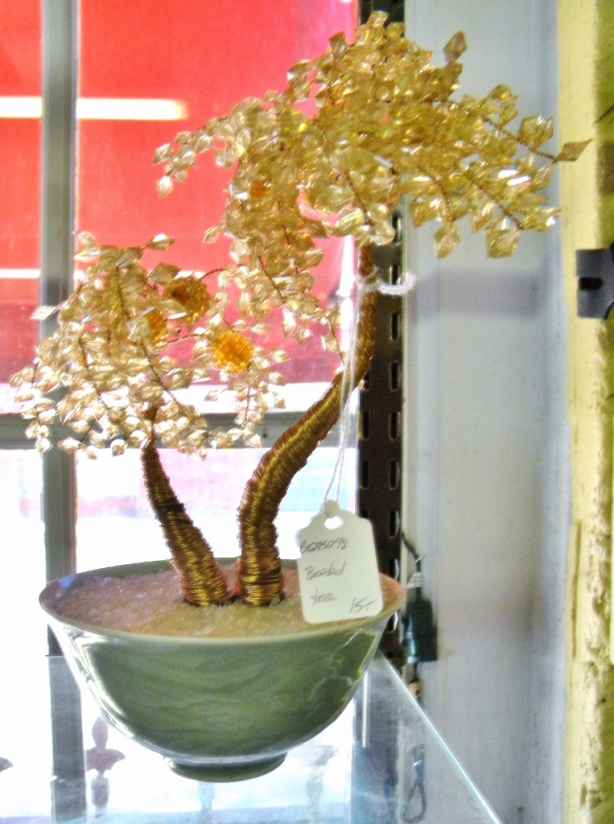 Apparently I'm into big wooden pieces of furniture that offer ginormous storage opportunities. This was also a fleeting thought for the entry way but it again was too low and too long. It was a little beat up around the edges but would be a great storage piece for a craft studio or office,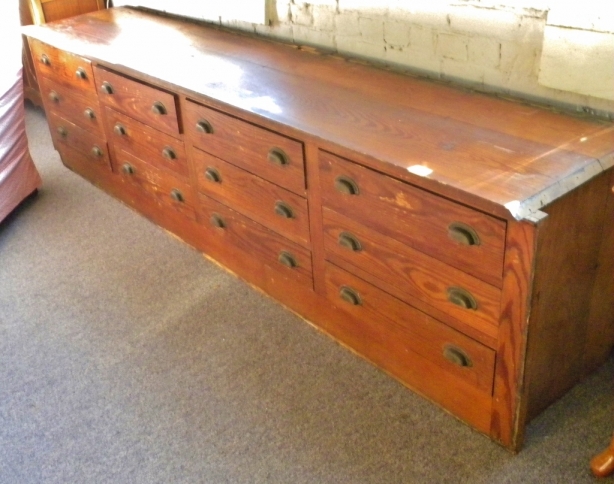 I fell hardcore in love with these next two pieces. I believe my quote was, "I would buy these immediately if I had any space in our house." Then Paula, smart woman she is, asked, "Have you sat in them? Are they comfortable?" Ha! I hadn't. So we sat down and both agreed they weren't movie watching kind of sofas. Bummer, but easier to pass by. However, if these had been teal I would have thrown comfort and the confines of our house to the wind and bought those babies!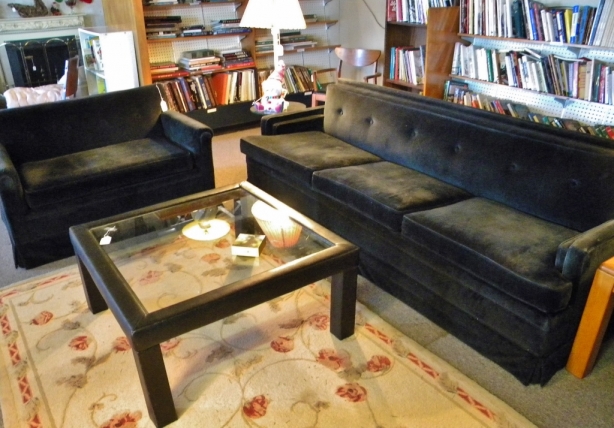 Ok, this one is definitely going to be polarizing but I'm a fan. It's green so that definitely is on the right track for me anyways. It is also a little Asian but I just love the bright, happy colors of the sofa. Don't you think that would make a bold, colorful statement in a room?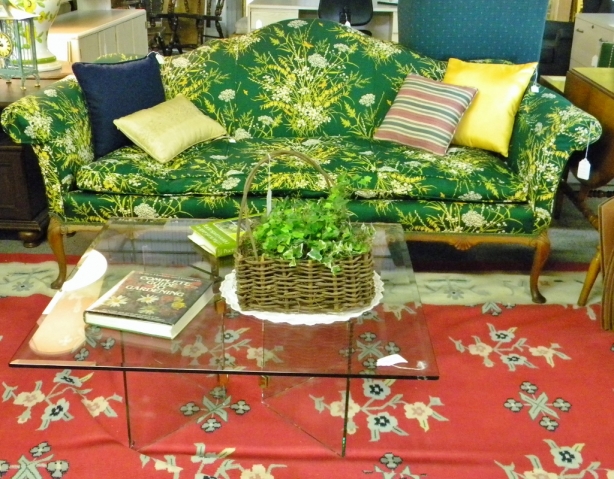 Now begins the story of my obsession with dining sets that day. Not sure why, but I just kept seeing some goodness. My #1 favorite is this modern beauty. I could just eat her up – or at least eat on her. Those chair lines are making me pine right here at my computer (haha how much better would that line be if the chairs and/or table were made from pine)?!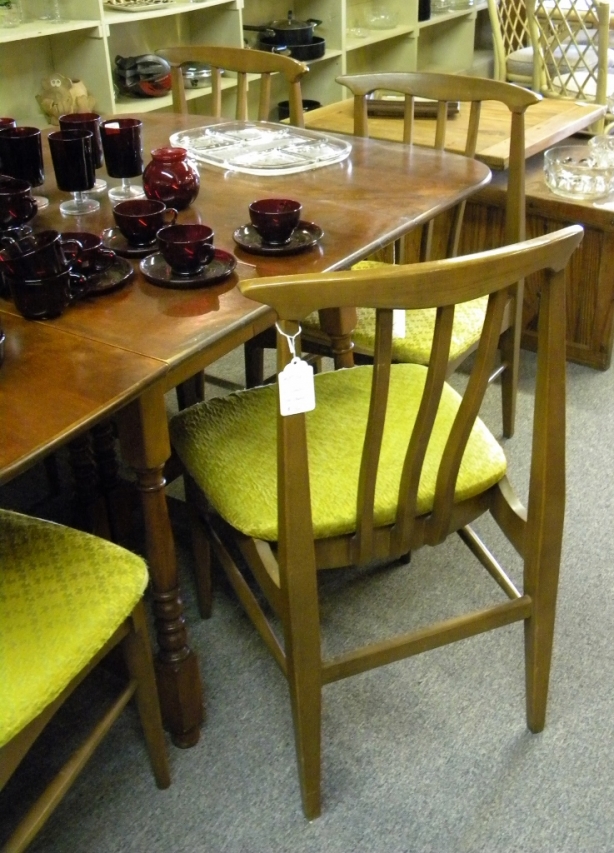 I liked the simple, block lines on this table set. I don't know if I would buy the table with it but I liked the chairs. Paired with a funky colored table could be fun!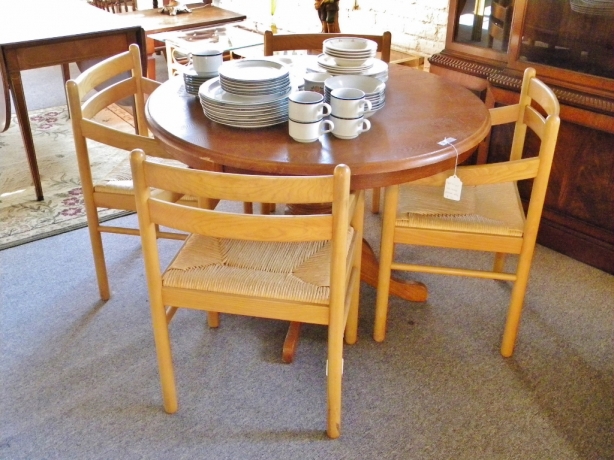 This is my "has potential" dining room set. I just love these rattan type rounded chairs. I'm not a fan of light wood so I envision painting these a crisp white and pairing with a rustic, deep wood colored table or a bright colored table. Those cushions definitely need a colorful fabric facelift!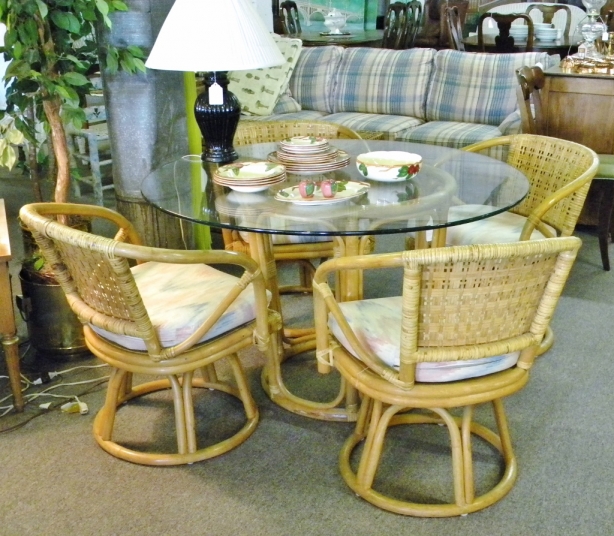 Maps, oh maps, I love you. This was an old school calendar that they have in classrooms that you can pull down. It's gorgeous isn't it? You need a whole wall for this but it would be worth it. It is definitely a vision I have to a child's room one day down the line.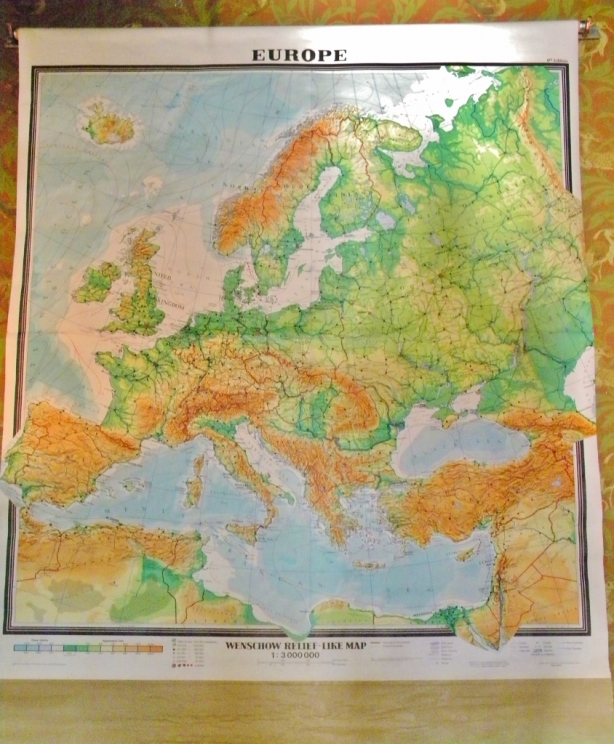 I am also a sucker for book ends. These dice were a fun little find – brassy too which is always good.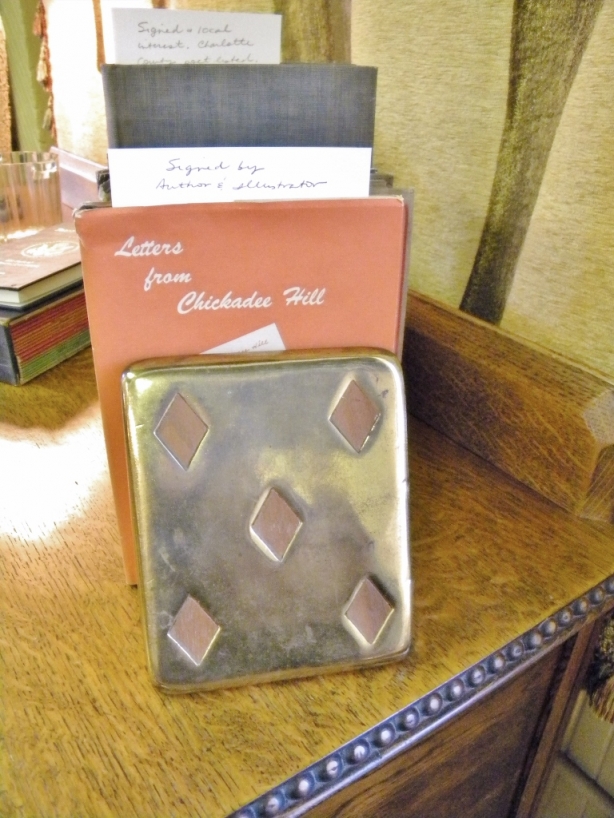 So keeping in line with my large furniture loving, this china cabinet spoke to me as well. As you know, I've struggled with my china cabinet in the past (although I have a fun idea to update it soon) so it still surprises me when I am drawn to them. I like them in concept but they need to have the right lines. These are the right lines to me.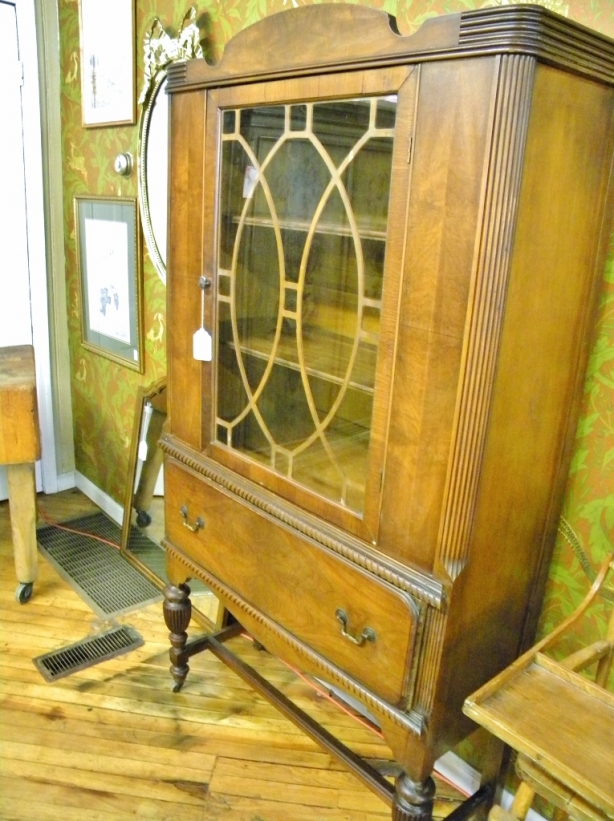 I should have inserted myself into this picture to give you some scale. This painting is HUGE. Like 5ish feet tall. There were three of them and Paula and I had fun speculating where they were from. They are all local scenes so we are thinking they used to hang in the Town Hall building or the like.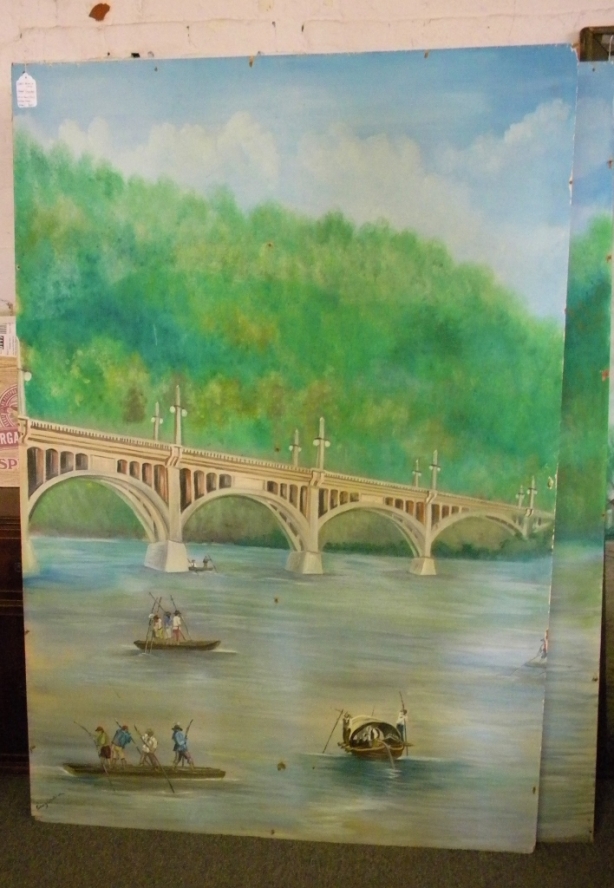 This bottle cap rope impersonator was actually made by Paula's friend. How neat is that? I love the blue and gold one on the left. Another fun idea for a kids room!

Our next store was Estates & Consignments where I didn't have as much luck except when I fell in deep love with this hot air balloon light. Oh. my. If it didn't have a pretty pricey tag on it I would have bought it. Amazing!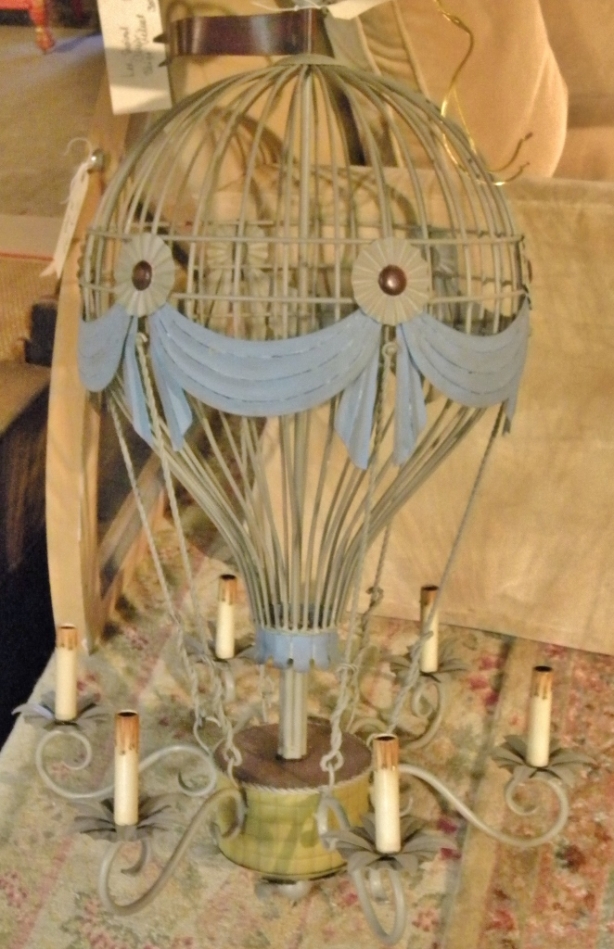 Now, just for fun we visiting a store that has a great collection of vintage and handmade items called Pastiche on Main (Paula did a whole post about the store here). These are all the finished projects picked from thrift stores (or new products) so there was a lot of inspiration here. I love how they took the natural elements of branches and wrapped them in colorful yarn!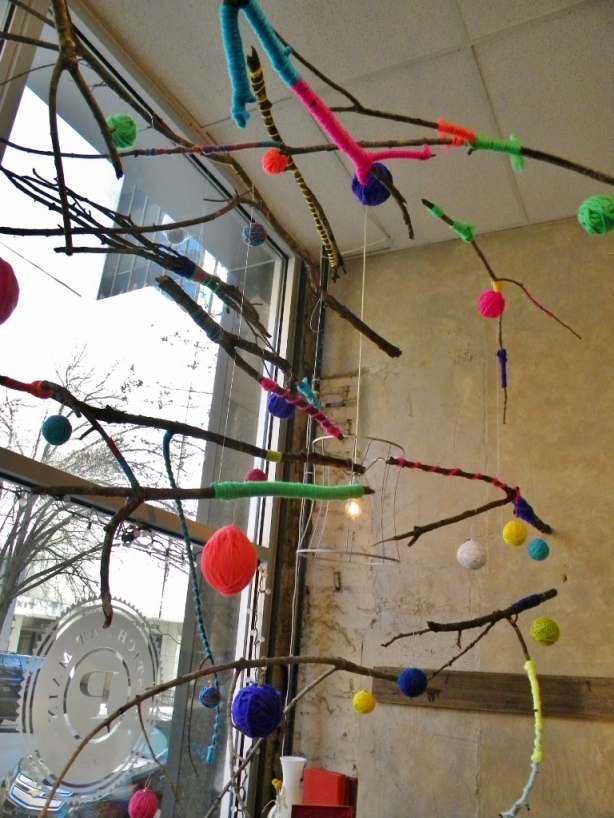 This is an idea that I might be implementing in my house with a crate I have lying around. Chalkboard paint, you've done it again!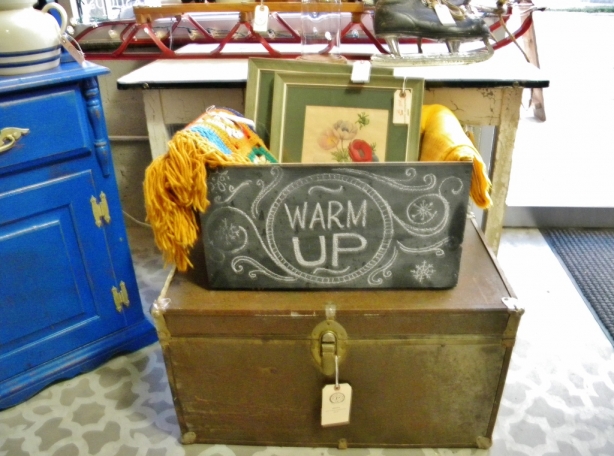 After this store we stuffed our faces with the most delightful food I have perhaps ever had at a Mediterranean place called Al Rayan. Get the vegetable curry wrap – and I don't even like curry. Oh. my. gosh.
Anyways, a better action item them taking a trip to Lynchburg to eat would be to take a virtual trip through Lynchburg via Paula's blog to check out what caught her eye that day!
Sharing this post here: