There seems to be an Arctic breeze blowing through the country – even in the south! When it is cold and snowy here I sometimes wish I was at the beach – except that it is snowing at the beach now too. So instead, I'm going to embrace the warmth inside our cozy little home and whip up a batch of my favorite soup.
I thought you may want to find a few new cold weather recipes as well, so I asked a group of my blogging friends to share their favorite soup and chili recipes. And here's a shocker for you – some have meat! So for my meat eaters out there, enjoy, and for my veggie compatriots you know the drill – just substitute that meat with the soy meat or tofu. I definitely know that I am going to try that route.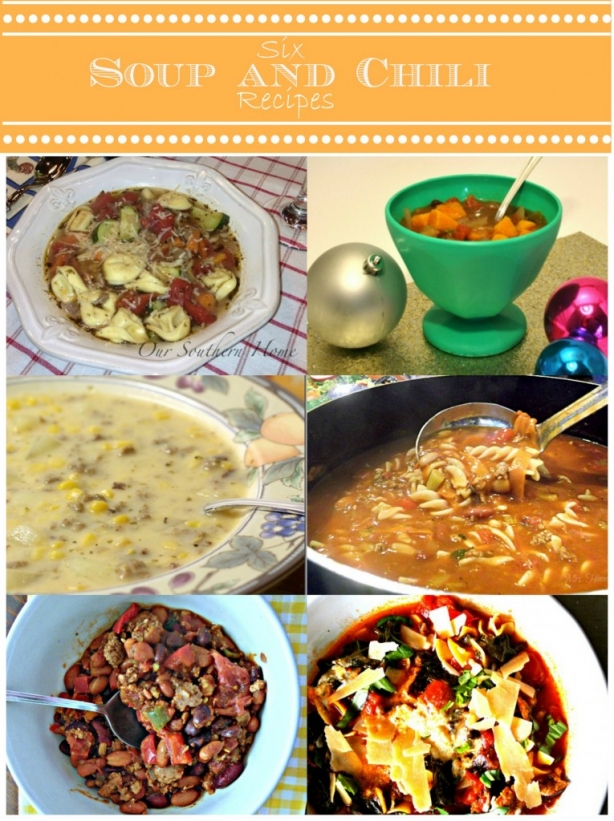 Beefy Tortellini Soup
Christy's son will only eat two soups and this is one of them. In the summertime Christy uses fresh tomatoes and zucchini from her garden in her recipe. That alone will also help this recipe keep you warm in the summertime. Plus, anything with tortellini has me instantly sold.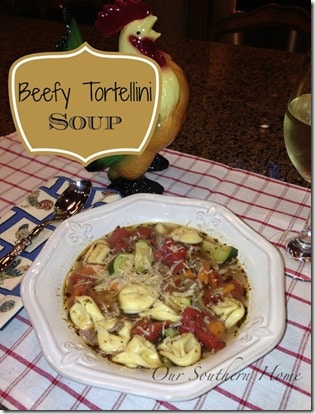 Beefy Tortellini Soup from Our Southern Home
Lasagna Soup with Herbed Ricotta
Christine recommends serving this delicious Italian soup with salad and crusty garlic bread. The herbed ricotta really intrigues me in a soup. I've never tried that before!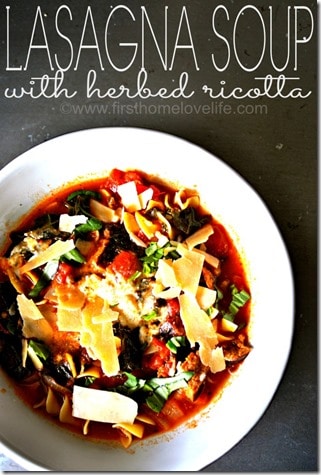 Lasagna Soup with Herbed Ricotta by First Home Love Life
Slow Cooker Turkey Chili
Meegan prefers ground turkey to ground beef (although I would make this with the soy crumbles) and reports that even her grandchildren beg her to make this chili. Making it in the slow cooker is a plus for dinner on a busy day.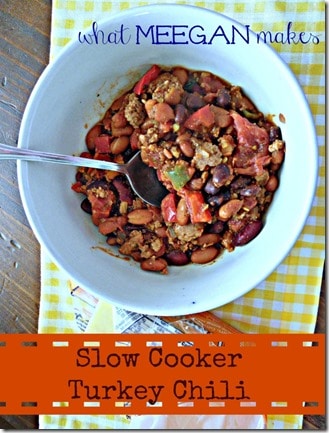 Meegan's Slow Cooker Chili from What Meegan Makes
Pasta e Fagioli
If you love Olive Garden, then you'll want to try Sharon's copycat recipe of their pasta e fagioli. Which is perfect for me since I am obsessed with their soup, salad, and break stick lunch special.  Her recipe makes 9 quarts but can easily be halved for smaller families.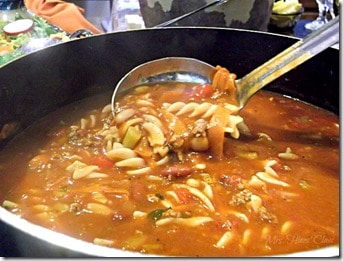 pasta e fagioli from Mrs.. Hines' Class
Corn Chowder with Sausage
Paula always seems to be cooking up new recipes but this corn chowder with sausage (or fake sausage) seems like the perfect cold night dinner. Plus, it only takes a few ingredients and minutes to whip this soup up.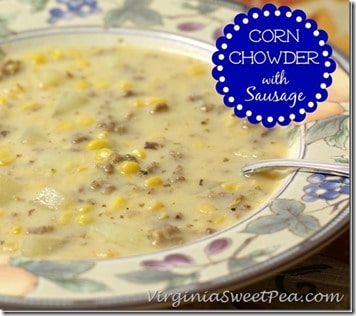 Corn Chowder with Sausage from Sweet Pea
Sweet Potato Chili
One of my favorite recipes of all time is my sweet potato chili. I make it in a slow cooker and it makes a ton for many delicious meals throughout the week.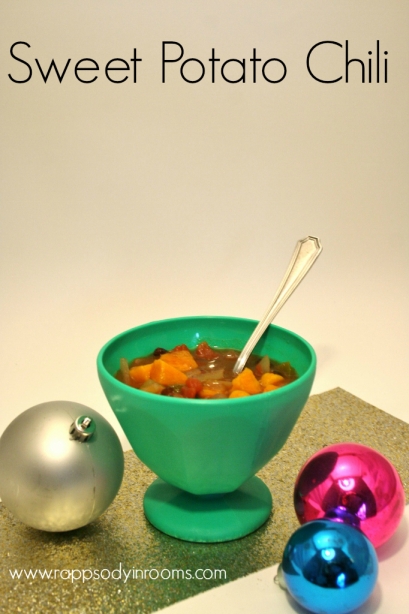 I can't wait to try these yummy recipes! Which one are you planning to try first? I think I see Pasta e Fagioli in my future!
Sharing this here: