Ooey gooey dark chocolate chips nesting in a deliciously chewy blonde brownie. That's what's on the dessert menu today!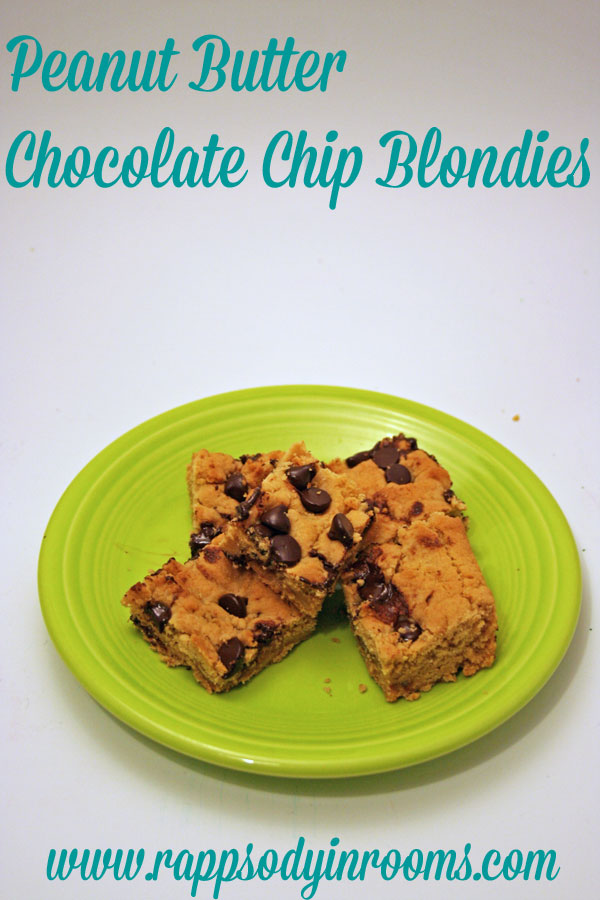 The other day I was itching for something chewy and chocolate – but also something that I could easily whip up with what I had in the kitchen. I came across this recipe From Susannah's Kitchen that I modified into these delicious brownies.
Go ahead, stir up a batch. They're easy; they're quick; they don't make too many ('cause you'll be tempted to eat them all).
Peanut Butter Chocolate Chip Blondies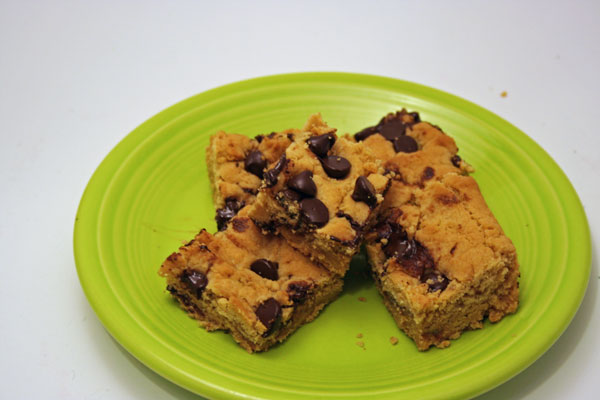 Ingredients
 1/2 stick unsalted butter
1 cup packed brown sugar
1/4 cup creamy peanut butter
1 egg
1-1/4 cups all–purpose flour
1/2 teaspoon baking powder
1/8 teaspoon baking soda
1/4 teaspoon salt
1/2 teaspoon vanilla extract
2/3 cup chocolate chips (I used dark)
Directions
1. Preheat oven to 350°F.
2. Grease an 8″×8″ baking pan. Set aside.
3. In a saucepan over medium heat, melt the butter and brown sugar, stirring constantly until smooth. Remove from the heat, and add the peanut butter. Set aside to cool. I put in refrigerator to help cool it quickly.
4. Next, combine the flour, baking powder, baking soda and salt in a large mixing bowl.
5. Add the egg to the cooled butter and sugar mixture and mix well.
6. Add the vanilla extract and stir mixture to combine.
7. Pour the wet mixture into the prepared dry ingredients. Stir to create a thick, smooth batter.
8. Fold in half the chocolate chips, reserving the remainder for sprinkling on top.
9. Transfer the batter to the prepared square pan, spreading the batter evenly to the edges. Sprinkle with the reserved chocolate chips and lightly press them into the batter.
10. Bake for 12-15 minutes until the top is golden and the edges are slightly browned. Allow to cool in the pan.
11. Cut into squares and serve.