The following is a tutorial on how to make a foam board cornice. It's a good tutorial and will work for most windows. However, this is also the tale of how my trial and error of making a foam board cornice made us realize that we did not like a cornice (or valance or anything above the window) for the living room.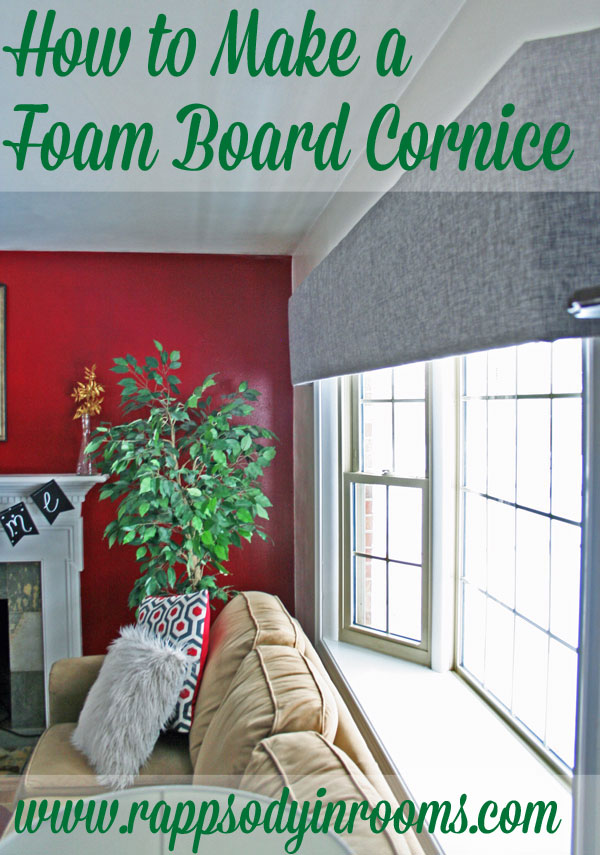 Let's start with the before.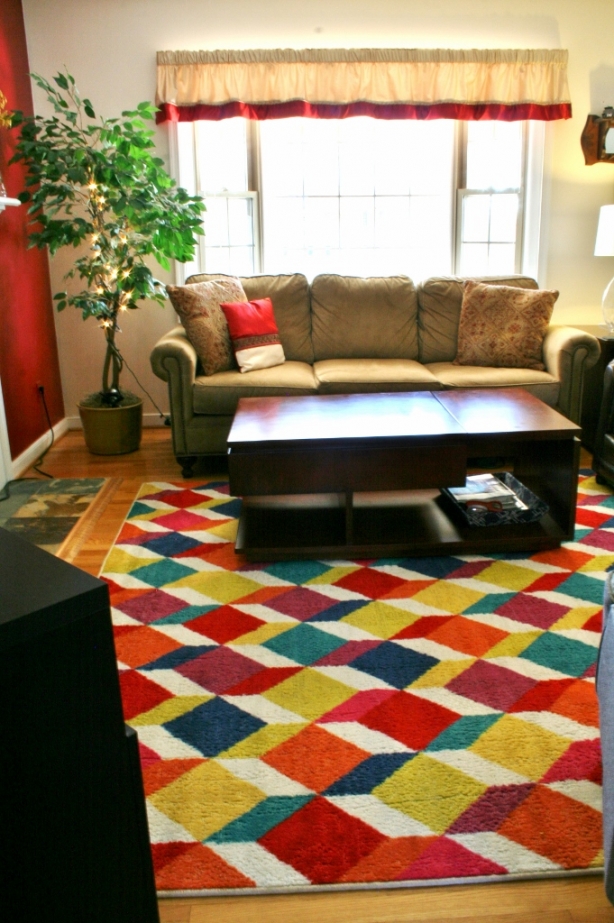 This is a curtain that my wonderful mother-in-law made. We picked out the fabric together and she sewed a beauty. However, my style changed, and therefore I wanted the curtain to change.
One weekend Eric and I took a road trip to Charlottesville and hit up the local U-Fab there. We found a gorgeous textured grey fabric that we wanted to use for making a foam board cornice.
One snow day a few weeks ago I set out to make one. Here is what I did.
Foam Board Cornice Tutorial
Materials Needed:
Foam Board (the width of your window)
Exacto Knife
Duct Tape or Spray Adhesive
Batting
Fabric
Picture Hanging Claws or Hooks and Nails
Measuring Tape / Yardstick

Instructions
1. Measure the length of your window and add a foot to that. This is the length your cornice will be, including the side pieces (at 6 inches for each side). Buy the appropriate amount of foam board you will need (I found mine at the Dollar Tree and needed 5).

2. Figure out the width that you want the cornice to be. Cut out the length and width of foam board. I used an exacto knife and it cut like butter. Duct tape all the pieces together (if needed).

3. Make the corners of your cornice by carefully cutting in 6 inches on each side. Don't cut the whole way through! Just cut enough to be able to bend it backward. I put a piece of duct tape on the back of the cut to reinforce it. You now have the frame of your cornice board.


4. Wrap a thin batting around the foam board frame. You can also just adhere it to the front with spray adhesive. Use duct tape or hot glue to adhere it to foam board. [Yes, mine looks very weird. It is because I used an old mattress pad that works just like batting. It looks colorful because it was used as a paint drop cloth prior to being batting for this project.]

5. Next, wrap the fabric around the batting. Adhere it to the foam board with adhesive or duct tape.


6. Hanging! The best way is to connect picture hanging hooks/claws and nails. Just glue the picture hanging hook/claw to the edges of the foam board.




As I was playing around with different ways to hang this I had it up and down. When it was up I thought it was beautiful and a great solution for a light weight cornice. However, when it was down for a while, Eric and I realized that we LOVED not having anything above the window (no matter how pretty it was). The living room is a darker room in the house and we embrace any natural light we can get. Even having a cornice slightly covering the window cut down on the natural light. So we decided to scrap this plan entirely. Wha whaaa.
It made for a good tutorial right?! I'm still glad I tried it!
Also, here are some other great sites where I gleaned information for doing this project:
Now we are on to Plan B to keep the natural light but offer some sort of window adornment and softness. I guess it just goes to show that decorating really is a trial and error sort of process with even the best laid plans. I still do encourage you to make a foam board cornice though! They are great and so easy to make (inexpensive too, depending on the fabric you choose).
Sharing This Post: