In celebration of upcoming Earth Day on April 22nd, I thought it would be fun to challenge myself to upcycle a project out of things I only have in the house. I decided to not just use things in my house but things that were also on the way out of my house. For instance, tin cans and an old plant stand.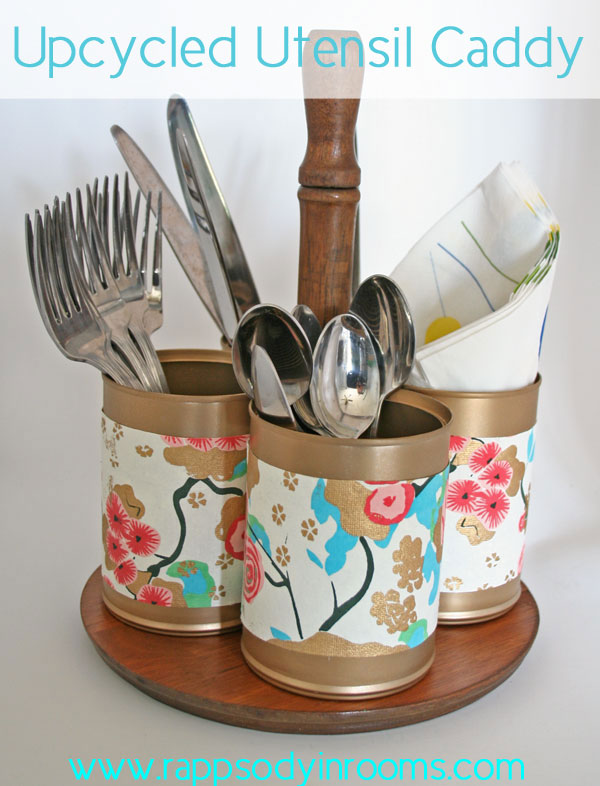 I am a huge fan of soup (all year round no less) so I have plenty of used cans hanging out in the recycle container. These were the basis of my project.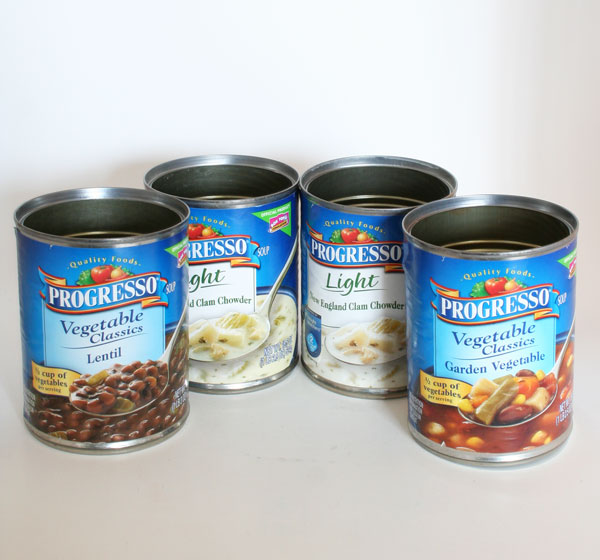 I knew I wanted to make the cans into a utensil caddy for the sun room so I started looking around for something to make a base. I was thinking I was going to have to break out the tools and scrap wood until my eyes landed on this old plant stand in the yard sale pile.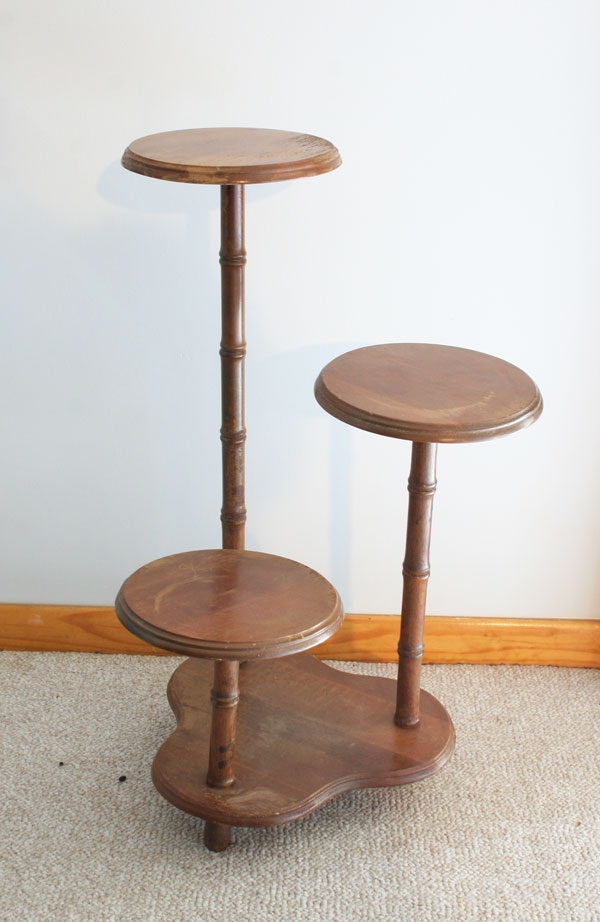 Sidenote: I have the sweetest memories of this plant stand. My mom and I picked it out together when we did a room makeover for me in high school. It stood by my bed for years holding my clock and pictures. However, time has passed and it was looking a little wonky. So I am thrilled to be able to hold onto a part of it filled with its memories.
I immediately started unscrewing the smallest stand from the rest of the stand. Once I had it off, I turned it upside down. I was thrilled with this new use! I had found the base of my utensil caddy.

Now it was time to make it pretty!
I decided to sand down the wood and restain it Dark Walnut.

Then I spray painted the cans a pretty gold.

To disguise the look of the cans a bit more I used scrap paper (like I did with my coffee can upcycle) to cover the ridges. I seem to keep eeking projects out of scraps of paper most people would have tossed by now. #paperhoarder


Then I just used a little putty to secure the cans to the base to keep them secure.

Filled with forks, knives, spoons, and napkins this is now the perfect addition to my sunroom emerald and gold table. I might have matched it on purpose. 🙂




If you are loving upcycles like me, here are a few more for ya.
Are you into upcycling? Have you turned trash or scraps around your home into something beautiful and usable?
PS: Don't have the upside down plant stand? You can still make this! I suggest looking around your house for scrap wood or something else that could work. Or you could buy a wooden circle plaque and then use a wooden candle stick, newel post, or just round wooden stick and screw it to the plaque.