Now THIS is a burger made for vegetarians. Imagine, a warm summer night, friends gathered, laughter floating in the air, fireflies twinkling in the black night, and a delicious cupcake/brownie/frosted burger in your hand. Yup, that about sums up a perfect summer night, right?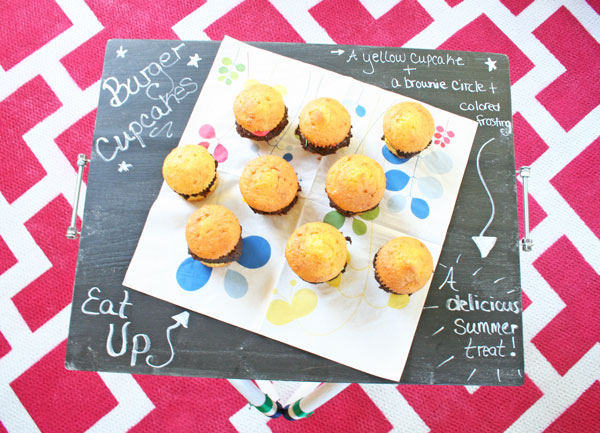 Today we are wrapping up our summer soiree series! I've developed a formula for preparing for summer soirees: I call it the three "C's". We started with Cleaning, continued with Creating, and are finishing with Cooking!
I've shared this recipe here before but it is my (and my guests) favorite recipe so I thought it was worth dusting off and photographing again. Plus I am able to share with you one of my Create trays in use. Win!

Presenting…Burger Cupcakes!
Ingredients
Yellow cake mix (and items indicated to make them)
Brownie Mix (and items indicated to make them)
Cream Cheese Frosting (white)
Red, green, and yellow food coloring
Directions:
Bake cupcakes according to directions. Make sure you cook them in the cupcake liners (otherwise they will cook too dark on the outside and won't look good).
Bake brownies according to directions. Once cooked and cooled, use a cup (or any circular object) to cut small circles of brownies.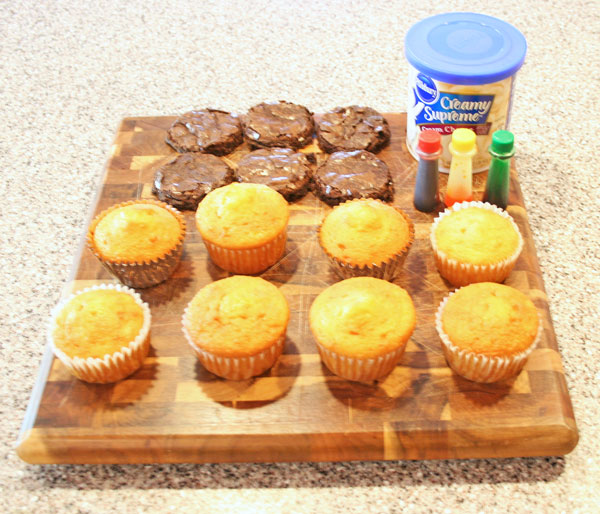 Cut cupcakes in half. Put one brownie circle between each half.

Scoop out frosting into three bowls. Dye each bowl a different color: red (ketchup), green (lettuce), and yellow (mustard).

Put a dollop of frosting on each brownie and put top back on.





Can we get a round of YUMS?! I wish all of you could come on over, hang out in the back porch, and eat up these delicious little morsels! If we can't have that I hope you can make them at your home and share with your family and friends. Let me tell you, nothing puts a light in someone's eye like when they see these little burgers, and ask curiously, "Are those burgers?" And then you get to explain they are dessert burgers and everyone's life gets a little sweeter because of it.
Here's to making life a little sweeter however we can!