The buttery bread falls apart in your mouth when you take a bite.
It mixes with the sweetness that ensconces it on top.
Packaged all together in (somewhat) healthy whole wheat cinnamon buns.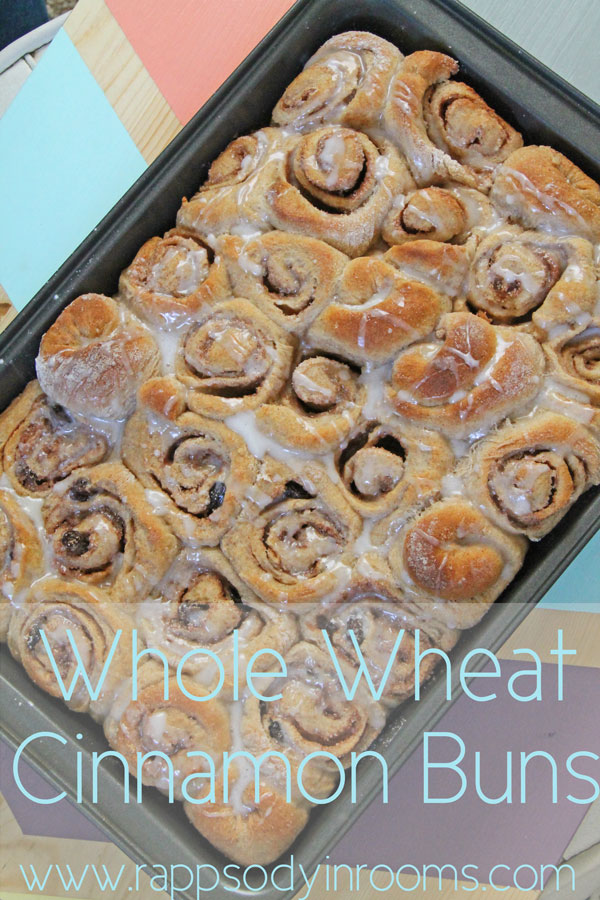 That's right, we're talking food. This recipe is from a co-worker who is notorious for bringing in delicious food when the baking urge kicks in on her down time at home. Once she brought this recipe in the form of rolls, I was hooked immediately. Then, when she mentioned that she made it into cinnamon buns once, I couldn't get it out of my mind.
One domestic Sunday I decided to give it a try at making my own cinnamon buns.
The great thing is that this recipe is for a bread machine. All I did was pop the ingredients in that morning and then enjoy the aroma of fresh baking bread for hours. Just the smell of bread is enough to make me keep making bread.
Seriously, every time I make bread, Eric and I look at each other and say, "Why don't we make break more often?"
I always pledge to start making my own bread since it's so easy in the bread machine and then you know what's in your bread. However, I never make good on that promise. Oh well, maybe one day.
Whole Wheat Cinnamon Buns
Ingredients:
For bread:
1 Egg, room temperature
1 1/2 cup + 2 Tablespoons of water at 80 degrees
1/4 cup oil
1/2 cup sugar
1/2 teaspoon salt
4 1/4 cup of whole wheat flour (or white bread flour or a combination)
3 1/2 Teaspoons yeast
4 Tablespoons butter
Honey – a few squirts
For filling:
Cinnamon
Sugar
Raisins (optional)
For icing:

Directions:
Add ingredients for bread to bread machine in the order listed above (cut butter into fourths and put on fourth in each corner).
Use the dough setting on machine.
When dough is ready, roll out into floured surface, using flour as needed to keep from sticking to the rolling pin and cutting board. Make dough thin, about 1/4 inch.
Mix cinnamon and sugar to your liking. I just kind of eyeballed it to how much I needed. I used about 1/2 cup of sugar and 3 tablespoons of sugar. Sprinkle over the dough surface. Sprinkle raisins if you would like.
Roll dough into a long roll. Cut into 1 inch rolls. Place in greased cake pan.
Bake in oven at 350 degrees for 20 – 30 minutes. Rolls should be lightly brown on top.
Mix together powdered sugar and milk to make a paste (it should be the consistency of pancake batter). Once again I eyeballed this but know that it only takes a little bit of milk. Drizzle icing over cinnamon buns when they come out of the oven.


Let me know if you end up making these! I'd love to know what you think!