New year, new you. That's a motto you hear swirling around a lot every January.
Everyone is looking to change, slim down, eat better, feel better, and improve their lives. I think that is all well and good but I think it also puts a lot of pressure on yourself. That's a lot of change (and probably a lot of habits to break) but definitely attainable too.
Yet at the same time I love the start of a fresh year. I always do feel like I have a fresh outlook, feel invigorated, and am ready to just put down the candy already (which I tend to hit a little harder than most).
I'm pretty good with regular exercise and am also training for some upcoming races in the next few months but am still feeling motivated to get more fit and toned. I thought as we all strive for better fitness together I would share a great workout routine that I've been doing for a couple of months that is really working well for me. (Big thanks to a co-worker who wants to be a personal trainer for putting this together for me.)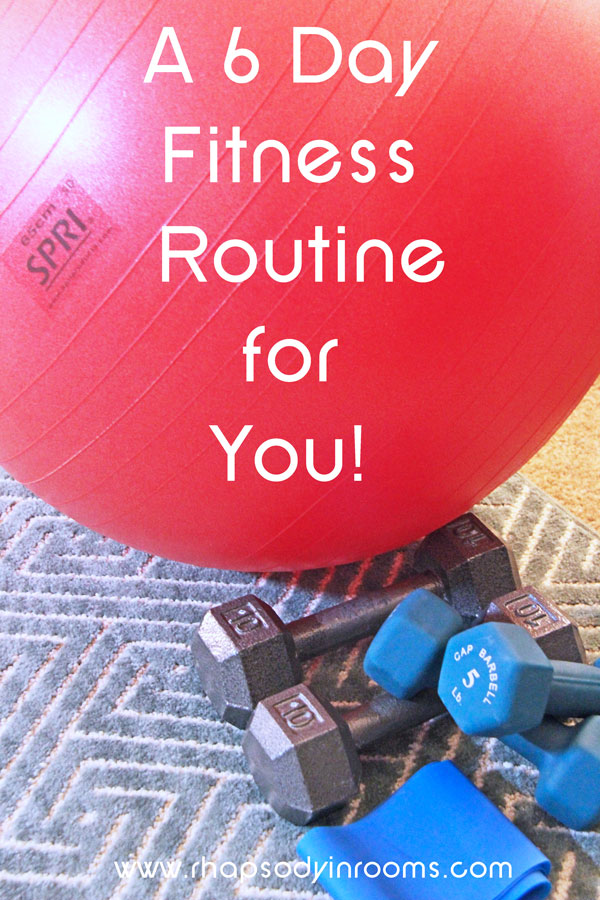 The beauty of it is that it can work for all fitness levels! I've put what I do below but you can cater the pounds of the weights and the reps to what challenge you and then build from there.
My 6 Day Fitness Routine
Fitness Equipment Needed:

Day 1: Chest Day

Day 2: Back

Day 3: Shoulders
Day 4: Leg Day

Day 5 & 6: Cardio 
I usually run every Saturday and Sunday morning as my cardio but do what feels good to you! Power walk, bike, elliptical machine, jump rope, a favorite sport…the list goes one. Find what works for you and make it work!
Everyday: Abs

I tend to do the strength training Monday through Thursday in the order listed above, have a rest day on Friday, and then run on the weekend. That's just what seems to work for me!
I'd love to know how you like this workout routine if you try it. Or if you have stellar workout tips I am all ears! Now stop reading and go burn some calories!