Hi all! Wow – this weekend was like a sneak peek of spring. It definitely put a bounce in my step (except for those couple of miles when I went on a mostly uphill run – ugh – not much bouncing). I also fit in a little twirling this weekend too. That is mostly because I was having so much fun trying on new clothes (one being a dress that definitely deserved a good twirl).
See, I bit the bullet and subscribed to Stitch Fix.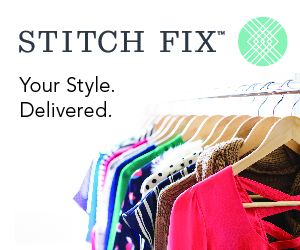 I've been hearing about it quite a bit but really wasn't sure it was for me. I've always loved fashion and shopping. So much so that I would just go to stores without the intent to buy just to see the new fashions.
However, I outlined earlier that this is the year of less stuff, and I have pretty much stopped going to stores except for the grocery store. I don't want to feel the pull to buy something. Plus, you can get a rush out of buying something and then get home and realize that you don't need it or it was an impulse purchase. I don't want that to be my life.
Enter my more intentional shopping with Stitch Fix. Stitch Fix is an online personal shopping service. You fill out a style profile (which is very detailed and you can request certain pieces/styles), pick a date you want to receive a box, and then you receive five items picked out for you by a stylist. They send you a personal note explaining their choices and each piece of clothing gets a suggestion card that shows two ways to wear that piece.
Once received you have three days to try it on at home and see how it actually fits into your wardrobe (this is so helpful!). Plus, you can send pictures of it to your friends and ask for opinions on what to keep (I did this…a lot).
Being able to keep the pieces for three days lets you shop with intention. You have three days to really marinate on what to keep and what to send back. Your thrill of a new buy wears out and you get more time to really understand if you love the piece or it was just the pull of wanting to buy something new. After those three days keep what you want and return the others in a prepaid bag. Boom. That easy (and awesome).
Ok, enough words, right? It's time to check out the clothes!!
Let's start with this bold polka dot dress.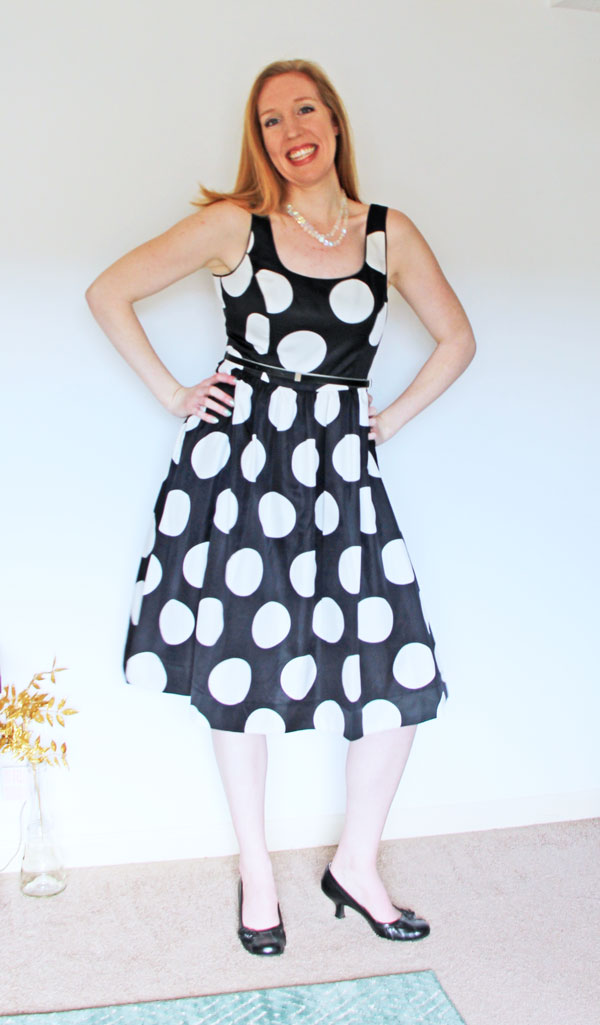 I specifically asked for them not to send any dresses or skirts that were above the knee because I can't wear them to work. If I can't wear it to work, I'm probably not going to get a lot of wear from it. They totally nailed it with the length – and the waistline with the cute belt. I wasn't sure if I was thrilled with the boxy neckline, large scale polka dots, and volume on the bottom. However, the fit was perfect (the zipper went up like a dream). The dress really put me in a twirling mood but the proportions just weren't working well.
Returned
Let's start with these jeans.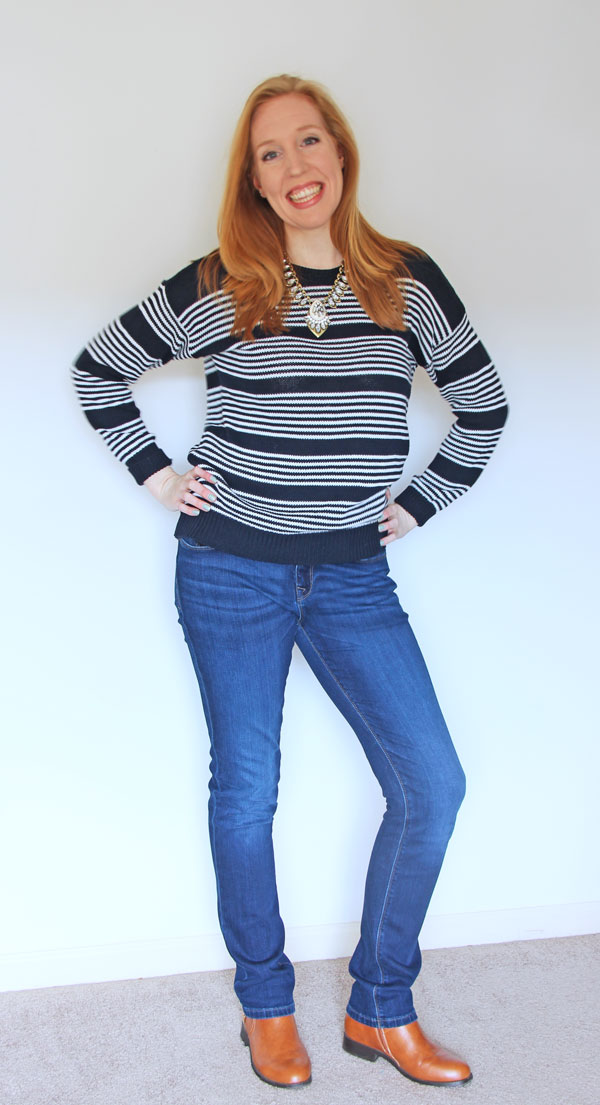 Can we pretty much all unite that jeans (and pant shopping in general) can be the hardest shopping challenge ever? I've been looking for new jeans for months. Months I tell you! So when I saw these I rolled my eyes. There was no way they were going to work. But lo and behold, I slid these babies on and it was magical. MAGICAL! These are the most amazing jeans I have ever worn. Seriously. They fit like a glove, are long enough, and have this amazing stretch technology where they will never sag or bag (tested – no sagging or bagging on this girl).
KEPT
Market & Spruce Cordelia Striped Boat Neck Sweater

I was so on the fence with this sweater. I was keeping it. I was returning it. It was so snuggly and cozy that I wanted to keep it. But it was really after looking at these pictures that I decided to return it. It wasn't a special piece, nor was it the most flattering with the oversized style and horizontal stripes.
Returned
Bay to Baubles Patricia Gemstone Statement Necklace

If you know anything about me, you know that I love the bling. So you know this necklace spoke to me. I am always a sucker for beautiful jewelry but usually just buy cheap costume jewelry. However, whenever I see girls rocking the statement jewelry, I love the look. When this arrived in my box, I knew it was time to take the plunge. Plus, this is a statement necklace that is more neutral so I can pair it with more outfits.
KEPT
Collective Concepts Susie Metallic Sleeveless Blouse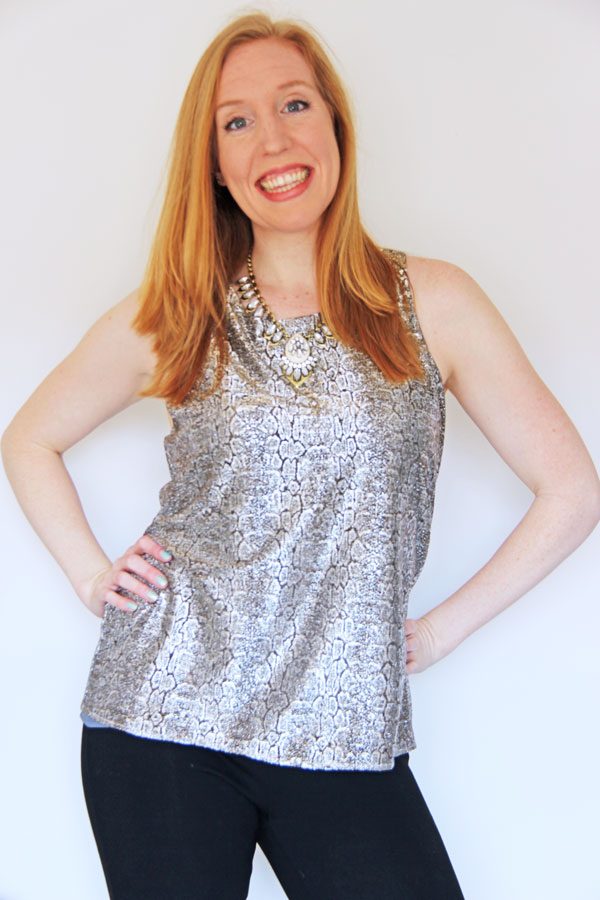 Lastly, there is this oh-so sparkly top. I know there will be many of you who will be saying "WHAT? You – of all people – didn't keep this?!" I may be one of those people at times too! However – look closely and you will see that it is sparkly snakeskin print. I'm not an animal print person. Plus, the fit wasn't perfect. The arm holes were a little look big and it tended to be more racer back style (read: hard to wear with a normal bra). I didn't think it was practical enough for me.
Returned
There is a review of my first Fix – and I'm in love! It really is a great service to help you build a wardrobe full of unique pieces. Plus, they are quality pieces too. I'm already planning my next Fix before I visit my sister in California for her law school graduation! I'm definitely thinking I will be requesting a new dress!
If you're interested, please check it out using my referral link. I would be forever grateful! However, no part of this post is sponsored – I just had so much fun with it I thought it would be fun to share!
What do you think I should have kept/returned?