Remember in high school when almost everything was potentially embarrassing? Like, oh my goodness, one hair is out of place or I stuttered when the teacher called on me?! The horror right?! Well, one time I had one of those moments with a dryer sheet at a football game – when you are supposed to be at your absolute coolest.
A group of my friends were all goofing around, I'm sure trying to be cool and impress people – like you do in high school. I had on a hoodie  – because what else do you wear in high school and college, right? Suddenly, I felt a something slightly amiss with my sweatshirt. Things weren't laying right and I was feeling a little itchy.
I investigated and – horror of horrors – I pulled out a dryer sheet from under my sweatshirt.
I frantically looked around. Did anyone see me pull that out of my sweatshirt? How embarrassing. I don't know what to do! So (and HUGE shame on me) I quickly just throw it on the ground (ahh it still pains me to realize that I LITTERED) and walk away.
Suddenly, someone from my group of friends picks it up and holds it in the air. "What is this? Why the heck is this on the ground? Weird!"
I furtively look around. Did anyone see me? Is my super pale skin that has suddenly turned fire engine red giving me away? Few. No one is pointing at me and laughing. (Teenage) crisis avoided.
Not that it has haunted me forever, but I've never really been a fan of the static sheets over the years. Sometimes I feel like they are a waste of money, don't work, and just add to the landfill. However, I have had some major static moments recently with my new sheets (that are more like blankets and are ahhhmazing) so I thought I would try something a little bit different – and a little more eco-friendly.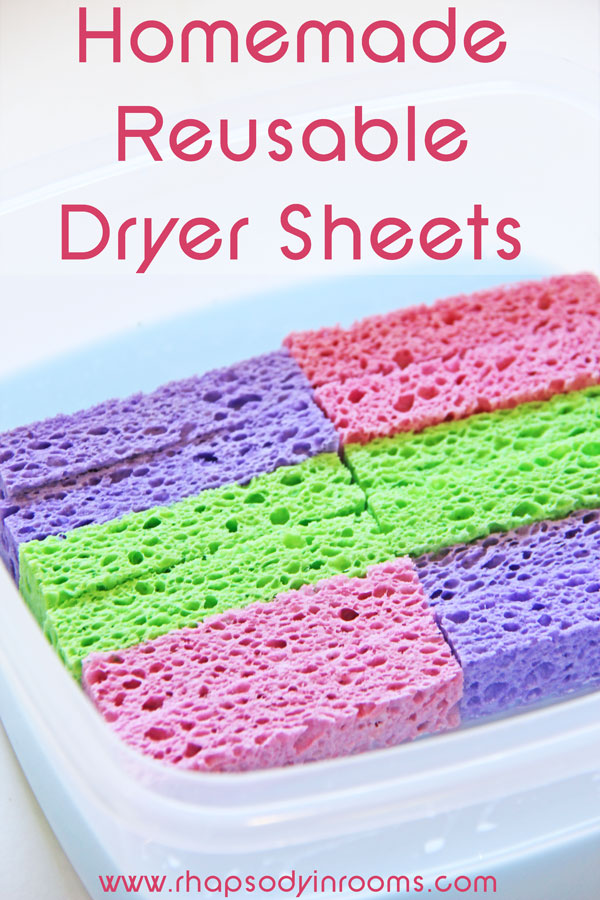 Homemade Reusable Dryer Sheets
What you need:
A plastic container
Sponges, cut in half
Fabric softener
Water
Optional: pretty paper, Mod Podge, paint brush, x-acto knife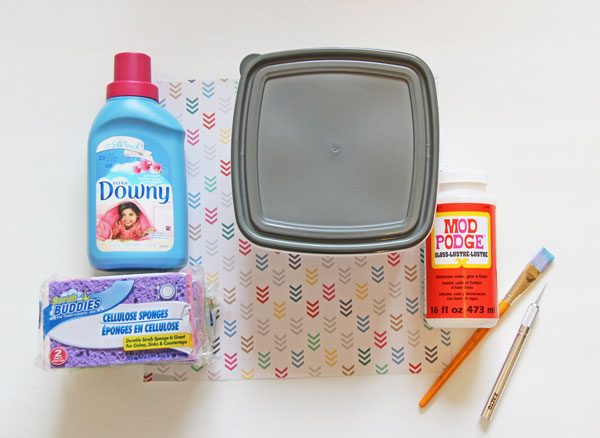 What you need to do:
1. Before we get to the actual making of the reusable dryer sheets, you can choose to pretty up your container by cutting a piece of paper to fit the top and Mod Podging it on (one coat under and one coat over). Just because everything needs to be a little prettier, right? 🙂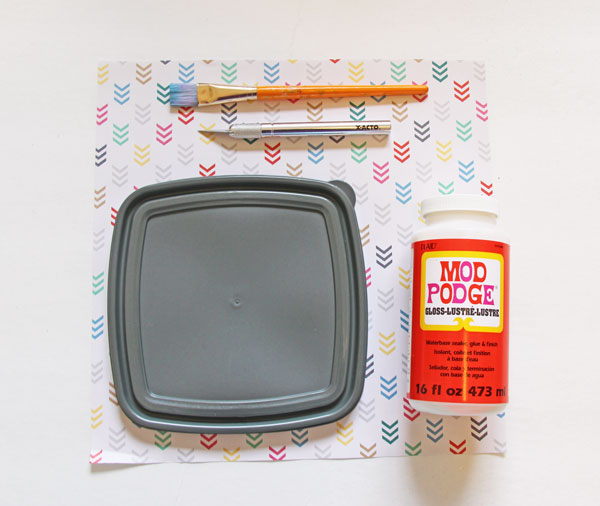 2. Mix together a 2 to 1 ratio of water to laundry softener, filling the container about 2/3 full. I used regular water and store this in the refrigerator because some people have said they were worried about mold. However, I also heard if you used distilled water you shouldn't have to worry about mold storing it out of the refrigerator.


3. Cut the sponges in half. Submerge in mixture. Close top and you're done!


4. To use: Wring out two sponges and pop into the dryer with your wet laundry. Dry as normal.

5. When your laundry is done it should come out smelling wonderful, feeling soft, and being static free! The sponges will be dry so just pop into the container again and reuse next load!

I've been using these for a while now and LOVE them. This mixture will last a long time and I feel the difference in my laundry. The smell, the softness, and the non static cling in my sheets!
[Thank you to The Mamas Girls for this inspiration.]
I use this in combination with my no-grate homemade laundry detergent and love how much cheaper and eco-friendly my laundering is these days!