I really should have titled this post as "Ode to a Little Blue Dress".
Because really, you will see other items of clothing in this post but I think you will agree with me that it really is all about a little blue dress.
Now to make sure you aren't confused, I'm talking about the contents of my April Stitch Fix (and third Fix ever). Stitch Fix is a personal stylist company that hand picks 5 items based on your style and size. You get assigned your own stylist (Hi Melissa!), and she gets to know your style based on your Pinterest fashion board, style profile you fill out online, and feedback you leave on your previous fixes. In turn she hand picks out pieces she think will make you look – and feel – great and sends them to you along with styling advice and a personal note. Love that part so much!
You can sign up for monthly fixes or just schedule them whenever you're feeling in the mood. You also fill out a note your stylist reads before putting together your fix. This note is where you can request certain types of clothing you may be needing. Once you get your five pieces you have three days to try on the pieces at home and then you send back whatever you don't want to keep in a prepaid envelope.
So really, let's get to it, shall we?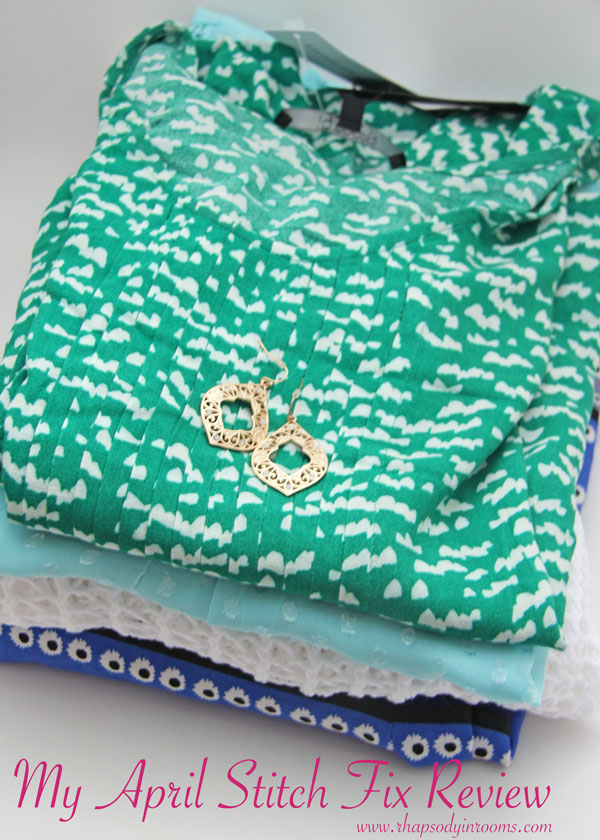 I didn't ask for very particular pieces this time. I like the element of surprise! I just asked for fun, bright, transitional pieces for spring. Melissa nailed it – while also introducing me to new trends and pushing me a little in my style.
19 Cooper | Rosetta V-Neck Top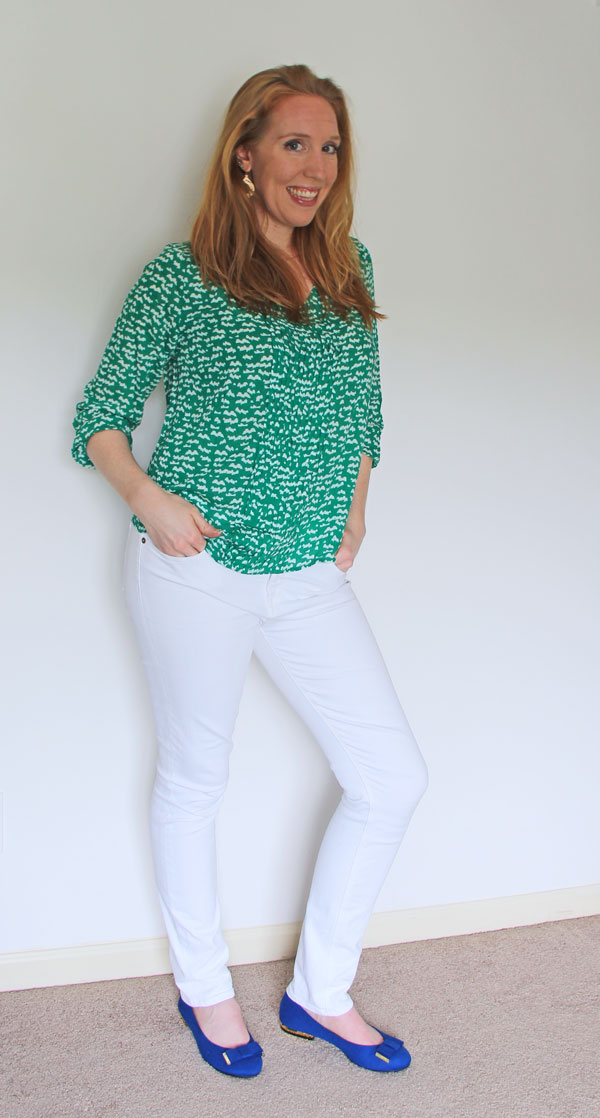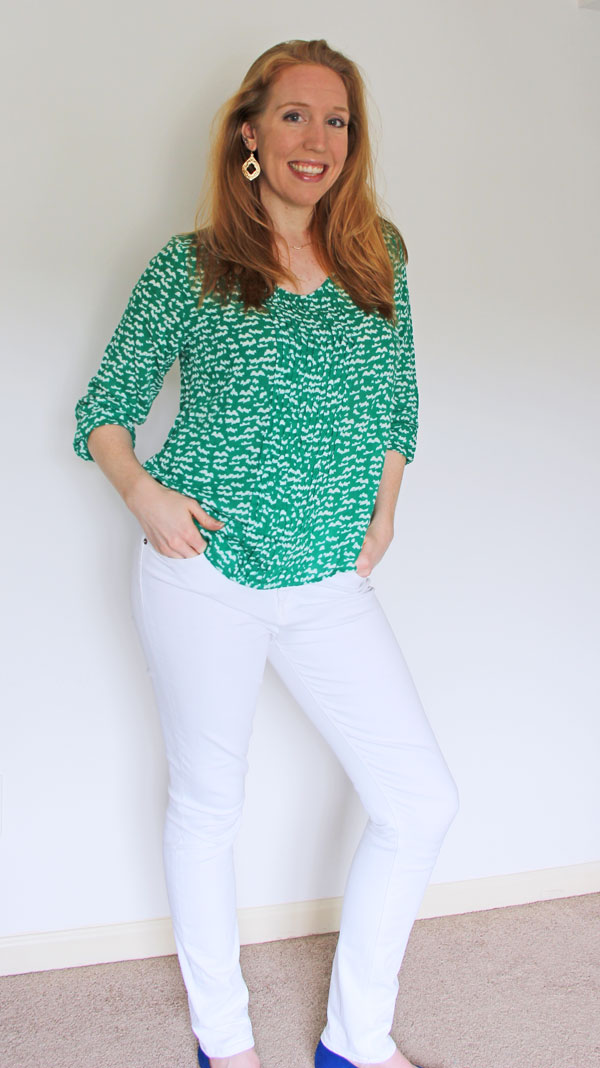 Oh beautiful green, flowy, patterned shirt, I shall miss you. This is a perfect Megan shirt. Everything about it was just for me. Looked great, felt great, but at the end of the day the only thing it didn't fit was my budget. Also, it was very blouse-y and felt a little big (it's a medium and I have since changed my size in my style profile to a small since it seems all their shirts run big) so I couldn't justify the price tag on this one. But Melissa, keep sending me things like this because this is called stylist perfection.
Returned
Daniel Rainn | Eliza Crochet Shoulder Blouse


Looking at this initially I thought it was not my style and wouldn't look good. Lo and behold the beauty of trying things on. The color was perfect for me; I need to remember that baby blue is a darn good color for redheads! The crochet on the shoulders initially turned me off but I actually really liked that detail. However, the pleat in the front was not flattering on me. It definitely looked like a maternity top on my figure. Once again, this felt a little big which confirmed my decision to change my size to a small.
Returned
Bay to Baubles | Libby Lace Border Earrings


These earrings were pretty and I liked the lacey look to them. However, I thought they looked a little cheap and I prioritize my spending on clothes before jewelry.
Returned
RD Style | Jennika Open Cardigan


Ok, this one threw me for a loop. I asked Melissa for fun, different, transitional pieces, and I think this fits on every account. However, it does not fit my style. It goes very boho and that's just not my look. I might have been more open to this if it were not crocheted and was a solid piece. I can see how it could be the perfect summertime sweater to bring to air-conditioned restaurants and such. It just wasn't very Megan. I liked trying it though!
Returned
Uttam | Lauren Printed Dress


Now, what we've all been waiting for! The little blue dress! Do you hear the trumpets sounds as I wear this? Cause I sure did! It was like everything came together to make this dress and Megan meet. The fit, the color, the pattern, the waist, the neckline, the price. Bingo! I love, love, love, love this dress and know it will work for so many occasions:  my sister's law school graduation in SoCal I'm talking to you (oh – and some random day at work – I'm also talking to you – and how about the girls weekend coming up in a couple of day)! See? So much wear is going to come out of this dress.
KEPT!!!!!!!!!!!!!!!
There it is – my April (and third) Stitch Fix review. What do you think? Should I have kept other items? Shocked I didn't keep that green shirt?
If you are looking to score some beautiful spring pieces I highly recommend signing up for Stitch Fix. I'd also love if you used my referral link. 🙂 Happy spring fashion!
Want more Stitch Fix? Check out my first and second fix too!