In case you haven't noticed Stitch Fix is my new thing. I'm so loving this stylist service delivered straight to your door! Plus, I'm loving adding more fashion posts to the ole blog. I hope you do too!
This month I got so many fun pieces! However, I thought I wasn't going to like any of them (did you know you can "cheat" and when you get the email that says your Stitch Fix has shipped? You can go to your Stitch Fix page and click on the checkout survey to see the names of the items sent. Then you just Google your heart out!) and then I got pleasantly surprised when they arrived. I sure do like being pushed in my fashion a little bit!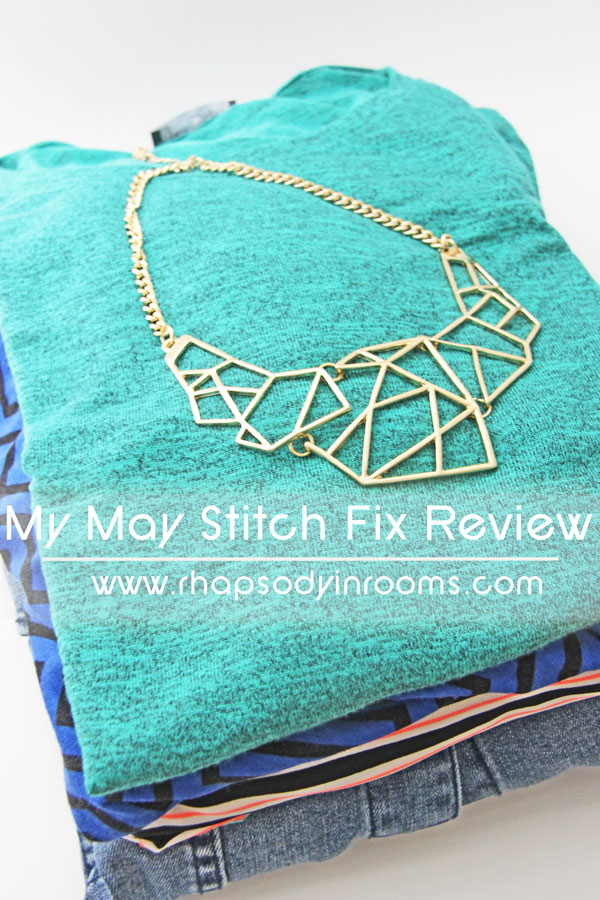 Stitch Fix is a personal stylist company that hand picks 5 items based on your style and size. You get assigned your own stylist, and she gets to know your style based on your Pinterest fashion board, style profile you fill out online, and feedback you leave on your previous fixes. In turn she hand picks out pieces she think will make you look – and feel – great and sends them to you along with styling advice and a personal note. Love that part so much!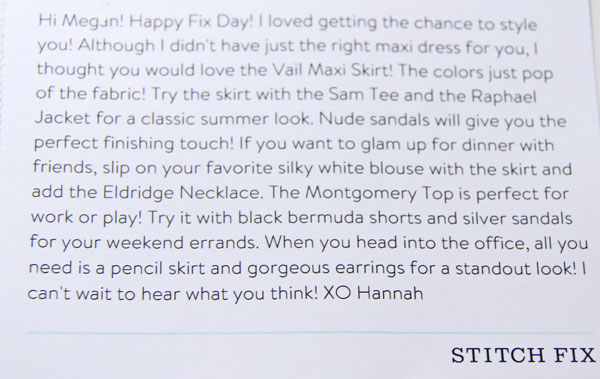 You can sign up for monthly fixes or just schedule them whenever you're feeling in the mood. You also fill out a note your stylist reads before putting together your fix. This note is where you can request certain types of clothing you may be needing. Once you get your five pieces you have three days to try on the pieces at home and then you send back whatever you don't want to keep in a prepaid envelope.
For this month's fix I didn't have too many requests. I asked for fun, bright, and perhaps sparkly pieces for spring/summer. I also requested a maxi dress if they had something to accommodate my height.
Here is what my stylist put together for me:
Market & Spruce Sam Hi-Lo Short Sleeve Tee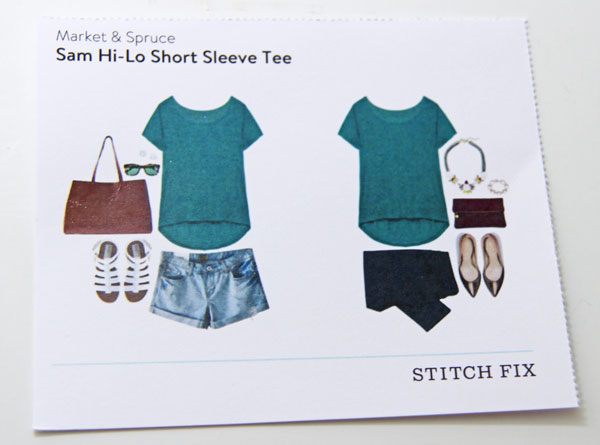 When I saw that I was sent a plain t-shirt, I was sort of displeased. I didn't sign up for this service for a t-shirt. Then I pulled out the prettiest, softest, most flattering hi-low tee that I now want in every color. I will wear this out. I think the color is gorgeous, and I always love a little extra coverage in the back.
This month I tried to style each outfit in both ways suggested on the styling card.
This is the summer casual look with distressed jean shorts:


This is the edgier look with black jeans:


Pixley Montgomery Chevron Cross-Front Top

When I pulled this top out I was slightly disappointed. I specifically ask for no chevron patterns. However, the fit and color made up for that, and I ended up really liking it. I think my closet definitely has enough chevron in it now!
Here is it is in the casual look with my black jeans:


Here is the more business look. I like that they suggested dressing it up more. I might not have done that initially. It seemed to be more causal but I really liked it dressed up a bit.

Gilli Vail Striped Maxi Skirt

I asked for a maxi dress but they didn't have anything that fit my height at this time. Instead she sent me a maxi skirt. The length was good and the bright colors were fun. I just wasn't 100% into the stripes on the bottom. However, I asked a couple of friends if they were interested in buying it and one was! I was so happy to pass on the Stitch Fix love!

Liverpool Raphael Denim Jacket

I asked for a jean jacket in my last fix, and I got one that was too dark for my liking. However, this one is perfect!! I love the coloring and it fits like a glove. Plus it has a beautiful amount of stretch that makes it so comfy.
I added it to the skirt outfit and thought it made the outfit. Layers really are an outfit's best friend.


Romolo Eldridge Geo Cutout Necklace

You might notice that I'm wearing this necklace in a couple of my pictures above. This necklace is the best. I love it sooo much! It is gold (love), geometric (love), and can also go with so many things (love)! I've pretty much worn it every day since I got it.
So what did I keep? Everything!! Yup! My first keeping everything box! Hello 25% discount! I only kept everything because my friend bought the skirt. I was definitely going to keep the green high-lo tee, the jean jacket, and the necklace but they cost about as much as all five items with the discount. However, I didn't want to keep items in my closet that I don't love 100% (my whole purpose of this is to craft a closet of really nice items that I love) so I asked around and was able to sell the skirt. It was definitely a box that gave to me and her!
Interested in signing up for Stitch Fix? I would love if you would sign-up using my referral link.
Want to see more? Check out my other reviews!
My February 2015 Stitch Fix Review
My March 2015 Stitch Fix Review
My April 2015 Stitch Fix Review