There is nothing like getting the delivery alert at work that tells you that your Stitch Fix is at home, waiting for you at your doorstep.
It takes everything in me to not just drop everything and fly out of the door. Work – who cares?! Megan has clothes waiting at her door step.
Not just any clothes, but Stitch Fix, personally styled for me clothes. I seriously get that excited. This time it was an even longer wait because I wouldn't let myself skip the gym just to get home for clothes.
Just a quick recap, Stitch Fix is a personal stylist company that hand picks 5 items based on your style and size. You get assigned your own stylist, and she gets to know your style based on your Pinterest fashion board, style profile you fill out online, and feedback you leave on your previous fixes. In turn she hand picks out pieces she think will make you look – and feel – great and sends them to you along with styling advice and a personal note. Love that part so much!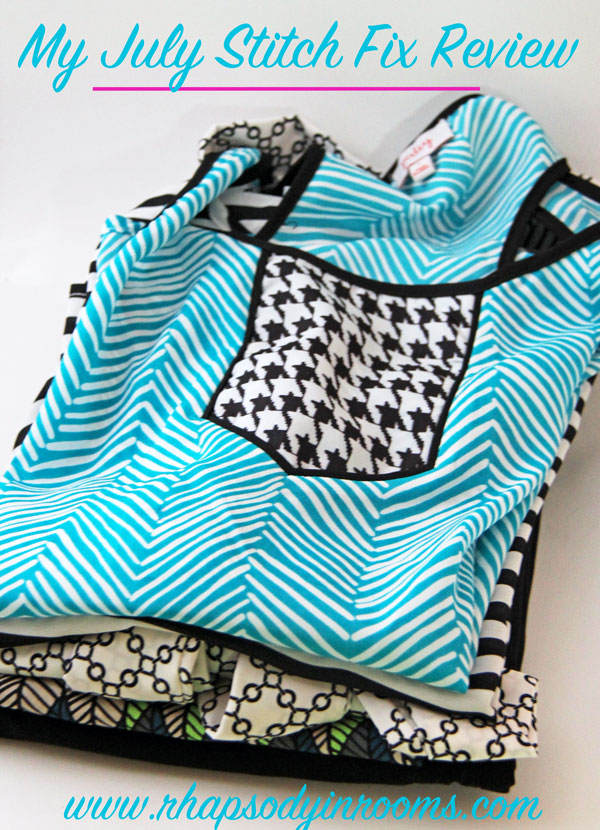 This is my sixth fix, and I have to say, it might be the best one ever. Spoiler alert: I KEPT EVERYTHING! Ack! I've only done this once, and even then, one skirt went to my friend.
I also have something new and exciting as we reveal this box…a video. I thought it would be fun to see my reactions as I open the box. What makes it even better (sarcasm) is that I was so excited that I didn't shower or change out of my gym clothes. I literally came into the house, set up the camera, and ripped into the box. Talk about a real life moment caught on camera. You're welcome.
Email readers click through to view the video.
Now, let's get into these beautifully colorful clothing items. This is really what I want my entire wardrobe to look like – fun, patterned, colorful, unique, and Meganesque. 🙂
41Hawthorn Astrid Tie Neck Blouse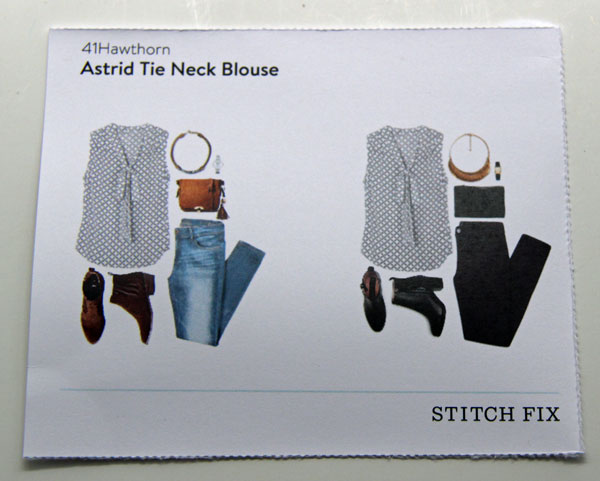 Now you know in the video I wasn't sure about this one, but I have to say this one has grown on me the most. It's so comfortable and has a fun pattern that makes the more traditional look a little edgier. I think it is a little big on me so I may get it altered (meaning my super duper seamstress coworker) to take in the sides a little bit to make it a tad more fitted. I will wear it a few times before I decide on that one.
This was such an easy shirt to make into an office ensemble. Add some black pants and boom, office ready. This would also look great tucked into a high waisted skirt for some more office flare.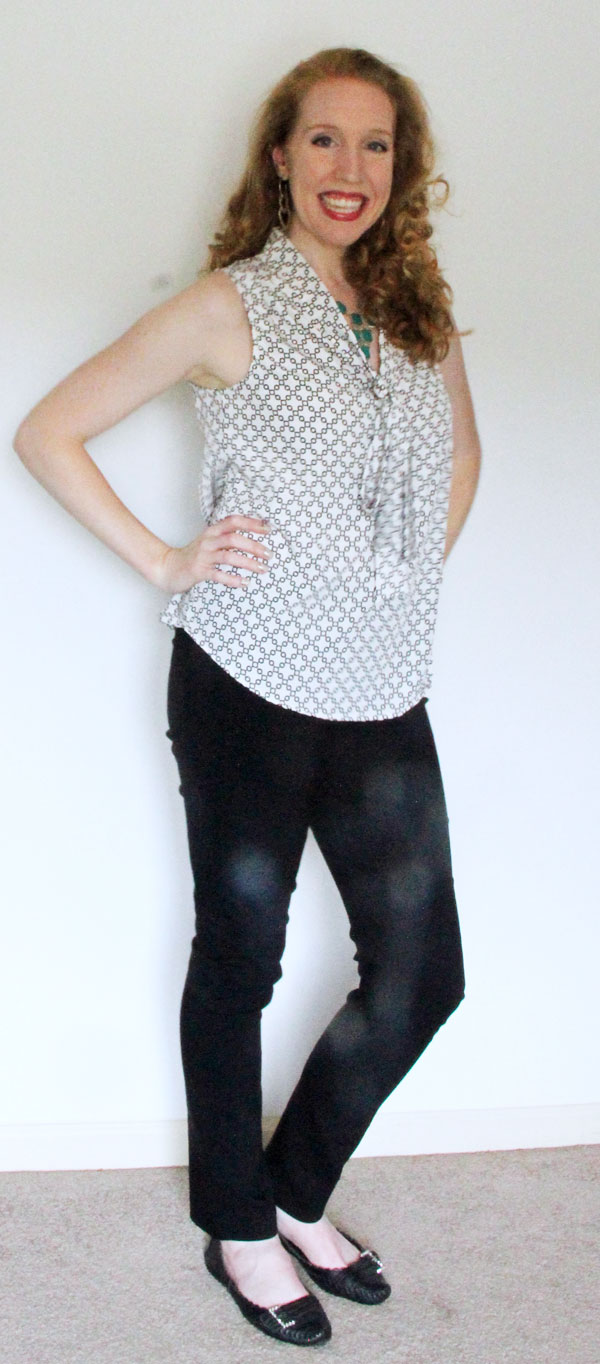 I also used the styling cards to try it with some distressed jeans. I probably wouldn't have thought of this without the card. I loved this look and will continue to experiment on how to make this more weekend casual and not just for work.

KEPT
Margaret M Emer High Waisted Cropped Trouser

Might as well get into the pants since I already showed them to you. 🙂 If you caught my last Stitch Fix review you may remember I already got a pair of these pants in a fun pattern.

Now I am all about the fun patterns but these just weren't jiving with what I had in my wardrobe. However, they fit great and were such a good summer pant (which I am greatly lacking) I requested another pair and got this black pair. Yes, black can be boring but it is a staple piece; one that I was lacking for summer so this was definitely a plus for me.

I love them and am thinking about asking for another pair – maybe a fun, bold color.
KEPT
Pixley Vaughn Mixed Print Top

I immediately loved this shirt! Bright blue and mixing two patterns? Well that's right up my fashion alley! I LOVED how they styled it on the card. It definitely made me think differently about how I mix pieces in my wardrobe. I would have never, ever thought to pair this top with a brightly colored professional skirt. I didn't have blue but I did have green. Oh my goodness, this is a crazy yet awesome outfit. Yes, yes, yes!

I also styled it with my white jeans, as suggested on the card, and I love this casual summer look. White jeans make everything better in the summer.

KEPT
Collective Concepts Bethanne Sheer Detail Blouse

This is a typical Megan shirt. Blue and green with a fun pattern. No brainer here.
I took a chance, inspired by the above outfit, to make this casual shirt a little more business friendly. I like the result, but I still give it the slant eye look and wonder if it could be better. I did it tucked in and untucked to see which one I liked more. Jury's out, but I like that I'm pushing my fashion standards.


I also paired it with white shorts as suggested by the style card. Winner, winner, of course! Love this summer look!

KEPT
Fun2Fun Arlington Crew Neck Blouse

I LOVE THIS SHIRT. Sorry for yelling at you, but it just makes me that happy. I purposely shot this last so I could just keep wearing it. Wear it I did…until about 11pm that night. I love a classic black and white but with that back detail. Swoon. You just can't find cool clothes like this around here.
Ok, check out this slamming work outfit. Amazing. Black + white + green = my jam.

Now with a dark rinse summer short, I also love it. This is the outfit that I wore that whole day. So comfortable and it also felt so stylish.



KEPT (kept kept kept!!)
Yowsers, this Stitch Fix stuff is getting good. I think part of the reason is that I was very specific in my note to my stylist. I asked for only summer clothes (they sent me three long sleeve shirts last time) that were colorful, patterned, or unique. Plus, I asked for the pants, and they delivered. So be specific as to what you want.
Oh, and I went crazy with my hair this time! I thought it would be fun to change things up and go super curly. I felt very 80s, and I kind of loved it. I think I would have totally rocked the big hair of that decade. Heck – that fashion is coming back, maybe I'll bring back the big hair too!
Also, if you are interested in signing up for Stitch Fix, I would love if you would sign-up using my referral link.
Want to see more? Check out my other reviews!
My February 2015 Stitch Fix Review
My March 2015 Stitch Fix Review
My April 2015 Stitch Fix Review
My June 2015 Stitch Fix Review