Sniff, sniff. Can you smell it?
Well I can. It's the smell of fall quickly sneaking up on us! The smell of pumpkin, spices, and that crisp fall air.
It also means that fall fashion is just around the corner. Oh who am I kidding?! Pictures of fall fashion are everywhere now! It's just not the right weather for it. Which I am TOTALLY fine with. 80 degree weather, you just stick around for quite some time.
Anyways, with fall just weeks away, I took that into consideration when thinking about my August Stitch Fix box. I wasn't ready to request ALL fall related items, but I did ask for a fall jacket and another pair of Margaret M Emer Pants. The rest….well I let them surprise me!
Might I say too, it was another box really well done. I think my stylist Lauren and I may have a long Stitch Fix future to look forward to. She gets my style the most of any stylist I've been given. I am going to specifically request her in my stylist notes for my September box!
Just a quick recap, stitch fix is a personal stylist company that hand picks 5 items based on your style and size. You get assigned your own stylist, and she gets to know your style based on your pinterest fashion board, style profile you fill out online, and feedback you leave on your previous fixes. In turn she hand picks out pieces she think will make you look – and feel – great and sends them to you along with styling advice and a personal note. Love that part so much!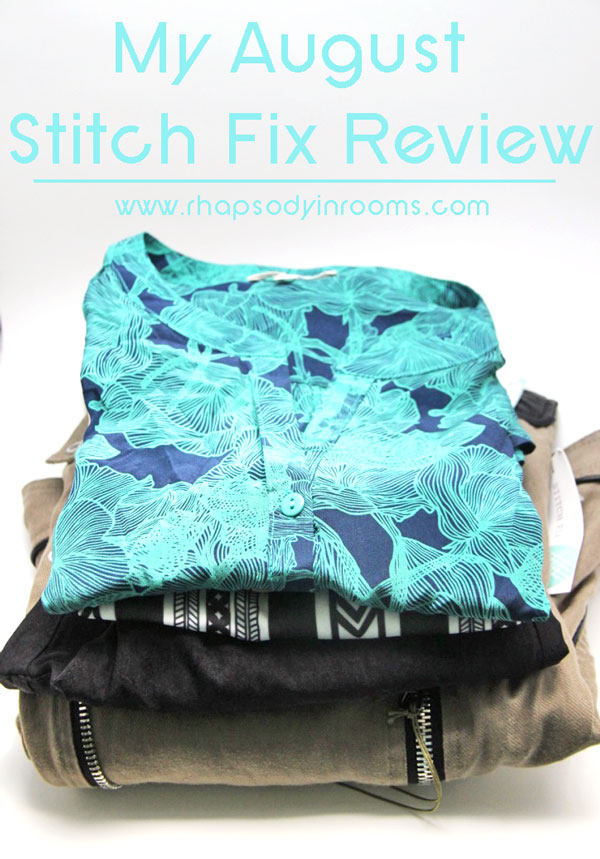 This month I decided to not just give you one video, but TWO! Wahoo! The first video shows my reactions to opening up my box and seeing all my goodies. The second video is me trying on the clothes and giving you my feedback. Hope you like! 🙂
Margaret M Emer Brocade Tall Pant
The pants that I requested! I got my first pair and they were a little too busy for me. Last month I got my second pair and they were just black, but everyone needs a good pair of black pants. So I kept them. This month I got a pair of black brocade pants.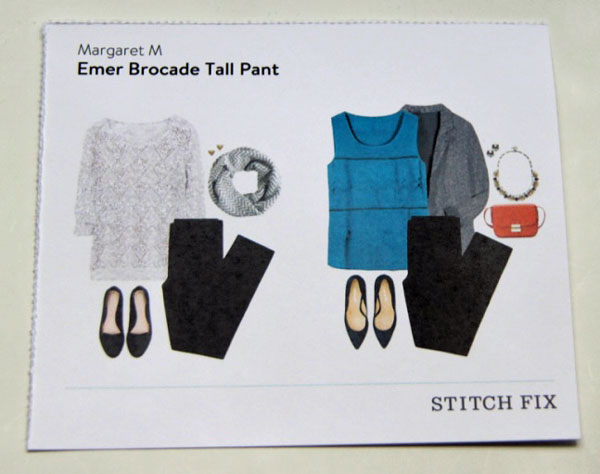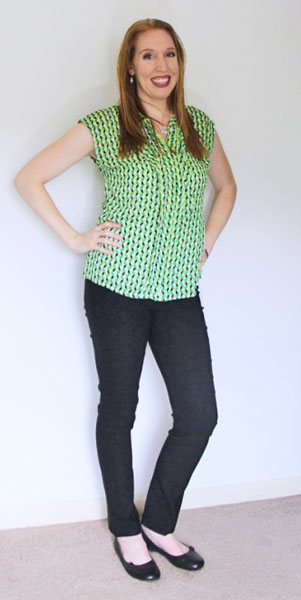 Ahhh! I wish they had sent me these last month! I would have preferred black brocade over just black. But alas, these are SO similar that there is only room in my wardrobe for one pair. So back these went. 🙁
Returned
Blank NYC Minnie Moto Jacket
I requested a fun fall jacket to help transition the season. I suggested a moto jacket with perhaps a little edge. Boom. They nailed it.


This jacket was so fun! Alas, it did not fit. It was very, very tight. It also made it extremely uncomfortable, which is a big no-no for jackets. They have to be uber comfy for me to wear them.
Returned
41Hawthorn Zappo Printed Mixed Material Sweater
Coral and navy! Yes! I loved the pattern on this!



So cute right?! Such a great transitional sweater. However, I have a sweater that is so similar that it just doesn't make sense to have two of these sweaters.
Returned
41Hawthorn Ava Floral Print Silk Henley Blouse
When I pulled this one out I was over the moon about it! The colors have Megan written alllll over them. Plus, 100% pure silk! The luxury!



I was even more thrilled when I tried it on. This blouse was made for me. The fit was perfect. The feeling was incredible. Welcome to my closet.
KEPT!
Pink Martini Dwight Cross Back Blouse
This top was the one I was most on the fence about. I mean, check out that pattern (plus the white skirt! Wish I had that one too!)



I loved this shirt so much! I had fun dressing it up and down. Unfortunately, it just doesn't fit my lifestyle. I'm not a huge strappy shirt wearer. This would have been the exception except…budget cuts. Haha. I splurged on the silk shirt so everything else was returned.
Returned
So there it is – my August box! What do you think?? Do you agree or disagree with what I kept and returned? Also, are you liking the videos? Let me know in the comments below or via social media!
Also, if you are interested in signing up for stitch fix, I would love if you would sign-up using my referral link.
Want to see more? Check out my other reviews!
my february 2015 stitch fix review
my march 2015 stitch fix review
my april 2015 stitch fix review
my june 2015 stitch fix review
My July 2015 Stitch Fix Review