On any given day I find myself sitting on the couch, on my bed, heck – even sitting in the middle of the floor – with my eyes searching my apartment and my mind churning away with possible decorating ideas.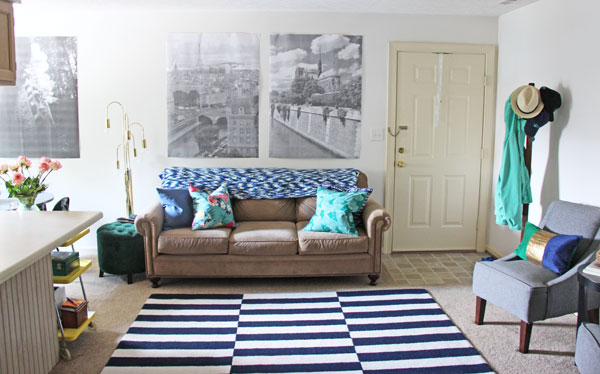 The process is very free-flowing and ever-changing. My eyes wander to bare spots or land on places that don't make me over-the-moon happy, and that's when those mental gears start cranking. I begin analyzing, brainstorming, and then over analyzing as to how to fill that space or how to make it better.
If I see a blank wall I try to figure out how to fill it. Should I put a decal up? Try fabric covered walls? Gallery wall? Shelves and hooks? The options of how to fill it start piling up.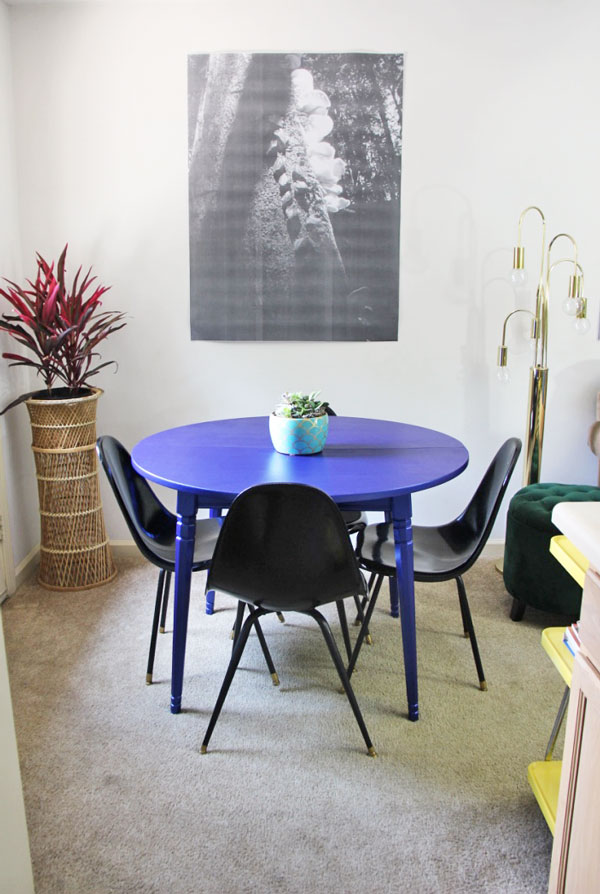 As I have very, very slowly (I like to call it intentionally) decorated my apartment, I have realized that I think I very much have an overdecorating problem.
In my mind the perfect apartment has every wall filled, nay even bedazzled. There should be furniture, pillows, throws, knick knacks, books, and glittery thingamabobs filling every space. Decorate, decorate, decorate!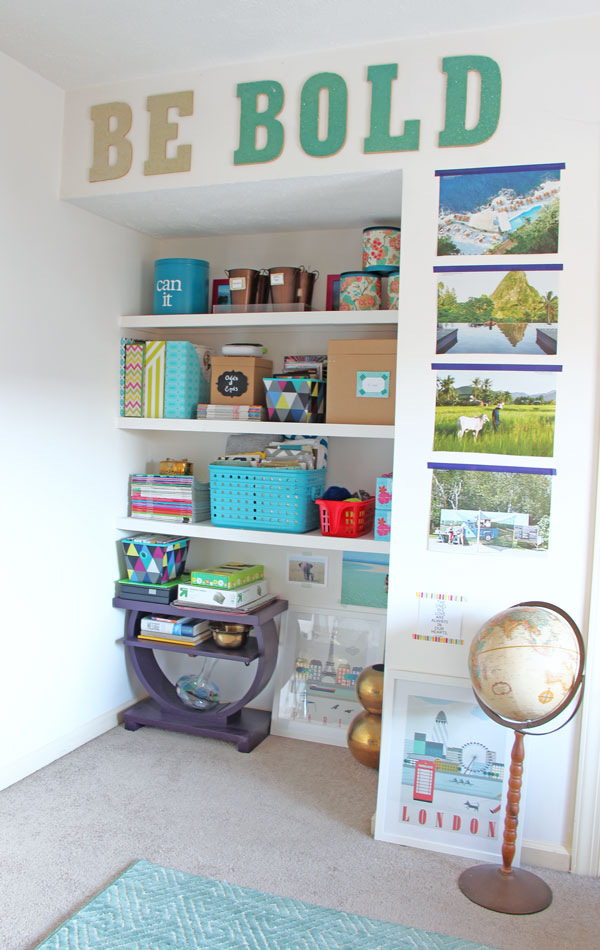 It comes from the creative part of my soul that craves making something, beautifying something, and expressing who I am through the art of decorating.
Hmm…I may have just hit on a point there. I want to express who I am through decorating. I used to embrace this fill-every-space attitude, not thinking a space was decorated until it was full. However, I've come to a place where I think I need to break up with my overdecorating and subscribe to some blank space.
This may go hand-in-hand with how I am taking more time for quiet moments, silence, looking inward, and a lot of self growth. I think it may also show that I am progressing in those areas and do not have the urge to always be loud, bright, and filling up space with my personality so much. I am much more aware of how blissful just being is.
So, sorry overdecorating, I'm trying to break-up with you.
This will most likely go down like most break-ups do. I will second guess it, over think it, make mistakes, fall back into old routines, and then finally get it.
So this is me trying to get it. To not look at this wall and say, "I think I need a huge chunky mirror there."

Or this space and say, "Crazy wallpaper, it's you I want!"

Or to all the walls in my bedroom, "Let's put fabric and frames everywhere!! Then let's add GLITTER!"

I'm taking a step back and trying to embrace the blank spaces and the void – intentionally. Oh, and hey clutter – I think this means I'm breaking up with you too. That's what I call a win. Now excuse me while I go purge and then stare calmly at my blank walls again.