Thank goodness for bright, patterned clothes to make drab, rainy days better, right?
Some people like to dress in the spirit of the weather – darker colors in the rain and cold, brighter colors for the sunshine and warmth! Well, I like to dress in happy, bright colors all the time. You need color the most in the drab times. At least that's what I'm doing as we enter into what seems like endless rain. Geesh, I know we had a drought and all, but that's a lot of rain.
Anyways, back to clothes. The bright spot of this rainy weekend was trying on my new box of Stitch Fix clothing. Yay, yay, yay! Bright colors and patterns!!
I requested my stylist Lauren again this month because I feel like she has gotten my style more than any other stylist I've had. She always delivers on unique pieces with interesting details, bedazzlements, and patterns.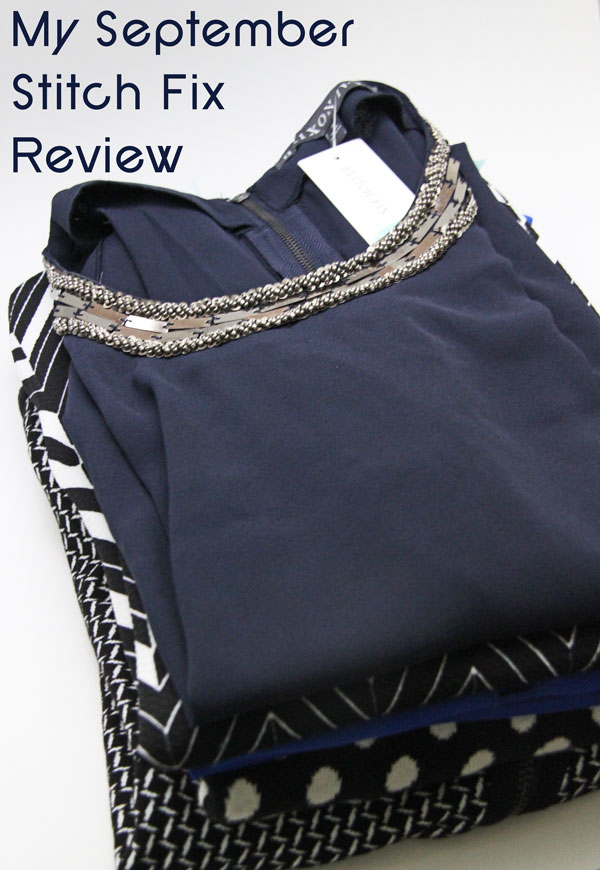 Just a quick recap, stitch fix is a personal stylist company that hand picks 5 items based on your style and size. You get assigned your own stylist, and she gets to know your style based on your pinterest fashion board, style profile, and feedback you leave on your previous fixes. In turn she hand picks out pieces she think will make you look – and feel – great and sends them to you along with styling advice and a personal note. Love that part so much!
For this box I requested more pants (they were out of longs so that was a no go), a fall jacket (included), and a nice skirt or dress for fall (included). Here's what I thought of the five pieces sent my way.
41Hawthorn Gideon Polka Dot Sweater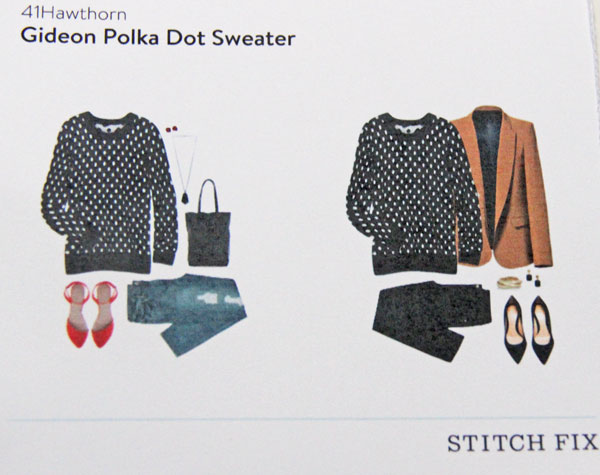 There is a reason I began with this piece. Basically, it's because I love it, and I don't want to take it off. Cold, dreary weather really helped make this decision since it is exactly what I wanted to wear at that moment. It is the perfect softness, which is so important with a sweater. I've bought many an itchy sweater to never be worn because who has time to itch all day?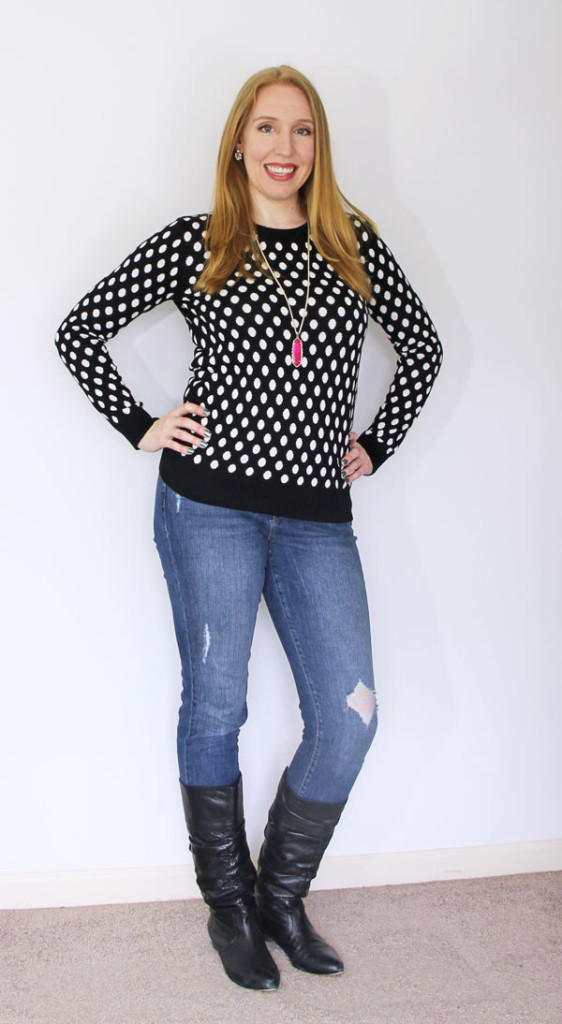 Another bright side of this sweater is that it is long in the arms and torso. I can almost never find sweaters that are long enough. I'm the classic push up the sleeves to the elbow because they look like I outgrew them in arms.
Plus, polka dots are always a good idea.
Kept
Brixon Ivy Donna Embellished Neckline Blouse

Oh pretty neckline, I love you. I also love the material, the navy, and oh the hourglass shape you give me.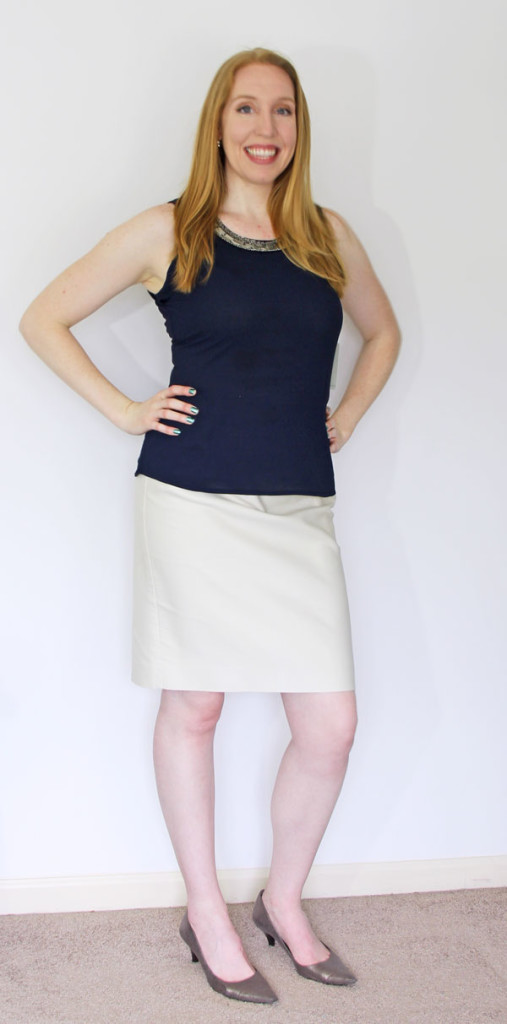 Who knew a top could be that nice to your waist? That is, until you turn around. Yup, now look at that shape. That's a no go. Who wants a back poof? No one, that's who. Back poof, you saved my budget but I am still sad to return you.

Return
Renee C Marcy Skirt

You darling pattern you. How interesting to be on a skirt. Plus, a pencil skirt, which I adore with all my heart.

Unfortunately I think this goes a little Kim K. (in the sense it is SO form fitting that it really shouldn't be worn in public). This is a super stretchy skirt but I think it runs small. It is a medium but I would have gone up to a large if I wanted to keep it.
Return
Fate Dalvik Printed Moto Jacket

Strike two on a fall jacket. But once again, so close. I almost kept this jacket, that is, if I could have gotten a medium.

At the end of the day, no matter how much I liked the asymmetrical zipper and subtle pattern, I didn't think it was the perfect fall jacket for me. It is so thin and stretchy that it wouldn't be great for going over heavier fall layers. Plus, it looks a little too cropped on my long torso. I like jackets a little longer. However, if you are looking for a light jacket, this is it! It is so comfy and stretchy. You may want to size up though.
Return
Pixley Lenta Cut Out Detail Blouse

Oh hi blouse I would have never picked on my own. Which is why I love Stitch Fix. Keep sending stuff like this, even though I didn't keep it.

First of all, the color, right?! It's stupendous and now I think I should wear this color every day. The cut out details are so beautiful too. How unique is this piece too? The open sides? It's fun but I didn't love it enough to keep it.
First, it's fall and I didn't feel like spending money on something I couldn't wear for a while. Also, it's not very flattering either. So blousey! All I can picture is me getting attacked in the face by it while walking outside in the wind.
Return
Bonus! Here's the video of me trying everything on and talking about what I like/dislike about each item.
So that's it for my September Stitch Fix! Let me know what you think.
Also, if you are interested in signing up for stitch fix, I would love if you would sign-up using my referral link.
Want to see more? Check out my other reviews!
my february 2015 stitch fix review
my march 2015 stitch fix review
my april 2015 stitch fix review
my june 2015 stitch fix review
my july 2015 stitch fix review