Sometimes it grosses me out when I think about all the other people who have lived in my apartment. I trust it because of the vigorous cleaning required between each tenant by my property management company. However, you still know that many, many people have called this place home.
When I moved in I was really impressed with how meticulously clean it was. I still cleaned it before I moved in for peace of mind, and I've been happy for the past year.
However, my bathroom and kitchen have this…interesting….linoleum flooring pattern that I've noticed hides way too much. No matter how much I have mopped and scrubbed, my bathroom had some discolored places on it. After looking at it recently, I decided that was gross (oh you know, after I've been living with it for 11 months).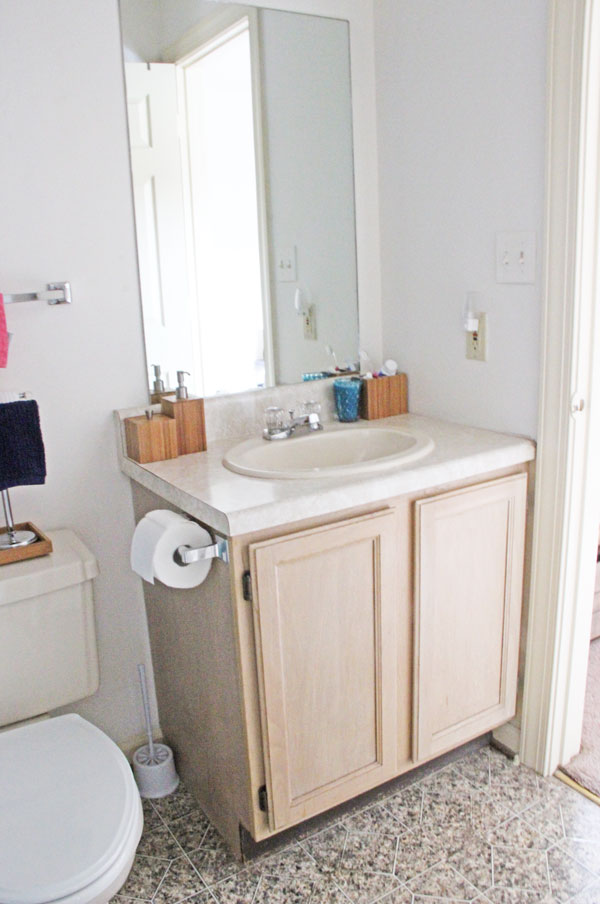 I've always wanted a steam cleaner for floors, and I knew this was the perfect time to try something to try to get rid of those dark spots.

I picked the HomeRight SteamMachine Plus. I picked this one because:
I've worked with HomeRight products before (my painted rug) and know they are quality.
It not only is a floor steam cleaner with a handle but it becomes a handheld with lots of attachments.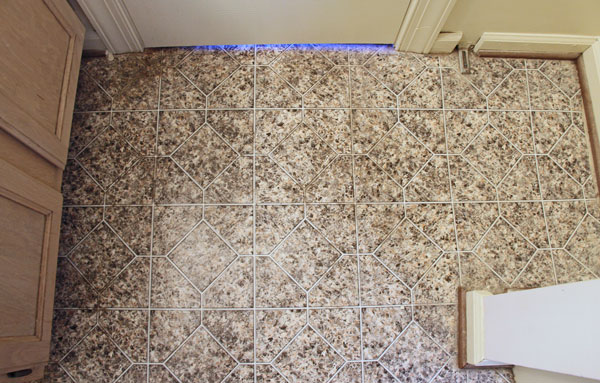 When I got it, it was easy to put together and easy to use. I immediately got to steaming the floors in the upright position. I definitely saw that it was cleaning the floor well and was picking up all sorts of grime and hair.

I saw the dark spots reduce but they were still there, so I need it was time to use the handheld and the more aggressive brush attachments.


Oh my goodness, I was amazed at how it worked! With minimal scrubbing and effort those spots were gone! Although, it did get steamy; hence, no jacket in the second picture. 🙂
It must have been caked on dirt built up for years but now it is gone! The more I looked, the more white lines were grey. I am now proud to say that they are all white now!

The corners are where it was worst – and now is spotless! A little hard to tell in pictures with this busy pattern but it really makes a difference in person! Plus, I can feel the clean on my bare feet. I know, I know, call me crazy but it's true!

Since I was on such a steam cleaning kick in the bathroom, I decided to tackle the shower too. My shower has that grippy stuff attached to the bottom, and I was always curious how clean that can really get with sprays (since you can't scrub in between the raised portions).

I used the handheld with the brush attachment again and literally saw dirt wash away from the bottom! It's really hard to tell with pictures, but I was pleased with how it worked. Plus, I was also able to get rid of some built up mildew/shower scum on the sides.

I am SO happy with how easy this was – and the results are great! You can see how grimy the floor was with the removable and washable (!!) mop pad. That doesn't even include all the dust and hair it got up that I decided not to show here because…gross.


HomeRight Steam Machine Plus Giveaway
I love it so much I want to share one with you! HomeRight is giving a SteamMachine Plus away!
Just post a comment below telling me where you would use it by Monday, October 26 at 11:59pm EST.
Thank you to HomeRight for sponsoring this post and helping me actually get my bathroom clean! All opinions are all my own.